Smart Air
Smart Air is a certified social enterprise, founded in 2014 in Beijing, China, and is the first and only certified B-Corp tackling air pollution. Their mission statement is to protect people from the harms of polluted air through education and the shipment of cost-effective purifiers and clean air tools.
Founding Story
In January 2013, Beijing was facing an 'airpocalypse' with record-high pollution levels. Smart Air founder Thomas Talhelm was a PhD student living in Beijing at that time. When looking at how protect his health, Thomas was shocked to discover how expensive purifiers were.
He did some research, and found that air purifiers are just fans and filters – nothing complex. He purchased a HEPA filter and strapped it to a fan, creating his first 'DIY air purifier'. After running hundreds of tests, the data showed that DIY purifiers are just as effective as the more expensive purifiers. Armed with this data, Thomas decided to show and teach the world how make an air purifier for under $30. Thomas is now an assistant professor at U Chicago Booth, and Smart Air has grown to be a global social enterprise with an expanded range of purifiers and clean air tools, and an ever increasing database of educational topics to keep people safe from air pollution.
SAY NO
to expensive air purifiers
100%
of profits go back to the community through clean air purifiers and education content
Smart Air is a Gold Club Social Enterprise and a Certified B-Corp, with a social mission to help everyone breathe clean air through affordable air purifiers and education contents.
Smart Air achieves its mission in two main activities:
Utilizing social media, online articles, and workshops to educate people about the harmful effects of air pollution and technical information on air purifiers, masks, and quality monitors.
Offering cost-effective air purifiers, filters, and other air monitor tools to help people avoid the harmful effects of air pollution.
110,000+
Total air purifiers sold and shipped to 14+ countries globally
16,000+
In-person and online workshop articipants receiving education about air pollution
19m+
Readers on blog posts and social media content
687+
Air pollution workshops hosted in 29+ cities and 5+ countries
Smart Air's
Approach
Through SROI
What is SROI?
Social return on investment (SROI) is an outcome-based measurement tool that helps organizations understand and quantify the social, environmental, and economic value from their activities. Developed from traditional cost-benefit analysis, SROI provides an organization a narrative of how their activities create value while making change in the world using a ratio stating how much social value is created for 1 USD invested.
The method revolves around a six-step methodology:
Establishing scope and identifying key stakeholders
Mapping outcomes to show the relationship between inputs, outputs, and outcomes from each initiative
Monetizing outcomes by putting a financial value on the activities
Establishing impact by identifying which outcomes are mainly the result of the firm's initiatives
Calculating the SROI by adding up all the benefits and comparing them to the initial investment
Sharing the findings and recommendations with stakeholders
Summary: Smart Air's Approach
Smart Air's performance in tackling air pollution issues can be broken down into a logical framework, which summarizes the key elements of Smart Air's model to be used for future project monitoring and evaluation. By listing the activities, outputs, outcomes, and the goal (or expected impact), it shows the logic of how the activities will lead to outputs, which in turn lead to outcomes, and in the end, how those initiatives create value for the firm, its stakeholders, and its community. This section outlines ways in which Smart Air leaves a positive effect on stakeholders by changing their lifestyle and quality of life, and assisting them in taking appropriate actions to tackle air pollution issues.
How is Smart Air helping communities deal with air pollution?
Smart Air's Purifiers and Filters
In 2021, Smart Air sold more than 16,291 air purifiers and 9,572 air filters to users in 14 other countries in Asia, Europe and North America, benefiting thousands of people with clean air worldwide.
Smart Air also sold $280,000 worth of air purifiers, filters, and monitors to corporates and businesses in 2021.
Online Education: Articles & Social Media
Smart Air published, translated, and created a total of 339 online articles and videos educating the community on air pollution issues and ways to prevent them.
Smart Air also received more than 6 million views on online platforms, including its official website, Quora, Youtube, Zhihu, Wechat and Tencent Videos.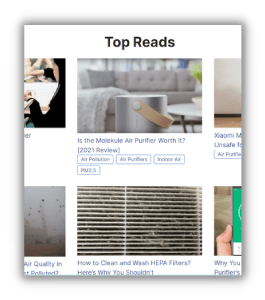 Air Pollution Workshops
Smart Air hosted more than 72 in-person and online workshops in more than 6 countries and 30 cities worldwide, reaching more than 1,496 people.
Each workshop explains how filters and masks work, and show data that demonstrate exactly how much particulate pollution air filters remove from the air in private homes. Participants also get to build their own DIY air purifiers, with a fan and a HEPA filter.
The following table is a simplified version of the logical frame work that shows the stakeholders' results and impact of Smart Air's 2021 activities in mainland China and other countries:
INPUT
ACTIVITY
OUTPUT
OUTCOME
People
Money
Equipment
Venue
Online Education (online articles and social media content)
Published 198 blog posts, online articles, and videos
Increased knowledge and awareness level on air pollution protection
Workshops
Registered 1,496 participants
Increased air purifier sales
Improvement in health of workshop attendees
Supply Chain
Operations expanded into 14 Countries
Increased accessibility to clean air
Selling Air Purifiers
Sold a total of 16,291 purifiers
Increased user's living quality
Research and Development
Reduced weight of purifier shipment by switching from aluminum to cardboard
Enhanced product quality