After best January on record, China's air pollution worsens
An analysis by Smart Air of data from pollution stations found that, after Beijing's best year on record, Beijing PM2.5 levels are now worse than 2017. Data from 11 other major cities showed similar trends.
Beijing
Compared to the first half of 2017, this year is down 14%, from 65 micrograms/m3 to 56. 
Yet almost all of this progress came from a wildly clean January. Particulate levels in March and June were all worse than last year. 
Xi'an
This pattern repeated in several other northern Chinese cities. Xi'an was down 17%.
But this progress was due to January and February alone. Since then, Xi'an has returned to last year's levels.
No Improvement in Southern China
Shanghai 
This improvement didn't extend past the Yangtze River. This first half of 2018, Shanghai's pollution was actually up 4%. 
Broken down by month, it's a regular pollution year so far in Shanghai.
Controls Loosen After Historic Winter
This winter saw extraordinary pollution controls, from forcing factories to stop production to switches from coal to natural gas. However, there are reports that controls have relaxed since then. This could explain why Beijing's air is now as bad as before—and why southern China has seen little change.
Here's how 8 other major Chinese cities fared year over year. 
Changsha
Changsha is down 5% so far this year.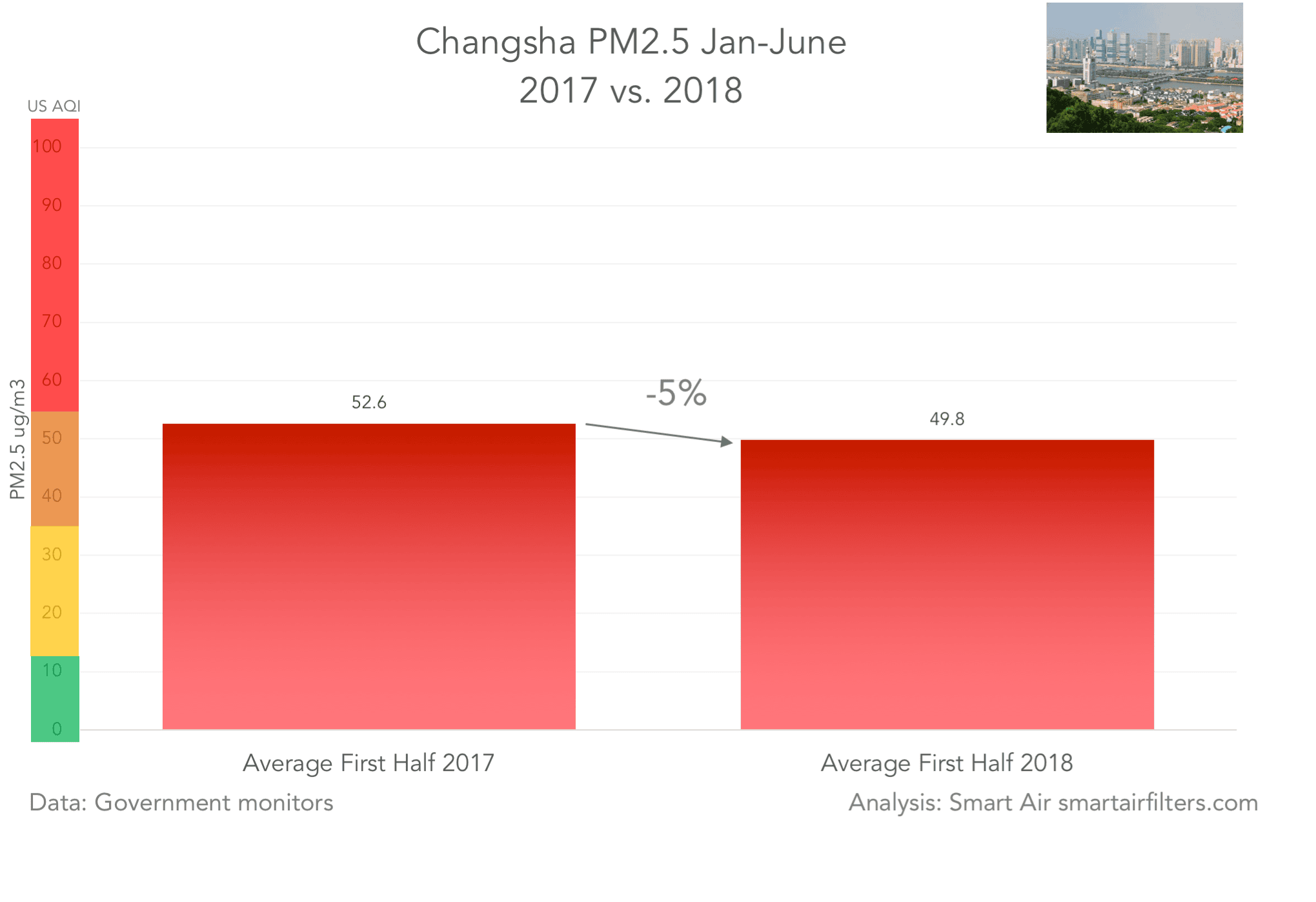 Chongqing
Chongqing is down 20% so far this year. Unlike other cities, Chongqing saw progress in every month. 
Chengdu
Chengdu is down 12% this year so far. 
But like other cities north of the Yangtze, Chengdu returned to "normal" after January.
Harbin
Harbin's pollution has dropped 14% in 2018. 
Shenyang
Nearby Shenyang is down 20% so far. 
Shenzhen
It's the same old in Shenzhen. Although Shenzhen has lower PM2.5 than most cities in China, Shenzhen still averages air pollution levels that cause long-term health damage. 
Hangzhou
In a year when Shanghai's air got worse, Hangzhou was actually down 7%. 
Zhengzhou
Not far from Beijing, Zhengzhou is down 12% this year. That's more progress than Beijing, but that still leaves Zhengzhou with 25% higher PM2.5 than Beijing. 
After a record winter, air pollution is back to earlier levels or worse. Most of Southern China is "same old."
---
Free Guide to Breathing Safe
Want to learn more about breathing clean air? Join thousands more and stay up to date on protecting your health.