Beijing PM2.5 air quality averaged 30.2 micrograms in 2022. This means Beijing PM2.5 concentrations exceeded the WHO annual limit of 5.0 micrograms by over 6 times. On the most polluted day, Beijing air quality exceeded the recommended limit by a little under 31 times.
Current Air Quality in Beijing
Air Quality Map
Live Beijing, China AQI air quality map updated hourly.
How is the Air Quality in Beijing, China?
95% of Days in Beijing More Polluted Than WHO Target
During 2022, 95% of days exceeded the WHO annual limit. 5% of days fell within the safe limit of 5 micrograms. That means outdoor air in Beijing was considered safe for just 1 in 12 days during 2022.
The most polluted day in 2022 was 10 Mar 2022, where PM2.5 concentrations were as high as 155.0 micrograms. On this day, PM2.5 pollution exceeded the recommended limit by a little under 31 times.
Is Beijing Air Quality Improving?
Historical air quality (AQI) data for Beijing over the past 4 years (2019, 2020, 2021 and 2022) shows that air quality has ever so slightly worsened. This shows a worrying trend for air quality in Beijing.
Saturday is the Most Polluted Day of the Week in Beijing
Saturdays are the most polluted day of the week in Beijing. PM2.5 levels on an average Saturday reach 58.8 micrograms. That's 14% higher than the least polluted day – Tuesday. On Tuesday, PM2.5 air pollution averages 51.4 micrograms.
On average, Saturdays see PM2.5 pollution that's a little under 12 times the WHO limit. For Tuesdays – the least polluted day – PM2.5 air pollution is over 10 times.
Why Is Beijing Air Quality Bad Today?
Weather plays a big role in how Beijing air quality is each day. Heat and sunlight help create ozone. That's why ozone pollution is higher during the day and during hotter months. Studies show rain can reduce PM2.5 air pollution a little, but strong winds usually reduce PM2.5 much more.
Research has found that PM2.5 around the world follows a daily pattern. Of course, any particular day can be an exception. However, across continents, PM2.5 pollution tends to be worse from 8pm to 2am, with another bad spike around morning rush hour. PM2.5 is the lowest around 4pm, when air tends to mix higher in the atmosphere.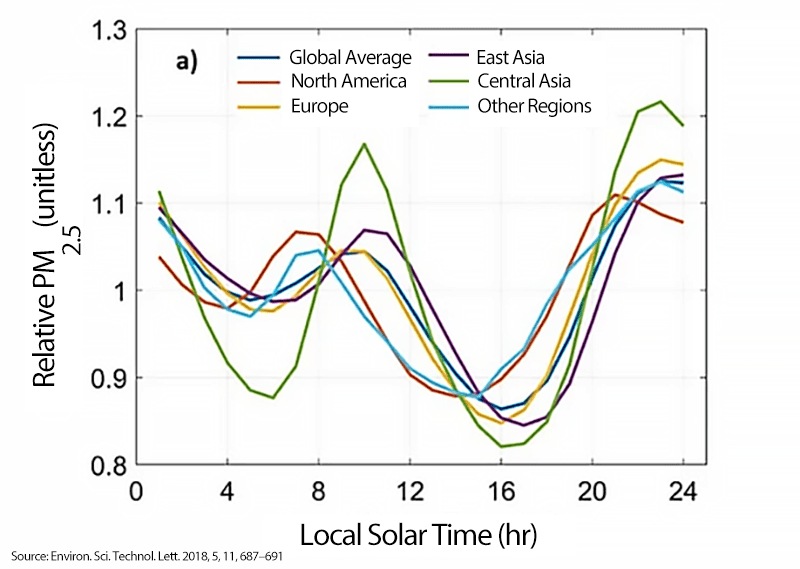 Beijing Air Pollution: The Negative Health Effects
This analysis of Beijing's air quality is based on PM2.5 pollution. These are particles smaller than 2.5 microns in diameter that can penetrate deep into the lungs and even enter the bloodstream.
Many people know that air pollution causes lung cancer and asthma. But fewer people know that air pollution kills far more people through our hearts and blood vessels.
Studies have shown that PM2.5 raises blood pressure, inflammation, and rates of heart attacks and strokes.
WATCH: Why Is PM2.5 So Harmful to Us?
5 Things You Should Know about PM2.5 Air Pollution
Subscribe to Smart Air on YouTube
Protect Your Health in Beijing From Air Pollution
Despite the harms of PM2.5 air pollution, studies of air purifiers have found that removing particulate in the home lowers blood pressure, reduces inflammation, and improves immune response.
Smart Air provides the world's most cost-effective, data-backed air purifiers to help air-breathers protect themselves and their family. Smart Air is a certified B Corp founded to share the simple science behind air purifiers and masks, thereby lowering the cost of breathing clean air.
---
Free Guide to Breathing Safe
Want to learn more about breathing clean air? Join thousands more and stay up to date on protecting your health.