Can a simple fan and filter really make air purifiers that can clean large offices? Seven years ago, Smart Air started when PhD student Thomas strapped together a DIY air purifier to survive a polluted Beijing winter.
Founder Thomas Talhelm's first DIY air purifier
Thomas published test data on the purifier showing that it worked. Then he shared instructions with the world to show other people how they could make their own purifier. Soon, the media started writing about the simple DIY air purifier, and Thomas launched Smart Air to ship these low-cost purifiers to people all over China.
Now people are using Smart Air purifiers in larger spaces, like offices and classrooms. But is a simple fan and filter enough?
The DIY is a proof of concept-that, at their core, air purifiers are just fans and filters. Armed with that basic knowledge, Smart Air's aeronautical engineer Paddy scaled up the DIY to create the Blast and Blast Mini.
The Blast takes the same principle as the DIY purifier, but puts out nearly 10 times the amount of clean air. And here's the secret: they're also just fans and filters. However, the only difference is they're built into a sturdy metal frame, have a whopping 22sqm of HEPA filter area. That means they are quieter than your average air conditioner. For that reason, the Blast and Blast Mini are powering clean air in hundreds of new buildings in countries around the world. 
Over 50 organizations in different countries are using the Blasts to breathe safe. Here are just a few.
BBC Offices in Beijing, Hong Kong, and Delhi
The BBC approached Smart Air to help filter out their newly renovated Beijing office. They were facing Beijing's annual airpocalypse, as well as high VOC and formaldehyde levels. The Blasts do just the trick for filtering out PM2.5 and formaldehyde.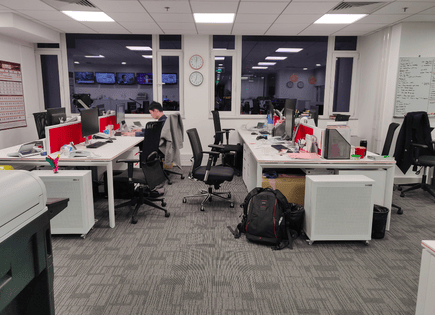 Daycare Centers
Morecare Daycare Beijing, Xi'an, Shenzhen, and maternal health care organization Milkway installed the Blasts in their daycares to help protect the infants and parents from air pollution.
Schools in Over 5 Countries
Tianjin Haileybury College and EtonHouse International School Nanjing have partnered with us to bring clean air to their teachers and students. Even one school as far as Kyrgyzstan is using the Blasts to filter out PM2.5 for their students.
Here's a snap of our India team installing Blasts in a school in Delhi. The parents of the school crowdfunded enough money to install 80 Blasts – enough for every classroom. That's a lot of clean air!
Corporate Offices
Blasts are powering clean air in the offices of the French Supermarket Chain Auchan in Shanghai; Ford Motors and food delivery startup Zomato in Delhi; and SkyNews in Beijing.
Some offices have central air systems that they want to retrofit with a purifier. For example, Smart Air helped retrofit the central air system at The University of Chicago Delhi Center to pump clean air throughout the entire space. (Hint: a central air system is just a fancy way of saying we installed air purifiers in the ceiling!)
Hospitals and Clinics
The Smart Air Philippines and Mongolia teams have partnered with local hospitals and clinics to install our Blasts in their ICU emergency rooms.
Who's Breathing Smart Air?
Does your school, office, gym, nursery, or hospital need clean air? Leave a comment or send us an email at: [email protected]
Smart Air's purifiers are the most cost-effective in the world. Our mission is not profits, but to make clean air accessible to all. Check out our Sqair air purifier, which packs a mean CADR of 315cmb/hr for an incredibly affordable price.
WATCH: The Sqair, The World's Most Cost-Effective Air Purifier
The Sqair: The World's Most Cost-Effective Air Purifier
Subscribe to Smart Air on YouTube
---
Free Guide to Breathing Safe
Want to learn more about breathing clean air? Join thousands more and stay up to date on protecting your health.