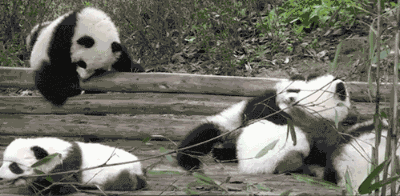 I just analyzed Chengdu's PM2.5 pollution data for the first half of 2018, and there's a surprise.
Chengdu barely edged out Beijing! Someone get those pandas a mask.
The difference is small—1 microgram. But it's notable because Beijing is famous for its pollution, whereas Chengdu is not. My guess is lots of folks in Chengdu would guess that Chengdu's air is better.
How Bad is That?
Is that really that bad? Here's that same graph with the World Health Organization limit on top.
We're talking about serious levels here. Chengdu averages over twice the 24-hour limit of 25 micrograms. Bad days easily go to 10 times that amount.
But really we should look at the annual limit of 10 micrograms because studies show that even levels below 25 micrograms are harmful to human health. On that standard, Chengdu averages almost 6 times the safe limit.
Based on a meta-analysis of the effects of air pollution, here's where Chengdu would fall on the "is killing us" spectrum.
That's well into the meaty part of the curve.
How Did It Get That Bad?
But wait, Beijing just had its best winter ever (on record). So is it just that Beijing got a lot better? Well Beijing did come down 14% from 2017.
And almost all of that improvement was from extraordinary measures in January that are now gone.
But Chengdu was down about the same percentage from 2017.
And almost all of Chengdu's progress was in January, like Beijing.
Thus, Chengdu was roughly in line with Beijing before this last winter.
How Does Chengdu Compare to Other Major Cities?
I analyzed PM2.5 data for 6 major cities in China going back to 2011. Chengdu has been roughly as bad as Beijing since 2016.
So if you're in Chengdu, Beijing, or elsewhere (since all of these cities are well above the limit), protect your lungs! Here are the three steps I take in Beijing.
---
Free Guide to Breathing Safe
Want to learn more about Air Pollution? Join thousands more and stay up to date on protecting your health.