New data analysis from Smart Air shows that air quality improved in 14 out China's 15 largest cities. This data suggests China's "war on air pollution" seems to be working.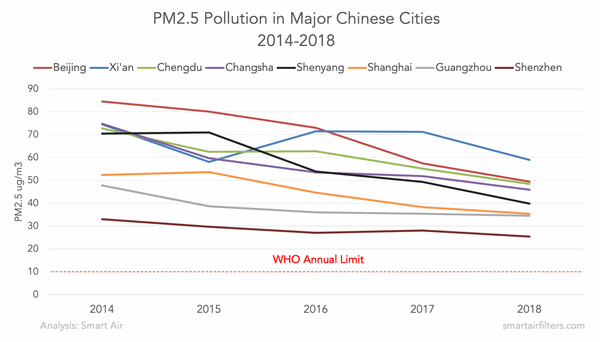 This analysis uses over 21,000 daily average PM2.5 data points from official sensors around the country. 
Beijing
Famous for its smog, Beijing's quality improved 14% over 2017. That year was already Beijing's cleanest on record.
Chengdu
Chengdu's PM2.5 fell 12%, following a 15% decrease the year before.
Xi'an
Xi'an has finally seen some improvement. In 2017, Xi'an's pollution was up 7%. In 2018, Xi'an saw pollution fall 17%.
Most of Xi'an's improvement came in January and February. Air quality has been roughly similar to the prior year since then.
Harbin
The biggest improvement happened in China's northeast. Harbin saw the largest decrease in PM2.5, down 32%.
Harbin's air quality improvement came mostly in the winter. The northeast may have been slow to receive the benefits from last year's switch of winter heating from coal to natural gas.
Last winter, there were reports of natural gas shortages and delays as the sudden switch rolled out, particularly in places farther from Beijing. As these supply difficulties decreased, Harbin's air has caught up with Beijing.
Shenyang
The improved roll out of natural gas winter heating could also explain Shenyang's 19% improvement in air quality.
Shanghai
Farther south—outside the range of winter heating—air quality improvement has been smaller. Shanghai air quality also improved in 2018, albeit at a more modest pace of 8%.
Shenzhen
Similar to Shanghai, Shenzhen's air pollution was down 9%.
Guangzhou
Guangzhou's PM2.5 fell a smaller amount, just 3%.
Chongqing
Chongqing saw air quality improve 15% over 2017.
Despite Progress, China's Air is Still Toxic
Despite the improvement, all 15 cities are far above the World Health Organization's annual limit. Even China's cleanest major city, Shenzhen, averages over twice the limit. Simply put, anyone living in any of China's major cities is breathing harmful air on an average day.
This limit matters because studies have shown that PM2.5 raises blood pressure, inflammation, and rates of heart attacks and strokes. This is true even at PM2.5 levels 50% below the lowest average in China.
Residents across China may need to hold their breath before their cities catch up with major cities in the developed world. Compared to cities like Tokyo, New York, and London, China still lags far behind.
Studies Document Protective Effects of Purifiers, Masks
Despite the harms of PM2.5, studies have found that wearing masks prevents harmful effects on blood pressure and heart rate variability. Similarly, placebo-controlled studies of air purifiers have found that reducing particulate in the home prevents harm to blood pressure, inflammation, and immune response—even among young, healthy twenty-year-olds.
Smart Air is a certified B Corp committed to combating the myths big companies use to artificially inflate the price of clean air. To help people living in polluted cities protect themselves, Smart Air provides empirically backed, no-nonsense purifiers and masks, thereby helping to lower the cost of clean air.
---
Free Guide to Breathing Safe
Want to learn more about breathing clean air? Join thousands more and stay up to date on protecting your health.