How did India air pollution fare in 2021? Did the COVID-19 second wave affect air quality in India? Smart Air analyzed 2021 India air pollution data for five of India's major cities: Delhi, Mumbai, Kolkata, Chennai, and Hyderabad.
2021 India Air Pollution Report
Of the five major Indian cities analyzed in 2021, all averaged air quality levels well over the WHO recommended level of 5 micrograms. Not surprisingly, Delhi was the worst, with air quality levels nearly 20 times the WHO recommended limit.
Read More: Is the COVID-19 Lockdown Decreasing Delhi Air Pollution?
Next were Kolkata, Mumbai, and Hyderabad with levels 12, 9, 9, and 6 times higher than the WHO recommended limit. The major Indian city with the best air quality was Chennai, averaging 29 micrograms of PM2.5 pollution, still 6 times over the recommended limit.
Air Quality Worsened in Four Major Cities
Of the five major cities analyzed, four had higher PM2.5 pollution levels in 2021. PM2.5 pollution increased by 16% in both Hyderabad and Chennai. Hyderabad PM2.5 now surpasses 9 times the World Health Organization annual limit.
Although Chennai may seem to have low air pollution levels compared to other Indian cities, the levels are still extremely elevated. In 2020 alone, there were over 10,000 estimated deaths in Chennai from air pollution. 2021 had even worse pollution than 2020.
Famous for its air pollution, Delhi saw air quality worsen by 13% in 2021. With an annual reading of 100 micrograms, Delhi's air quality ranks as the worst of these major cities. In 2021, to combat air pollution, the Delhi government installed a smog tower in the center of the city. But the real-world data suggests this smog tower has a minimal effect on improving Delhi's air quality.
Kolkata's air quality worsened by 6% in 2021. Now with an annual reading of 71 micrograms, Kolkata now surpasses 12 times the World Health Organization annual limit.
Mumbai: Only Major Indian City With Improved Air Pollution
Mumbai saw a 2.5% reduction in dangerous PM2.5 pollution levels in 2021. Mumbai's PM2.5 levels averaged 43 micrograms which is nearly less than one-half of Delhi's yearly average in 2021. Mumbai still remains a staggering 8+ times the WHO recommended limit for PM2.5.
Bottom Line:
None of the major Indian cities had pollution levels below the WHO recommended limit of 5 micrograms. Furthermore, none had major improvements in air quality in 2021. Chennai air ranked as the cleanest in 2021 among all the major Indian cities while Delhi stood at the bottom of the list.
Read more: See detailed reports on India air quality in 2021 for Delhi, Kolkata, Chennai, Hyderabad, and Mumbai.
Deadly Microscopic PM2.5 Particles in the Air
The analysis of 2021 India air pollution is based on PM2.5 pollution, particles smaller than 2.5 microns in diameter that can penetrate deep into the lungs and even enter the bloodstream. Studies have shown that PM2.5 raises blood pressure, inflammation, and rates of heart attacks and strokes.
The analysis uses over 41,000 hourly air quality data points from the US Embassy and consulates in five major Indian cities. This data is open for researchers, although it is limited. It comes from only one pollution sensor in each city, and pollution can vary between neighborhoods.
Research Shows Dramatic Effects of Using Purifiers, Masks
Despite the harms of PM2.5, studies have found that wearing masks prevents harmful effects on blood pressure and heart rate variability. Similarly, placebo-controlled studies of air purifiers have found that reducing particulate in the home prevents harm to blood pressure, inflammation, and immune response—even among young, healthy twenty-year-olds.
---
How I Protect Myself
Smart Air is a certified B Corp committed to combating the myths big companies use to inflate the price of clean air.
Smart Air provides empirically backed, no-nonsense purifiers and masks, that remove the same particles as the big companies for a fraction of the cost. Only corporations benefit when clean air is a luxury.
For protection against air pollution, check out the Sqair!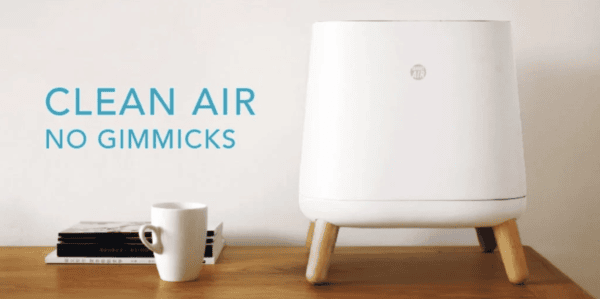 ---
Free Guide to Breathing Safe
Want to learn more about breathing clean air? Join thousands more and stay up to date on protecting your health.