A lot has been going on with DIY air purifiers in the UK since we first created our DIY purifier. In this article, we share a few different DIY air purifier designs that can be made in the UK. Below are some of the DIY designs created by our UK team using either the Smart Air DIY HEPA E12* filter or the Sqair replacement HEPA E11.
Low-cost Small Room DIY Air Purifier in the UK
Honeywell Turbo fan & Smart Air Sqair HEPA E11 filter
This is a fantastic, affordable, powerful fan that combined with a good filter, can achieve high CADR figures.
The same fan and filter can yield different results so a little extra craftwork can improve the clean air delivery rate. Don't forget to check for leakages, make sure to fill any gaps around the outside to force all the air through the filter.
Here is how we built it:
Click here for the Honeywell Turbo fan instructions.
Affordable DIY Air Purifiers in the UK for Larger Rooms
High Velocity Floor Fan & Smart Air DIY* HEPA E12 filter
The infamous Corsi-Rosenthal box fan has been challenging in the UK due to the lack of budget box fans and cheap panel filters. After several fan purchases, we think we cracked it.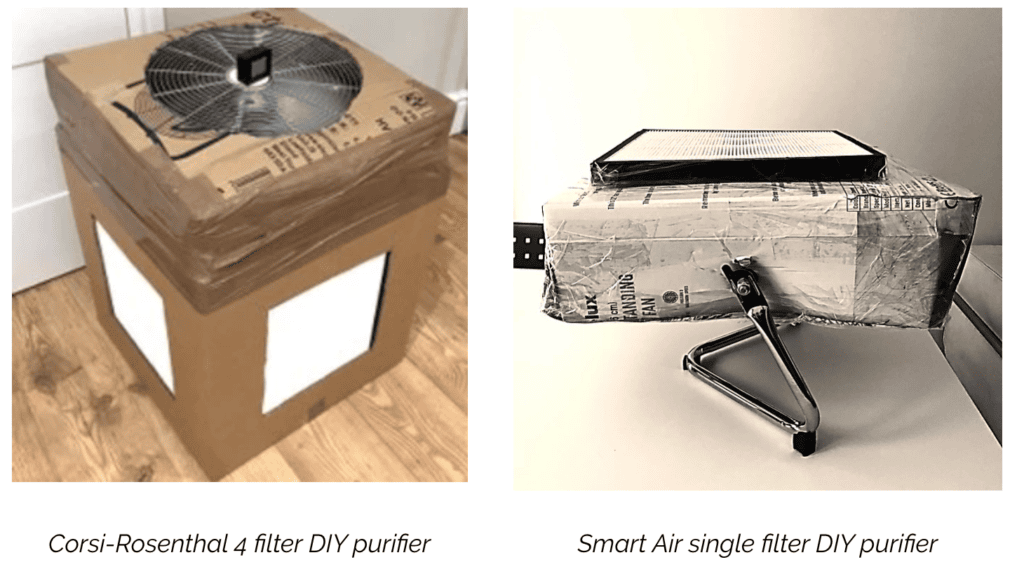 Still not as cheap as the US version (or as pretty!) but we managed to create a CR box fan for under £80 making it one of the better DIY air purifiers in the UK.
Here is how we did it:
18" ElectriQ Chrome floor fan (120w): grade 'A' model cost £30.73
4 x DIY HEPA E12* filters: £44 (no longer available for sale, see alternative options below)
Bottom box, 20" square box: £4.32
Total cost: £79.05
Best CADR with one filter (Smart Air style): 162m3/hr on top speed
Best CADR with four filters (CR style): 789m3/hr on top speed
Click here for the 18" CR box fan instructions
Stylish DIY purifier that will fit into most homes and businesses
Hydor 250/4a Commercial Plate Fan & Smart Air Sqair HEPA E11 Filter
This design is our favourite in terms of looks and power. These commercial plate fans are built to be hard-wired so you will need a qualified electrician to fit a plug for you. Hydor can supply the fan with plug connected if you approach them directly but the cost will be around £30 more than listed here.
Here is how we built it:
Hydor 250/4 plate fan: £55 (purchased from Hydor's eBay account)
Ikea EKET cabinet 35x25x35 cm: £15
Corner support: £1
Total: £97
Optional: Ikea ENHET cabinet legs: £10 (clean air blows upwards), Ikea BAGGANÄS handle: £3.50 (with or without handle – clean air blows out the side)
Extras: foam, screws, tape, cardboard shroud
Test results using PM0.3 particle counter (we don't have the CADR figures for this, instead we are relying on a real-life particle decay test):
Start PM0.3: 13,716 μm
15 mins: 9,729 μm
30 mins: 2,557 μm
45 mins: 753 μm
Click here for the single filter plate fan instructions. The plate fan with 4 filters, CR box style DIY purifier is yet to be tested but we believe this will be a powerful purifier.
*DIY HEPA E12 Filter vs Sqair Replacement HEPA E11
We no longer have the HEPA E12 filters in stock and we don't know when we will next get this in. We will always stock the Sqair HEPA E11 filter and as this gives better results, we recommend using this for your DIY purifier. Here is an example of the difference between the two filters using the Honeywell Turbo fan:
For the single fan, the HEPA E11 gives on average, double the amount of clean air to the HEPA E12
For the x4 CR box fan, the HEPA E11 performs on average 21% more efficiently than the HEPA E12
This means that if you were to recreate the CR gym fan above with the E11 filters, you can expect at least 21% more clean air so possibly around 955m3/hr.
Important Caveat
Any fan and filter will give you clean air but not all fans and filters are equal. All results here apply only to the fan and filters listed, you may achieve vastly different results with different fans and/or filters.
For example, we were all very excited to test the Dyson cylindrical filter with the Honeywell Turbo fan as it fitted perfectly. Unfortunately, when the same tests were performed, The Dyson HEPA H13 filter achieved a top CADR of 13m3/hr compared to 129m3/hr for the basic strapped single filter version using the Sqair HEPA E11 filter.
More DIY Air Purifier Resources
Last but not least, share your work!
We love seeing other people's designs so if you create your own DIY purifier, please share it on Twitter using #DIYpurifier hashtag, copying in @SmartAirUK, @PlasticFull, @JimRosenthal4.
---
Free Guide to Breathing Safe
Want to learn more about breathing clean air? Join thousands more and stay up to date on protecting your health.