The last three air purifiers from Dyson show a clear marketing strategy on clearing formaldehyde. Why the focus on formaldehyde?
In China and India, formaldehyde is an everyday health concern and we believe that we will see more of this in the news in the UK, Europe and the US.
In May 2023, the HSE began gathering evidence to support future UK guidelines on indoor formaldehyde. A list of common sources of indoor formaldehyde found on their site includes 'air cleaning devices'. To be clear, these are air cleaning devices with ionizers, used by a large number of major air purifier companies, including Xiaomi, Blueair, Levoit, and many more. None of the Smart Air purifiers use ionizers!
Read More: Air Ionizers Worse Than Diesel Exhaust
Ionizers Generate Ozone Which can Generate Formaldehyde
Purifier companies choose to add a cheap ionizer as it slightly improves the efficiency of the HEPA filter. This way, with little added costs, this is a cheaper way to market a higher CADR (metric measuring the effectiveness of air purifiers). We have written extensively why you should avoid air purifiers with ionizers.
Dyson Formaldehyde Air Purifiers – Clever Marketing or Hype?
So formaldehyde is a problem, let's look at Dyson's latest solution, the HEPA Big+Quiet Formaldehyde purifier – launched in Australia but expected to be in the UK late 2023. As Dyson is a preferred supplier for the Department For Education, we are particularly interested in how suitable this model is for UK schools.
There are five key features on the Dyson which, according to Dyson's press release, is engineered for professional environments such as offices. Let's break this down to see how it compares with Smart Air products.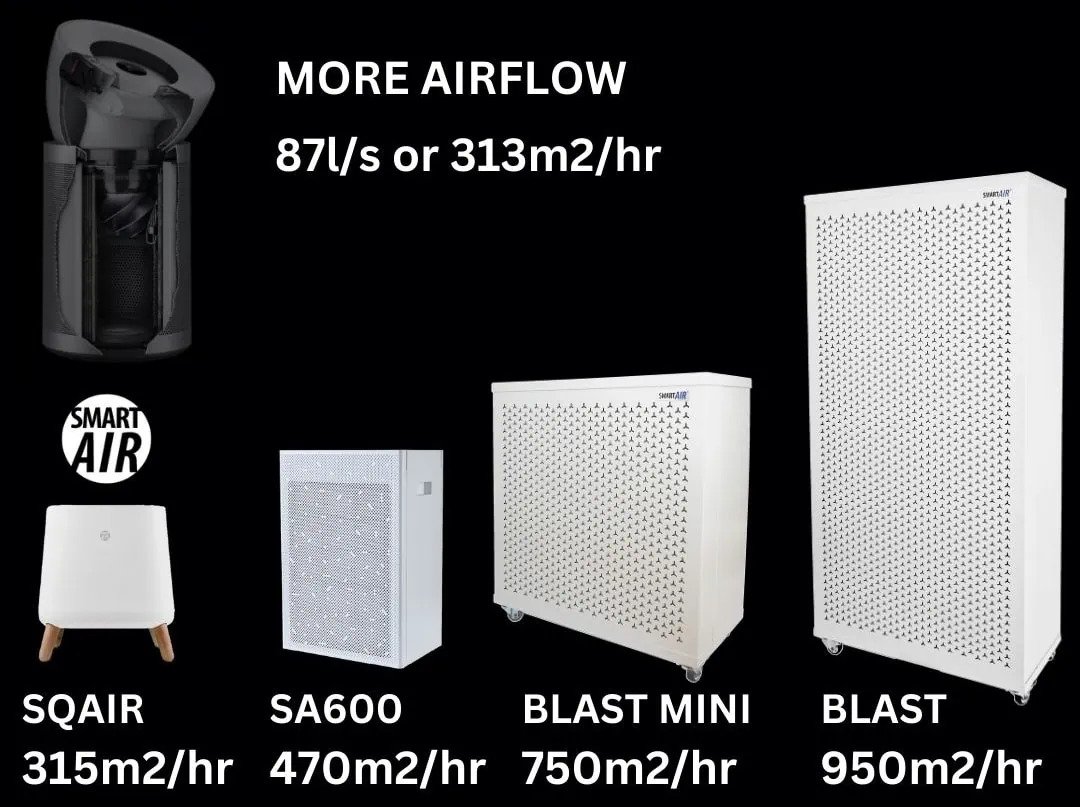 More Airflow

87 litres/second converts to a CADR around 313m2/hour – huge improvement compared to the current formaldehyde model which is 160m3/hr.

However for the average UK classroom, you need three of these to get 5 air changes per hour (top speed). For reference, our smallest room air purifier does 315m2/hr.
Suitable for Larger Spaces

Dyson is marketing this model for larger spaces than previous models.

With airflow lower than the Sqair (see above), it's hard to see how they calculated 100m2 which puts it in the realm of the Blast air purifier, which has 3x the airflow!

Based on the airflow, 1 Dyson will provide 2 air changes per hour – not enough for schools.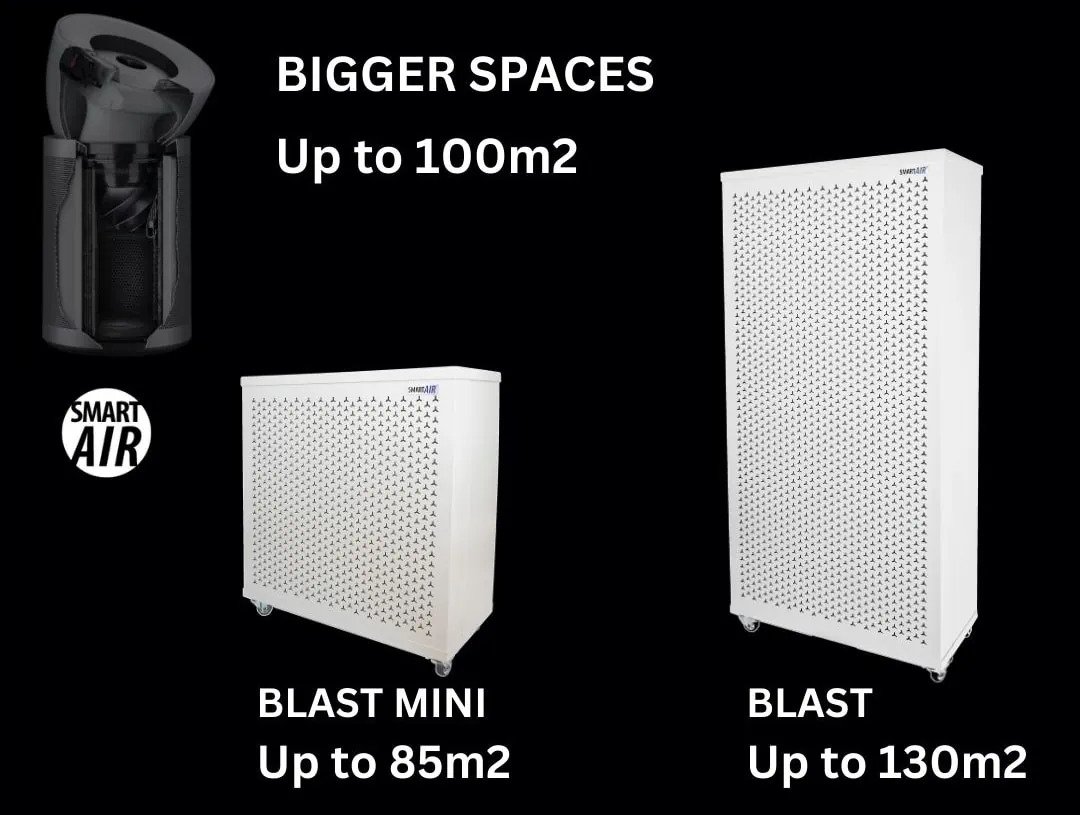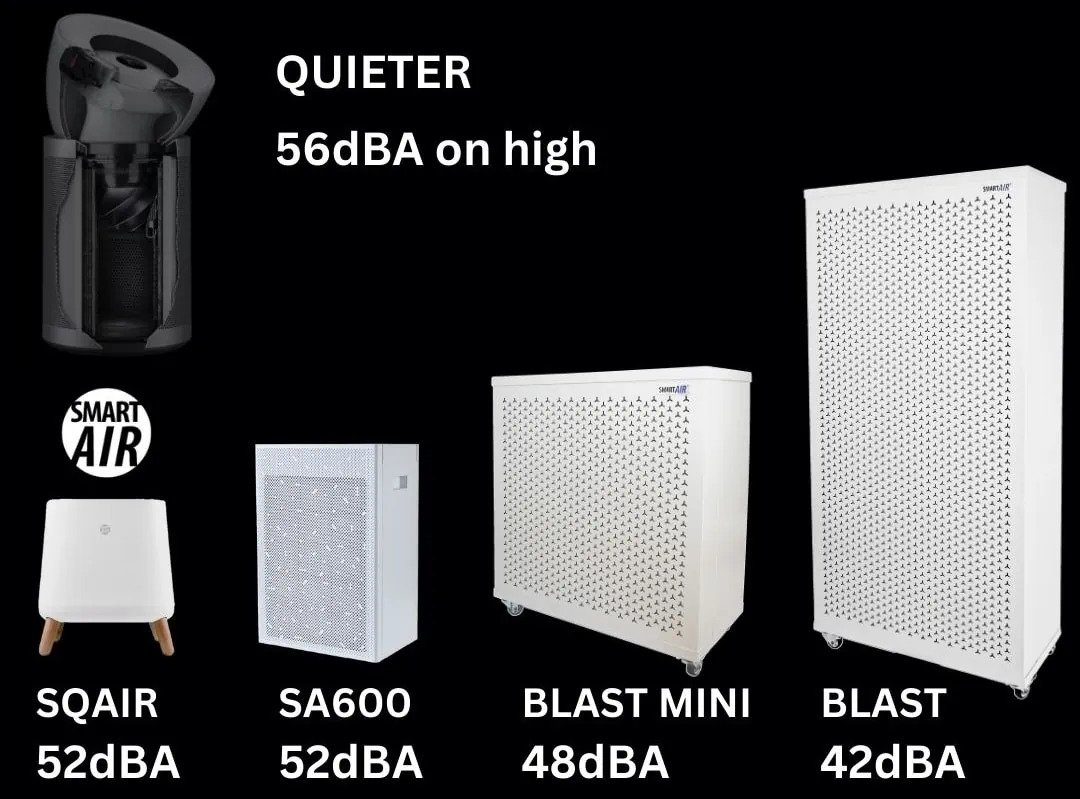 Quieter

Dyson listened to feedback on noise reducing this from 63dBA to 56dBA – another win!

But the lowest setting is 43dBA so running 1 unit on top speed, let alone 3, is above the limit for UK schools.

Noise matters!Our quietest model is the Blast at 42dBA on top speed which beats the lowest noise level of this purifier.
Built-in CO2 Monitor

The problem with built in sensors, is that they only give you the reading right next to the sensor.

A separate monitor is easy to move around the classroom to where the least airflow is. Our QP monitors can be plugged into whiteboards making it visible to the whole class.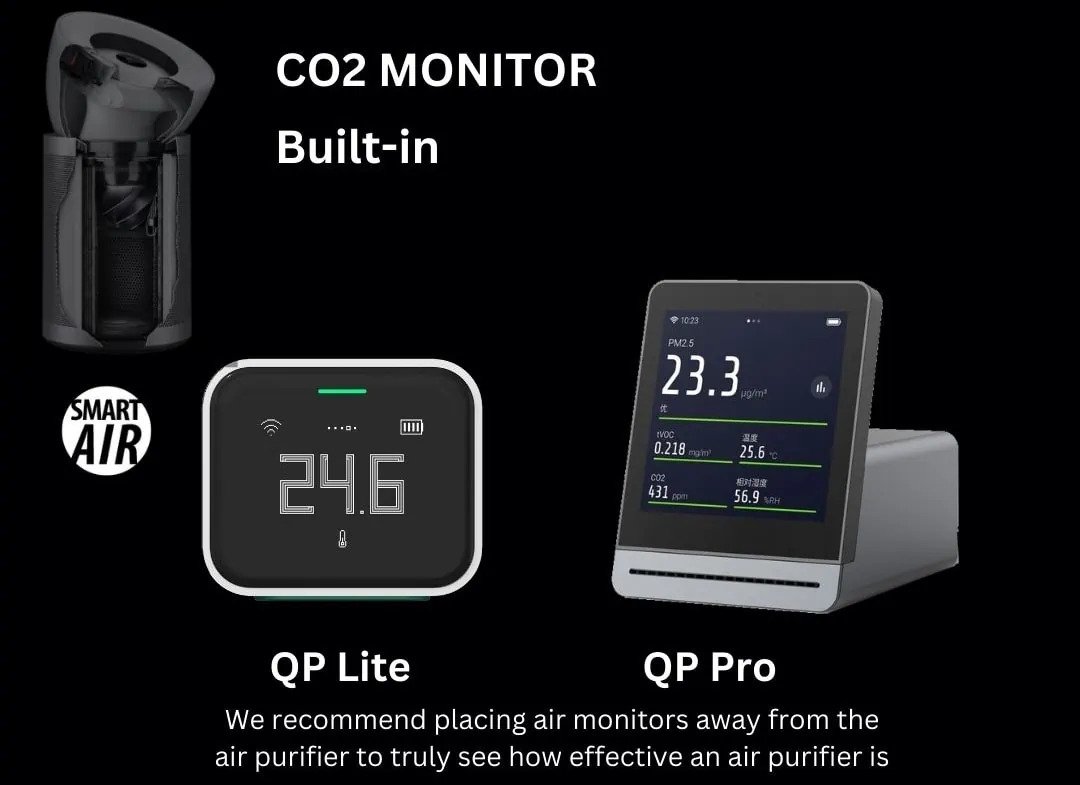 Formaldehyde Filter

It's in the name, so Dyson must do exceptionally well at clearing formaldehyde??

At Smart Air labs, we ran a test to see if carbon filters can clear formaldehyde. We purchased and heated up pure formaldehyde to just below the UK short-term exposure limit of 0.74. We ran a test with a DIY air purifier. It cleared the air in just 25 mins!
How Much Carbon is in the New Dyson Carbon Filter?
According to the Dyson user manual, this new purifier contains 900g of carbon. This compares to 500g for our DIY cannon (used in the above test), 700g for the Blast Mini and 1.3kg for the Blast so all our purifiers with carbon filters can clear formaldehyde. Clever marketing tactics of Dyson to have the word in the name!
The Built-in Formaldehyde Detector must be a Game Changer, Right?
According to the US CDC, we should be worried about long-term exposure to formaldehyde at 0.1 PPM. That's precisely the level that normal people start to smell formaldehyde. Don't waste your time with cheap formaldehyde detectors because as unscientific as it sounds, our noses are quite sensitive formaldehyde detectors.
But What about the Price?

Based on the AU$ price, this is likely to retail around £800.

With Dyson's brand and sleek look, it is sure to do well with brand gurus, but this price point, for schools that would need 3 per classroom, is astonishingly high.
3 Things You Need to Know About Formaldehyde
Part 1: Why formaldehyde testers are fake (and why it's actually scientific to just use your nose)
Part 2: How long it takes for formaldehyde to off-gas from new and remodeled homes
Part 3: Three data-backed ways to reduce formaldehyde and other VOCs in your home (update: we have now tested a formaldehyde cookout – it works!!
Bottom Line: The new Dyson Formaldehyde Air Purifier is Outperformed by Purifiers Less Than 1/5th of the Price
Our Sqair Chemical Warfare outperforms this Dyson on most of the key features. Even carbon filters tested with our DIY purifier shows pure formaldehyde can be removed in 25 mins!
Smart Air
---
Free Guide to Breathing Safe
Want to learn more about breathing clean air? Join thousands more and stay up to date on protecting your health.