Health effects of volcanic eruptions are often overshadowed by the awing spectacle of the eruption. But as we previously discussed, volcanos emit a variety of pollutants in the air and these pollutants can travel for thousands of miles! One of the major health dangers of volcanic eruptions and the emitted pollutants are respiratory diseases.
Fine Particulates Are Primary Cause of Volcanic Health Effects
Volcanic ash emitted by volcanos contains small particulates of rock, minerals, and glass that are so small they can enter your bloodstream and organs. The health effects of small PM2.5 and PM10 particulates emitted by volcanos are well documented. Studies on volcanic eruptions point to PM2.5 and PM10 sized particulates as the primary reason for the negative health effects seen in nearby communities.
As seen below, the smaller the particulate entering the body, the greater the danger. Ash particulates smaller than 4 micrometers can lead to chronic respiratory diseases.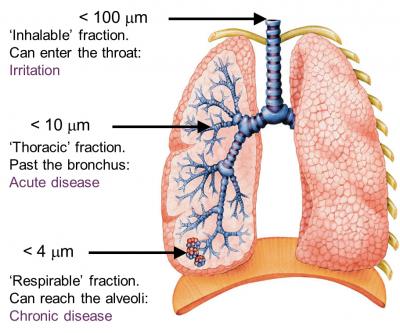 Health Dangers of Volcanic Gases
Gases released by volcanos can also be a danger to humans. The two primary volcanic gases that can be dangerous to humans at high concentrations are SO2 and CO2.
Exposure to high levels of SO2 (>1,310 μg/m3) for 3 minutes can induce respiratory attacks in asthmatic individuals. CO2 can be dangerous in low elevations close to the eruption. Small pockets with high concentrations of CO2 can form. When concentrations reach over 15%, CO2 can even be deadly.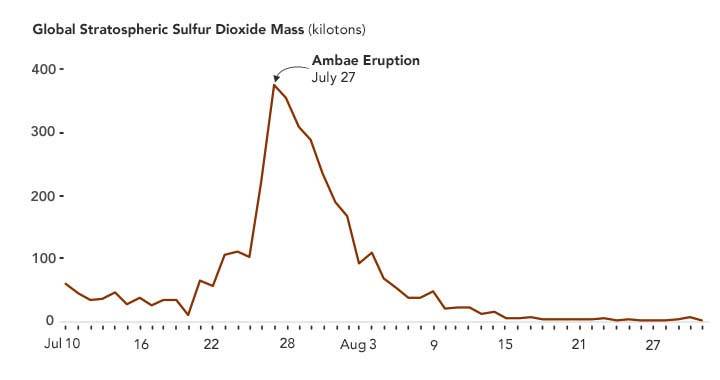 Volcanic Ash Exposure Increases Risk of Respiratory Problems
Studies that examined the health effects of volcanic eruptions on nearby communities found an increased prevalence of a variety of respiratory issues.
After the Soufrière Hills volcano in the West Indies had been erupting intermittently for over 2 years, a study examined the effects of volcanic ash on the 440 schoolchildren (aged 12 years and under). The study found the prevalence of wheeze in the children who had heavy or moderate exposure to volcanic ash was 3 to 4 times greater than those who had low exposure.
Common Respiratory Effects From Volcanic Ash
With high exposure to volcanic ash, even healthy individuals can experience numerous health effects. Symptoms include chest discomfort, throat and nasal irritation, and uncomfortable breathing. Although these symptoms may be short-lived, there remains a risk of long-term respiratory effects.
Chronic respiratory diseases such as silicosis and asthma can be activated by small PM2.5 ash particulates. Below is a picture of silicosis, which can develop after breathing in super small crystalline silica particles emitted by a volcano.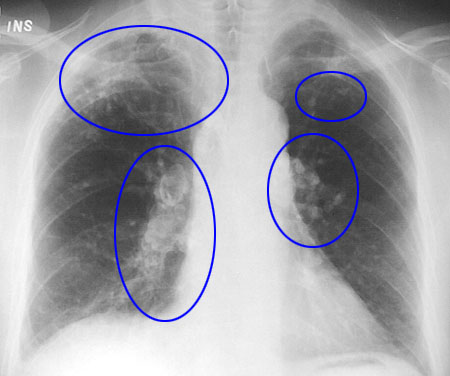 Volcanic Eruptions Worsen Symptoms of Respiratory Diseases
Volcanic eruptions can also exacerbate those already dealing with respiratory diseases such as asthma and bronchitis. In fact, studies show that pre-existing respiratory diseases are an important risk factor in having adverse affects from a volcanic eruption.
There are many examples of those dealing with respiratory conditions having worsening conditions after a volcanic eruption. After the Mt. St. Helens eruption in Washington, 1/3 of those with respiratory diseases experienced worsened conditions. Half of those had worsened symptoms so bad they could not resume their normal activities for three months.
After the 2004 volcanic eruption at Mount Asana in Japan, a study of 236 asthmatic adults showed 43% had worsening conditions after the eruption, compared to 8% in an unaffected area.
Bottom Line: Volcanos Increase Risks of a Variety of Respiratory Diseases
Small PM2.5 particulates in volcanic ash are the primary health danger of volcanic eruptions. Studies show significant increases in respiratory problems in nearby communities. The smallest particulates of ash can even activate chronic diseases such as silicosis.
Smart Air
Air pollution is a serious environmental and health concern, and is hazardous to our bodies. It's important to know the negative effects of air pollution so that we can know how to protect ourselves from the harms of these dangerous microscopic particles.
WATCH: 5 Things You Should Know about PM2.5 Air Pollution
How I Protect Myself
Smart Air is a certified B Corp committed to combating the myths big companies use to inflate the price of clean air.
Smart Air provides empirically backed, no-nonsense purifiers and masks, that remove the same particles as the big companies for a fraction of the cost. Only corporations benefit when clean air is a luxury.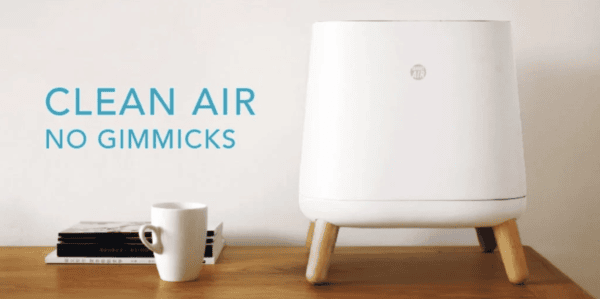 ---
Free Guide to Breathing Safe
Want to learn more about volcano? Join thousands more and stay up to date on protecting your health.