PM2.5 air quality monitors used to cost thousands of dollars. But in recent years, there has been an explosion in lower-cost options such as the Qingping (QP) air quality monitors. So how reliable and accurate is a lower-cost air quality monitor at measuring PM2.5? Are the QP air quality monitors actually any good? Smart Air tested and reviewed the QP Pro and QP Lite air quality monitors and found an impressive and accurate budget-friendly air quality monitor.
The QP Air Quality Monitors – At a Glance
The QP Pro (Qingping Air Quality Monitor) is a compact, portable air quality monitor that measures PM2.5, tVOC, CO2, temperature, and humidity. It has a large, touch-screen display which makes viewing indoor air quality at a glance quick and easy.
The QP Lite is a scaled-back version of the QP Pro, with all the same sensors except the tVOC sensor. It's smaller and lighter than most air quality monitors. It boasts a really long battery life, upwards of 8 hours. It's great for measuring air quality on the go.
Read more: What are tVOCs and are tVOC sensors accurate? »
How We Tested and Reviewed the Qingping Air Quality Monitors
We placed both the Qingping air quality monitors (QP Pro and QP Lite) outside the Smart Air office in Beijing. That's about 800 meters away from the government PM2.5 monitor at Dongcheng Dongsi. Over the course of 17 days, we recorded data from the two monitors along with the official government PM2.5 monitor. We also tested an additional monitor – the IQAir AirVisual – which came out on top in our previous round of air quality monitor tests, as well as the Laser Egg air quality monitor. However, there were problems collecting data from the Laser Egg – more on that later.
Test Results
After placing the QP Pro, QP Lite, IQAir AirVisual air quality monitors on the balcony outside for 17 days, we plotted the data against the nearest government monitor. According to the official government monitor, PM2.5 ranged from 6 to 60 micrograms during the tests.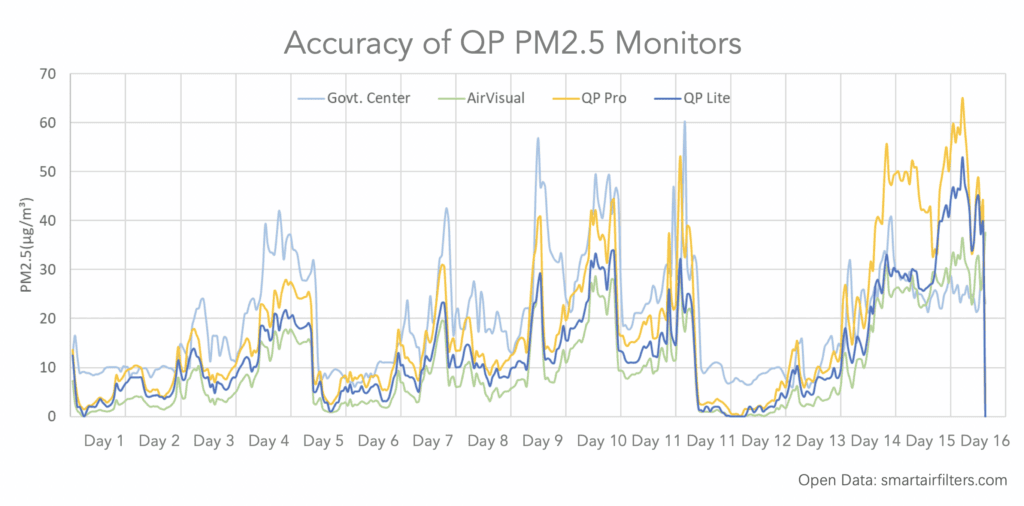 Accuracy
All three monitors tested (QP Pro, QP Lite, AirVisual) had similar correlations relative to the government monitor.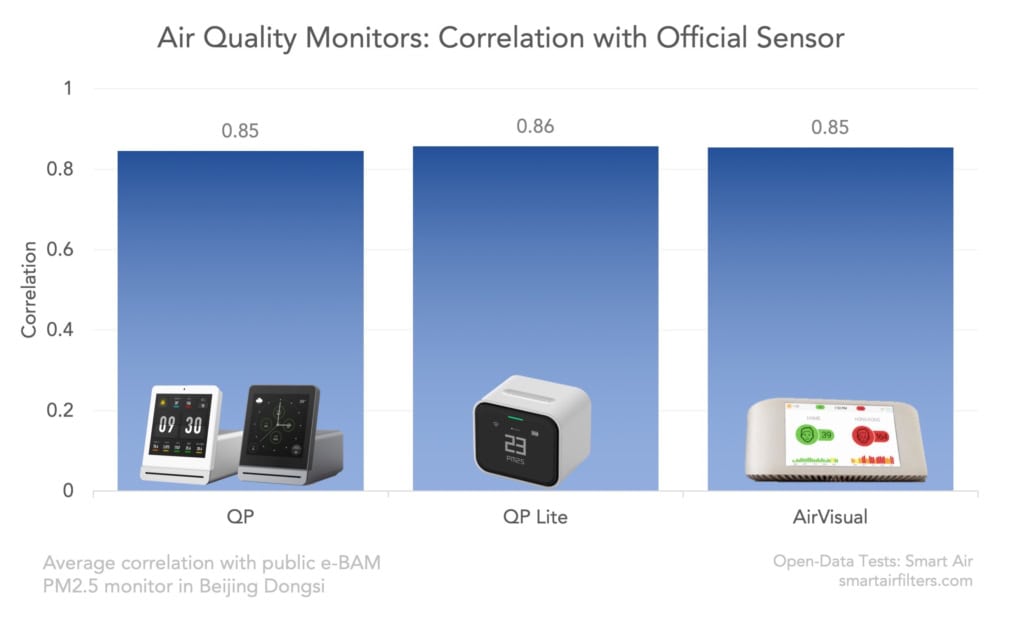 Average Deviation From Official Monitor
Although the correlations were all similar, the QP Pro readings were the closest to the official monitor. On average, the QP Pro was 7.9 micrograms off, the QP Lite was 8.9 micrograms off, and the AirVisual was 10.8 micrograms off.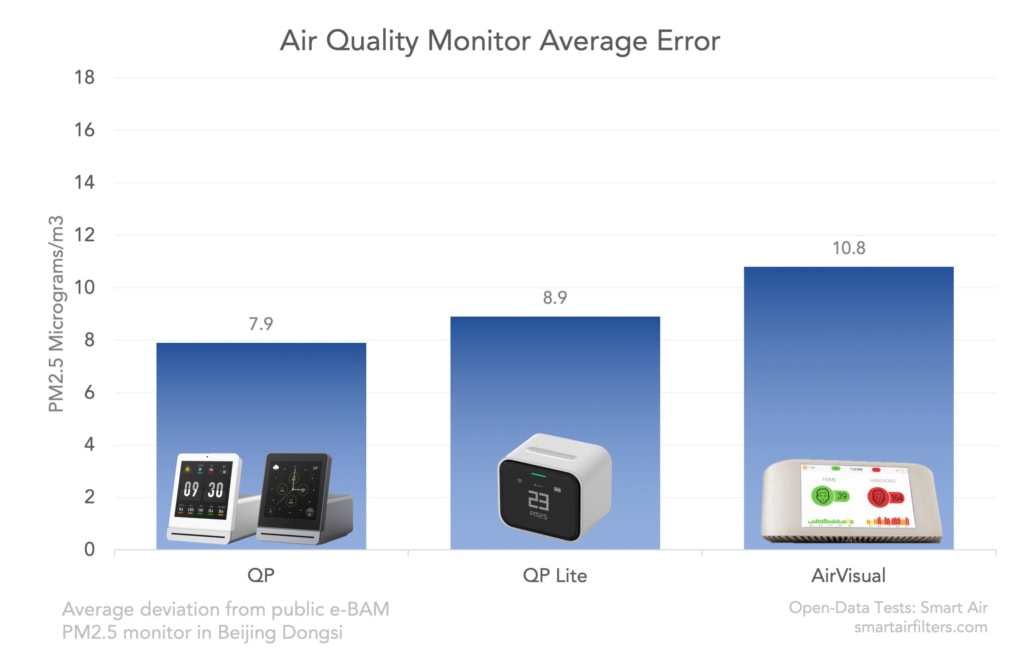 Impressive Accuracy Compared to Expensive Alternatives
The Air Quality agency of southern California publicly tests particle counters, and they recently added the QP to their tests. Those tests found the QP air quality monitors are more accurate than some of the most expensive air quality monitors on the market over 50 times the price. The QP monitors are under $200, but they significantly outperformed the AQMesh ($7,800), Naneos Partector ($7,000), and Met One E-SAMPLER ($5,500). Just like with air purifiers, price is mostly uncorrelated with effectiveness.
Caveat: Watch Out For Humidity
The accuracy of air quality monitors can depend on a variety of external factors, including humidity and the particular source of air pollution nearby. It's worth noting that our test location for this test was next to a busy ring road in Beijing. Pollution from cars may have affected the readings and led to a lower correlation with the government data.
The outdoor humidity during these tests was approximately 65%. If the tests were to be done under the lower humidity more often seen indoors (30-50%), the monitors may have been more accurate. This may explain why our previous tests showed an even higher correlation with the official government monitor (over 0.90, compared with 0.75 this time).
Open Data
Smart Air believes in open data. As always, we are making all data is available free to download.
Are the Qingping (QP) Air Quality Monitors Accurate?
Both the QP Pro and QP Lite outperformed Smart Air's previous top tested air quality monitor the IQAir Air Visual. Impressive accuracy and a price point under $200.
Smart Air
23/05/2023 Update: Naneo Partector data removed from AQMD list. 
---
Free Guide to Breathing Safe
Want to learn more about breathing clean air? Join thousands more and stay up to date on protecting your health.