How can we make a homemade DIY air purifier? Air purifiers can be extremely expensive. But they don't need to be. After researching how different air filters work, I concluded that a HEPA filter is all that's needed to make an effective air purifier.
Given that most air purifiers sell for thousands of dollars, I thought I'd try making my own homemade DIY air purifier.
WATCH: How to Make Your Own Homemade Air Purifier
3 Steps to Build Your Own Air Purifier
Subscribe to Smart Air on YouTube
Hold Up: Do DIY Air Purifiers Actually Work?
I've tested this DIY air purifier for over 1000 hours! The data shows they work! They are effective for the dangerous tiny PM2.5 particles and even outperform many of the big brands. With that out of the way, in this post, I'll explain exactly how to make your own homemade DIY air purifier.
How to Make a DIY Purifier
#1 Buy a fan
It's important that it has a flat front or back so that you can strap the HEPA filter to it.
Fans with flat fronts usually have a recessed motor unit, so look for that. Here's the one I bought:
#2 Buy a HEPA filter
For my very first homemade air filter, I first bought this one for ~US$16:
Since then, I tested HEPAs from all the manufacturers I could find to see if I could make an even more effective DIY air filter, and found one that captures more particles and has better airflow. Because I buy it in bulk and ship it through the shop for my social enterprise, it costs less than the first HEPA I bought. I've tested this HEPA filter with my particle counter, so I know it works (watch the live DIY filter test here).
#3 Pull the grating off the front of the fan
This is where the DIY filter fun starts! It helps if you have pliers for this. Then turn the power setting to 3 and pull the knob off – we'll be using this DIY air purifier on the highest setting.
The knob gets in the way of the HEPA. Without the knob, I turn my DIY air purifier on and off by plugging and unplugging it.
#4 Strap on the HEPA filter
Use string to strap the HEPA filter onto the front of the fan, and you're done! Your very own DIY homemade air purifier.
The metal bar in the middle will stick through the filter a little bit. You could saw the metal bar off, but my tests show it doesn't seem to make a difference. Or better yet, make yourself a fancier DIY air purifier by finding a fan without a metal bar in the front.
#5 Admire your new DIY air purifier
Total cost for this DIY air filter: 166 RMB (US$27). Compare that to 8,000 RMB ($1,300) for the fancy purifiers here in Beijing.
Want to Make a Strong DIY Air Purifier?
Since we shared this cost-effective DIY air purifier with the world, the Coris-Rosenthal DIY air purifier has also appeared. This DIY air purifier uses multiple furnace filters (MERV 13 and above) with a large box fan. This type of design has a more powerful CADR, can be assembled in just 15 minutes, and costs around 100 USD.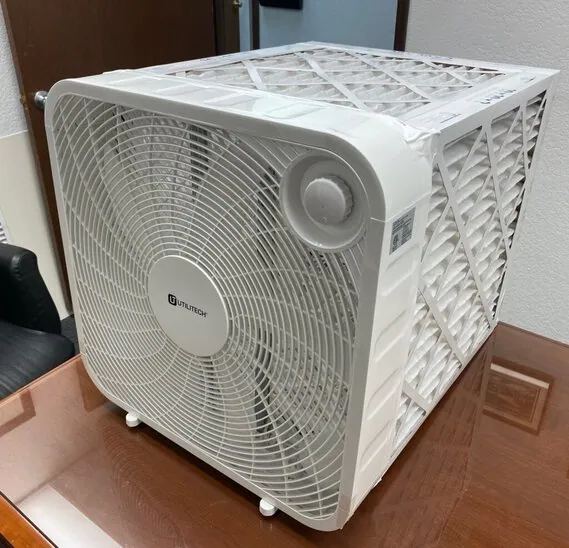 Bottom Line: How to Make a DIY Air Purifier
#1 Buy a fan
#2 Buy a HEPA filter
#3 Pull the grating off the front of the fan
#4 Strap on the HEPA
#5 Admire your new DIY air purifier
Smart Air
Your next question is probably, does this DIY air filter work? See a live test here. Here are a few other important questions:
Stronger fan: Tests with the DIY Cannon
How can I test it: Comparison tests of common air quality monitors
P.S. Should the filter go on the back??
You might be wondering, "shouldn't the HEPA go on the back of the fan?" I always thought the answer would be "it works just as well both ways." But I put it to the test, and the results surprised me.
A Simpler Way to Breathe Clean Air
Smart Air's founder and University of Chicago professor, Thomas Talhelm, created the first DIY air purifier 10 years ago that shook up the air purifier industry. Thomas then created Smart Air, a certified B Corp committed to combating the myths big companies use to artificially inflate the price of clean air.
We at Smart Air not only educate but also design and manufacture empirically backed, no-nonsense purifiers for homes and businesses, that use the same HEPA filters for a fraction of the cost of big companies.
Shop Smart Air's Lineup of Cost-effective, Data-backed Air Purifiers
---
Free Guide to Breathing Safe
Want to learn more about Air Purifiers? Join thousands more and stay up to date on protecting your health.