Ever wondered which cities in India have the best air quality and AQI? The city with with the best AQI and cleanest air might not be where you think. I analyzed the data from the World Health Organization's database of annual particulate pollution (PM2.5) averages for 122 cities. Here's what I found.
Agra Through Mumbai
122 cities is too much for one graph, so to map out the pollution levels, I broke it in half. Here's A through M from cities in India with the worst air quality (highest PM2.5 in the graph) to the best air quality (lowest PM2.5 number is the graph).
Note: the numbers used in this graph show PM2.5 concentration, not the 'Air Quality Index' or AQI. US AQI levels (not to be confused with NAQI) are indicated by the color bands going from green ('Good') to purple ('Hazardous') on the left hand side. To find out more about the relationship between "air quality index" or AQI, and PM2.5 concentration, check out the EPA's Air Quality Index calculator.
Here's that same list in alphabetical order.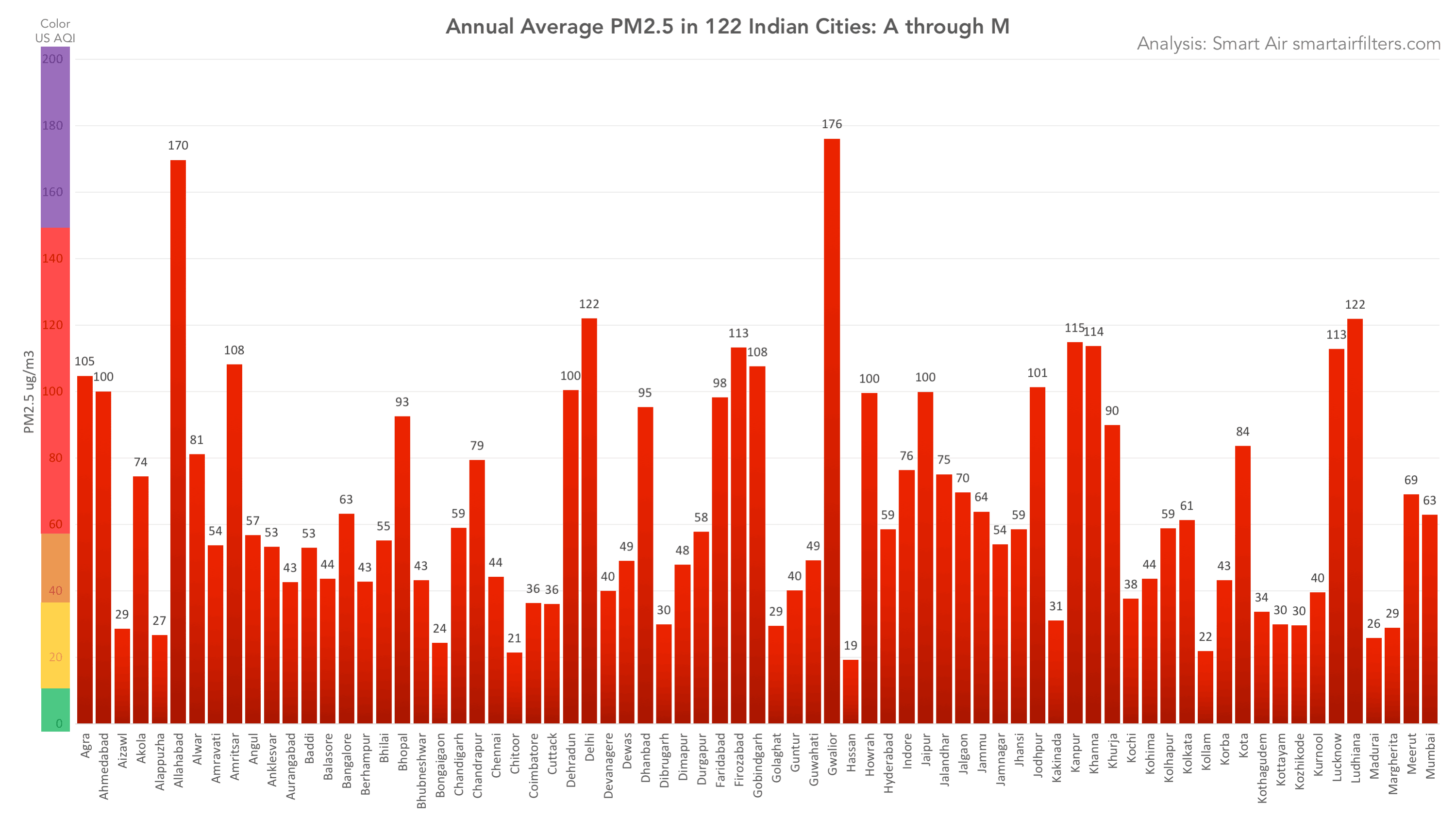 Nagaon Through Warangal
Here's cities in India, N through Z from highest pollution levels to lowest pollution levels.
And here's that same list in alphabetical order.
Takeaway 1: It helps to be later in the alphabet
For some unknown reason (regional linguistic differences?), you're better off on average if you're living in an N-Z city in India (48 micrograms) rather than an A-M city (66 micrograms)!
Takeaway 2: Only one city is under the WHO annual limit
The World Health Organization's annual limit is 10 micrograms/m3. Only one city in India came in under that limit, and can claim to be India's least polluted city—Tezpur, Assam. That means Tezpur takes the spot as the city with best air quality in India!
Maybe 10 micrograms is a ridiculous, unattainable limit? It's true that my university's city, Chicago, is above that limit (12 micrograms), although New York City is just below it (9 micrograms). Many major developed cities are around 10 micrograms. Still, if you're looking to move to a city with the cleanest air in India, then the take-home is that Tezpur is the place for you.
Takeaway 3: Seven cities are under the looser WHO 24-hour limit
If the 10 microgram limit is too strict, we can try out the looser 24-hour limit of 25 micrograms. Based on that limit, seven cities on the top 10 list make the cut. That's a meager 6% of cities under this looser limit, or 6% of cities in India have air quality levels that are almost acceptable.
India's Top 10
India's top 10 cities with the best air quality, according to this database are:
Tezpur (6 micrograms)
Pathanamthitta (12)
Hassan (19)
Chitoor (21)
Kollam (22)
Puducherry (22)
Bongaigaon (24)
Madurai (26)
Warangal (26)
Alappuzha (27)
India's Bottom 10
The cities in India with the worst air quality, or the highest levels of air pollution, according to this database are:
Gwalior (176 micrograms)
Allahabad (170)
Patna (149)
Raipur (144)
Delhi (122)
Ludhiana (122)
Kanpur (115)
Khanna (114)
Firozabad (113)
Lucknow (113)
Caveats
Now, this data isn't perfect. For one, it's from 2012, so it's a bit old.
Second, some Indian cities don't measure PM2.5, so the WHO infers it from the larger PM10 particles (what's the difference?). I've discovered that the WHO database vastly underestimates pollution levels in Beijing compared to my analysis of local data.
To some extent, the exact top and bottom cities for air quality in India are arbitrary. Different articles use different data sources and will come up with a different answer for the best air quality in India. But the bigger picture of air quality across India holds up regardless of the dataset – Indian cities are dangerously polluted and you need to protect yourself.
---
How I Protect Myself
Smart Air is a certified B Corp committed to combating the myths big companies use to inflate the price of clean air.
Smart Air provides empirically backed, no-nonsense purifiers and masks, that remove the same particles as the big companies for a fraction of the cost. Only corporations benefit when clean air is a luxury.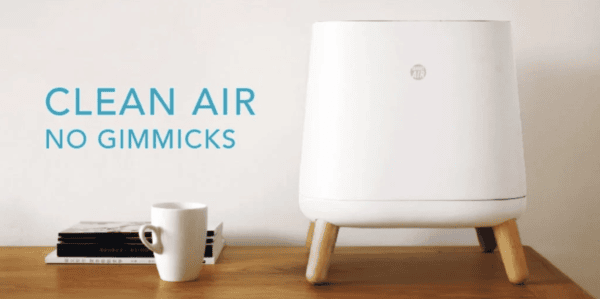 India's air quality is far from safe. Stay smart, do the research, and breath safe today!
---
Free Guide to Breathing Safe
Want to learn more about breathing clean air? Join thousands more and stay up to date on protecting your health.