Blueair Air Purifiers – Our Test Results
They Produce Ozone…
We tested for ozone next to the ionizer in a Blueair air purifier and found that it produced 181 parts per billion (.182 PPM) of ozone, exceeding the California Air Resource Board limit of 50 parts per billion. The test was done right next to the ionizer, whereas the certification conducts tests away from the purifier.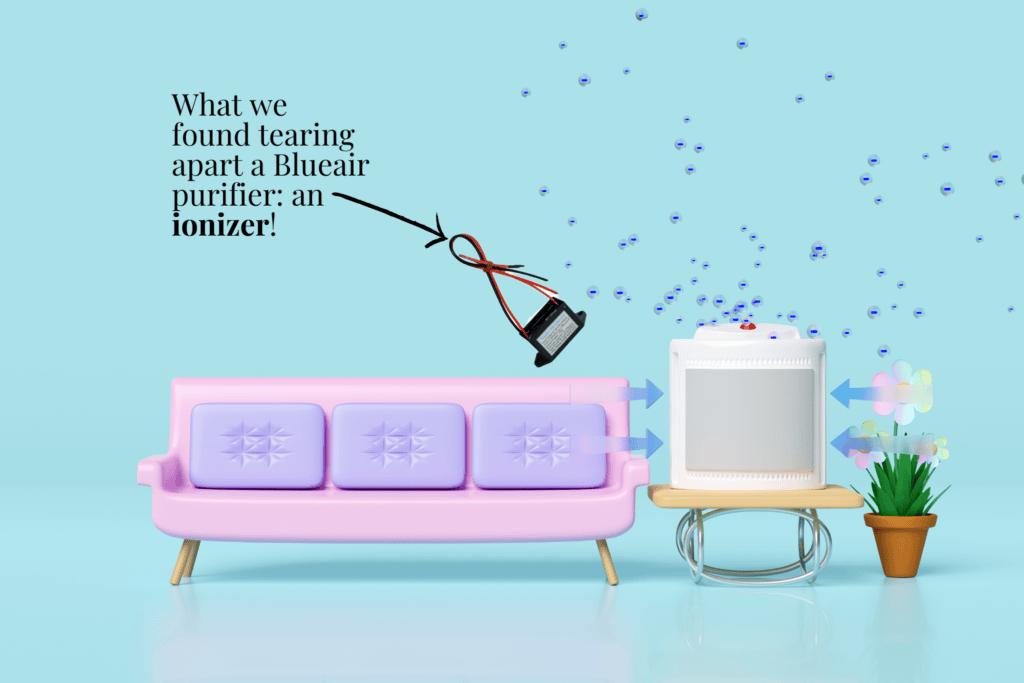 And Use Ionizers (all models).
The Illinois Institute of Technology found that the Blueair ionizer function increases negative ion concentrations over 10 times! These negative ions can potentially react with the air to produce dangerous VOCs – something their HEPA filter doesn't capture. ALL Blueair purifier models use ionizers, including: Blue Pure 211/311/411, Blueair Classic 605/405.
Why Do Blueair Purifiers Use Ionizers?
It's quite simple. Adding an ionizer is an extremely cheap way for an air purifier company to increase its purifier's CADR (measure of performance). Additionally, consumers are typically unaware of the negative effects of ionizers (or the fact they are in the purifiers at all).
What Make's Smart Air Different?
The University of Chicago Professor Thomas Talhelm created Smart Air as a not-for-profit B-corp to bring transparency to a shady industry. Smart Air provides extremely effective (and beautiful!) HEPA air purifiers with no dangerous gimmicks such as ionizers at an incredible deal.
How does the Smart Air Sqair compare?
A Special Deal On Safe, Ionizer-Free Clean Air (Offer Valid Until January 20th, 2023)
Instead of producing harmful ozone or negative ions, the Sqair gives you fresh, clean air without hurting your wallet or your lungs. To help you get the best air purifier for your needs, we're giving UK air breathers 10% off today with promo code "SQAIRNYS" to start breathing clean air immediately!