How Smart Air saved the BBC $25,000 on air purifiers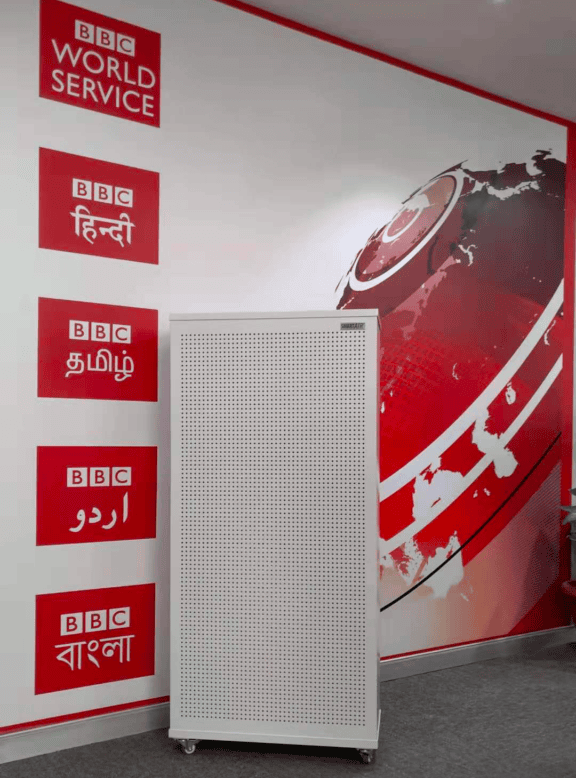 The BBC Beijing office was already equipped with IQAir purifiers when they called Smart Air. They were re-renovating their office and used the time wisely to re-evaluate their clean air options. They worked out the cost of replacing IQAir filters alone was much higher than switching to brand new Blasts and Blast Minis.
Here's the calculation the BBC did in their head: "over 3 years, how long will it take me to save money if I switch to the Blast and Blast Mini?"
The answer: In just 20 months, it would be cheaper buying new Blasts and Blast Minis than replacing IQAir filters and after 3 years, they would save $25,000!
Ford selected plug-and-play over central HVAC
Right after moving to their new office, Ford India experienced problems with outdoor particulate pollution (PM2.5) and chemicals (VOCs) off-gassing from new furniture, carpets, paints, and other remodelling work. To tackle these problems and protect the health of their staff, Ford India reached out to Smart Air in Delhi.
Ford could install purifiers into the central air system. The upside of this plan is that the purifiers would be hidden out of sight, into the ceiling. However, the downside is that this plan would require custom design and changing the infrastructure in the office. This would lead to longer manufacturing time and higher overall costs so they chose to install Blast air purifiers because it could give their team clean air immediately and cost less.
Smart Air installed 14 Blast and Blast mini air purifiers fitted with both H13 HEPA and activated carbon filters. The Blast units fit easily into the office and can be wheeled around to optimise space needs and effectiveness.
After installation, Smart Air tested the air in Ford's office to make sure the purifiers were effective. The test results found the Blast units reduced the PM2.5 levels by 95% and VOCs by 68% on average across the entire office over the span of 30 days.
Zomato uses Smart Air purifiers
In December 2018, Zomato was moving into their new 100,000 square foot office in Gurgaon, just outside New Delhi. Recent painting, new carpets, and remodelling work meant the Zomato team was facing problems with volatile organic compounds (VOCs) like formaldehyde and benzene. Along with Delhi's and Gurgaon's persistently high PM2.5 levels, Zomato needed to solve the serious indoor air pollution issues in order drowsiness and headaches for their team.
To kit out the entire office space with clean air, Smart Air installed 91 Blast and Blast Mini air purifiers within weeks, drastically quicker than the months required for custom clean air solutions like HVAC and centralised air system modifications. What's more, Zomato didn't need to make changes to their building infrastructure which meant they also saved huge amounts of money during the installation. It was win-win for Zomato.
Smart Air ran 6 audits at the Zomato workspace over the course of 21 days to measure and evaluate the effectiveness of this clean air solution.
The data was conclusive: in just 21 days, the Blast air purifier solution reduced PM2.5 by 87%, formaldehyde by 82%, and VOCs by 93% on average across the entire Gurgaon office space.
Smart Air provides clean air to the Slovenian Embassy in Delhi
Smart Air was tasked with cleaning the air in a 5000 sq ft (465sqm) area at the Slovenian Embassy in Delhi.
This embassy joins many other embassies including France, Germany, Portugal, Switzerland and more, in trusting Smart Air's line of powerful commercial air purifiers to bring clean air to their embassy.
For this space, the powerful Blast and Blast Mini commercial air purifiers were chosen. These purifiers are equipped with large highly effective H13 HEPA filters and push through a tremendous amount of clean air with minimal impact on the aesthetics and environment of the workspace due to their quiet design.
How we got clean air to Auchan
Auchan chose to partner with Smart Air on this project, because the data-backed Blast and Blast Mini purifiers are not just more powerful than many other big purifier brands out there, but also much more cost-effective. They tasked Smart Air with cleaning 1,500sqm (15,000sqft) of office space at Auchan's Shanghai site.
Since the office had just been renovated, Auchan needed to ensure VOC levels were kept low, as well as PM2.5 levels. Auchan installed a total of 30 Blast and Blast Mini units in their office, covering the entire 1,500sqm space with minimal impact to the aesthetics and environment of the workspace. Installation took just one day without affecting the daily work of their office employees.
Smart Air installed air quality monitoring stations across all 3 floors of the Auchan office which enabled Auchan to track air quality in their office in real-time, from anywhere in the world. Smart Air were also asked visit to the Auchan office to educate the staff on protection from air pollution.
Want help creating a plan for your school or business?
Our prices show bulk discounts and exclusive of VAT so if you know what you are after, you can get a good idea of costs by looking at our products. However if you need help deciding what you need for your space, get in touch with us [email protected].