We've shipped over 50,000 of our simple, effective, no-nonsense DIY air purifiers since launching. That's a lot of clean air, for a fraction of the market average price.
In 2017 we launched the Blast and Blast Mini purifiers, which pump out huge amounts of clean air at very low noise levels. The DIYs are great for smaller spaces like bedrooms and living rooms, however they're not best suited for bigger spaces. If you're a business, school, or hospital looking for clean air the Blasts are for you. Pupils, teachers and employees spend over 40% of the day in the office or school, so getting clean air here will drastically improve health (as well as performance at work or school!).
French retail giant Auchan knew how important clean air was for their employees' health. That's why they tasked Smart Air with cleaning the air in their new Shanghai office. What's more, they also knew that by using the Blast and Blast Mini purifiers from Smart Air, they could get clean air more effectively and save themselves a lot of money in the process.
How We Got Clean Air to Auchan
Auchan chose to partner with Smart Air on this project, because the data-backed Blast and Blast Mini purifiers we offer are not just more effective than many other big purifier brands out there, but also much more cost-effective. They tasked Smart Air with cleaning 1,500sqm (15,000sqft) of office space at Auchan's Shanghai business location.
Since the office had just been renovated, Auchan was also conscious that they needed to ensure VOC levels were kept low, as well as PM2.5 levels. Follow renovation or the installation of new furniture, VOCs such as formaldehyde and benzene can be an issue.
The Solution
In order to tackle both PM2.5 and VOCs in their office space, Auchan decided to install standalone Blast and Blast Mini purifiers across the office floor, fitted with high performance H13 HEPA filters, and effective activated-carbon filters.
Auchan installed a total of 30 Blast and Blast Mini units in their office, covering the entire 1,500sqm space with minimal impact to the aesthetics and environment of the workspace. Installation took just one day, and did not affect the daily work of the employees in the office.
Monitoring Clean Air
Installing air purifiers is just one step to providing clean air in your school, office or hospital. Smart Air also installed air quality monitoring stations across all 3 floors of the Auchan office. This allows Auchan to track air quality in their office in realtime, from anywhere in the world: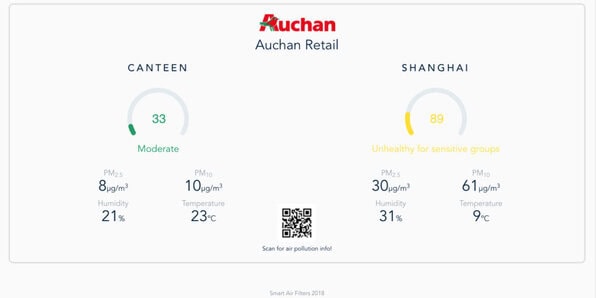 Staff Awareness Training on Air Pollution
Finally, air purifiers are useless if those using them do not know the importance of turning them on/off, and maintaining the filters and pre-filters. As part of Smart Air's social mission, and to ensure the best use of the purifiers for Auchan, Smart Air also provided a free-of-charge visit to the Auchan office to educate the staff on protection from air pollution.
Bottom Line
The data behind air purifiers is simple: clean air doesn't need to cost thousands of dollars. Businesses, schools and hospitals can get effective, reliable clean air into their spaces air by using Smart Air's certified Blast & Blast Mini air purifiers.
If you're looking to solve high PM2.5 and VOC levels in your office, school or hospital get in touch with us and we'll start work on providing you with the clean air you need!
---
Free Guide to Breathing Safe
Want to learn more about breathing clean air? Join thousands more and stay up to date on protecting your health.