How was Hyderabad's 2020 air quality? Did Hyderabad's air quality improve in 2020 compared to recent years? Air pollution in 2019 averaged levels over 4 times the World Health Organization's (WHO) recommended limit for PM2.5 levels. Smart Air dove into the data to see if there was any improvement in 2020.
Hyderabad's Air Quality Improved by 17% in 2020
Analyzing air quality data from the US Consulate, Smart Air found that Hyderabad's air quality improved by 17% compared to last year. At this level, Hyderabad averages three times the World Health Organization's annual air quality limit.
Hyderabad 2019 vs 2020 Air Pollution Levels
Hyderabad's Air Quality: Month by Month Analysis
Breaking down the data by month, air quality in 2020 started at a lower level compared to 2019. Air quality in Hyderabad improved during the period between June and August. However, Hyderabad experienced the least improvement in air quality during the lockdown, while the data shows improvement across other major Indian cities.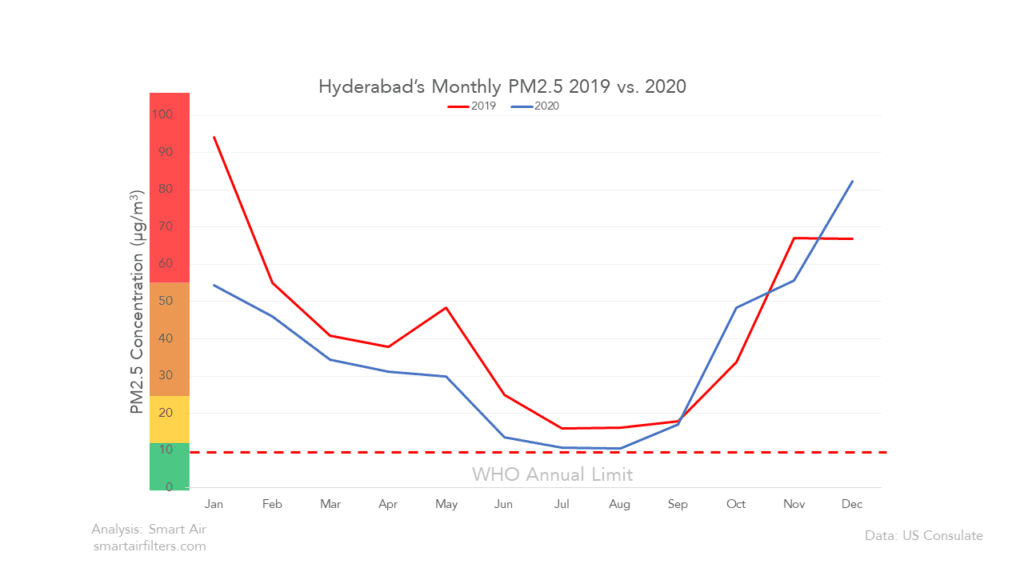 Hyderabad's pollution levels peak during winter with PM2.5 typically rising in October, and pollution levels remain high until March of the next year.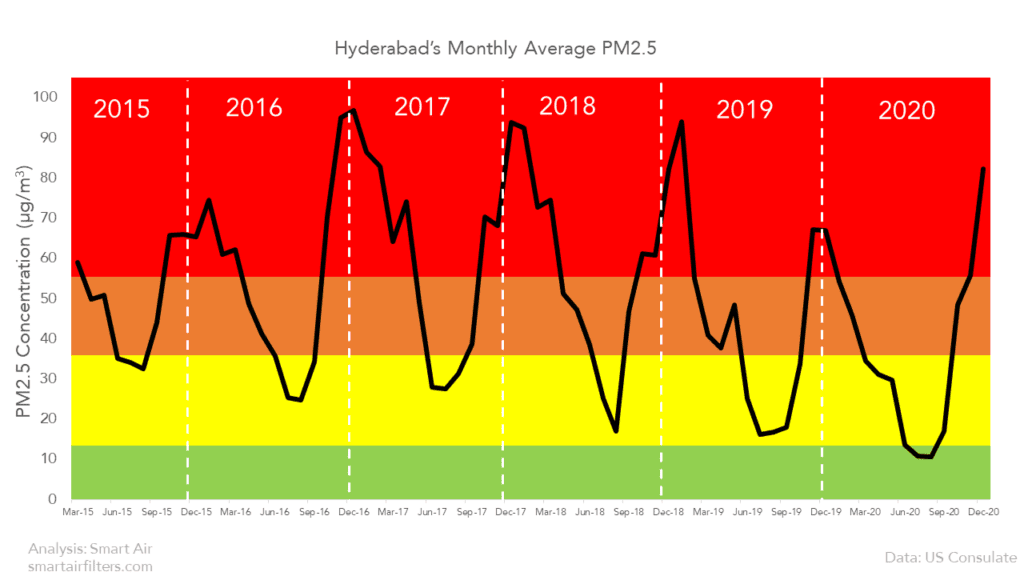 Hyderabad Pollution vs. Delhi Pollution
Compared to pollution leader Delhi, Hyderabad has cleaner air, more close to half the air pollution of Delhi. Although Hyderabad's air quality is better than Delhi's, Hyderabad's PM2.5 exceeds the World Health Organization annual limit all months of the year.
The analysis is based on PM2.5 air pollution, particles smaller than 2.5 microns in diameter. These particles can penetrate deep into the lungs and even enter the bloodstream. Studies have found that PM2.5 raises blood pressure, inflammation, and rates of heart attacks and strokes.
The data came from the US Consulate in Hyderabad. It is open for researchers, although it does have its limitations. The data comes from only one pollution sensor in the city, which means a risk of the data not being representative to the whole of Hyderabad. It's highly possible that pollution levels vary between Hyderabad's different neighborhoods. If this was the case, then pollution levels in different neighborhoods could have drastically different pollution levels.
How I Protect Myself
Despite the harms of PM2.5, studies have found that wearing masks prevents physiological harm to the body. Also using air purifiers in your home have been shown to have positive effects on blood pressure, inflammation, and immune response.
Smart Air is a certified B Corp committed to combating the myths big companies use to inflate the price of clean air.
Smart Air provides empirically backed, no-nonsense purifiers and masks, that remove the same particles as the big companies for a fraction of the cost. Only corporations benefit when clean air is a luxury.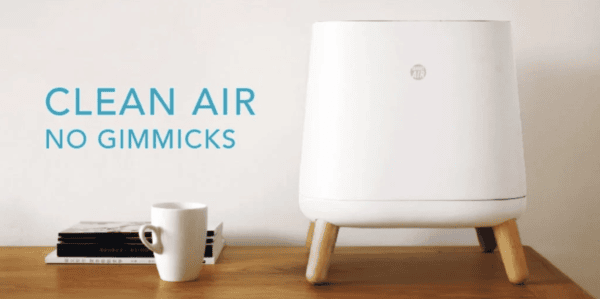 ---
Free Guide to Breathing Safe
Want to learn more about breathing clean air? Join thousands more and stay up to date on protecting your health.