Are you in search of a city in India with cleanest air to get a break from air pollution? Smart Air examined air quality data from 2022 for numerous Indian cities, resulting in the 2023 list of the '20 Least Polluted Cities in India' or 'Best AQI Cities in India'.
Scroll down below for full overview of pollution free Indian city. It's worth noting that the World Health Organization's recommended annual limit is 5 micrograms.
List of Cities with Best Air Quality in India (2023)
1. Imphal (11.14 μg/m3)
2. Madikeri (17.04 μg/m3)
3. Mysuru (19.10 μg/m3)
4. Mangalore (20.07 μg/m3)
5. Amaravati (20.78 μg/m3)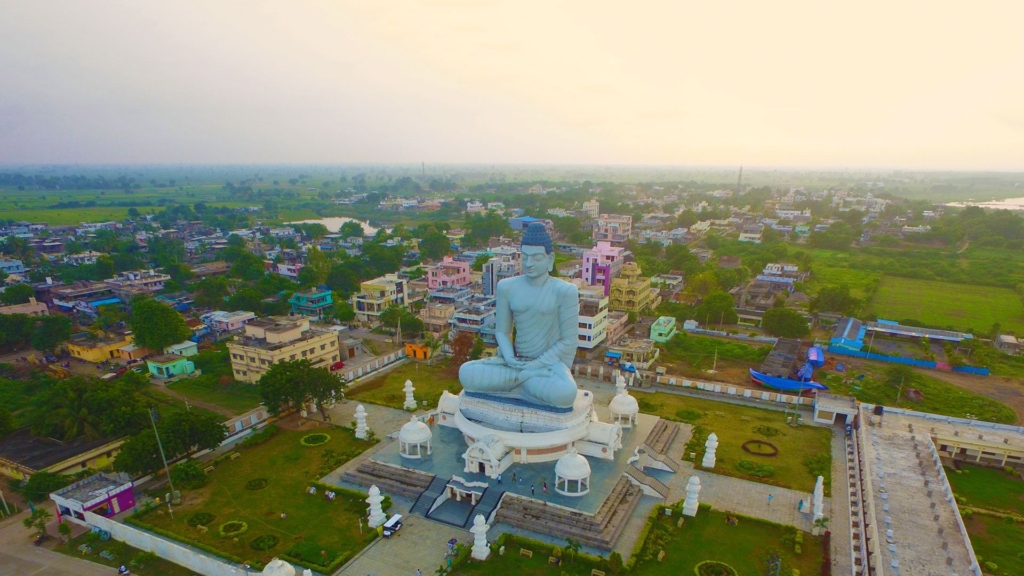 6. Haldia (23.43 μg/m3)
7. Gorakhpur (24.83 μg/m3)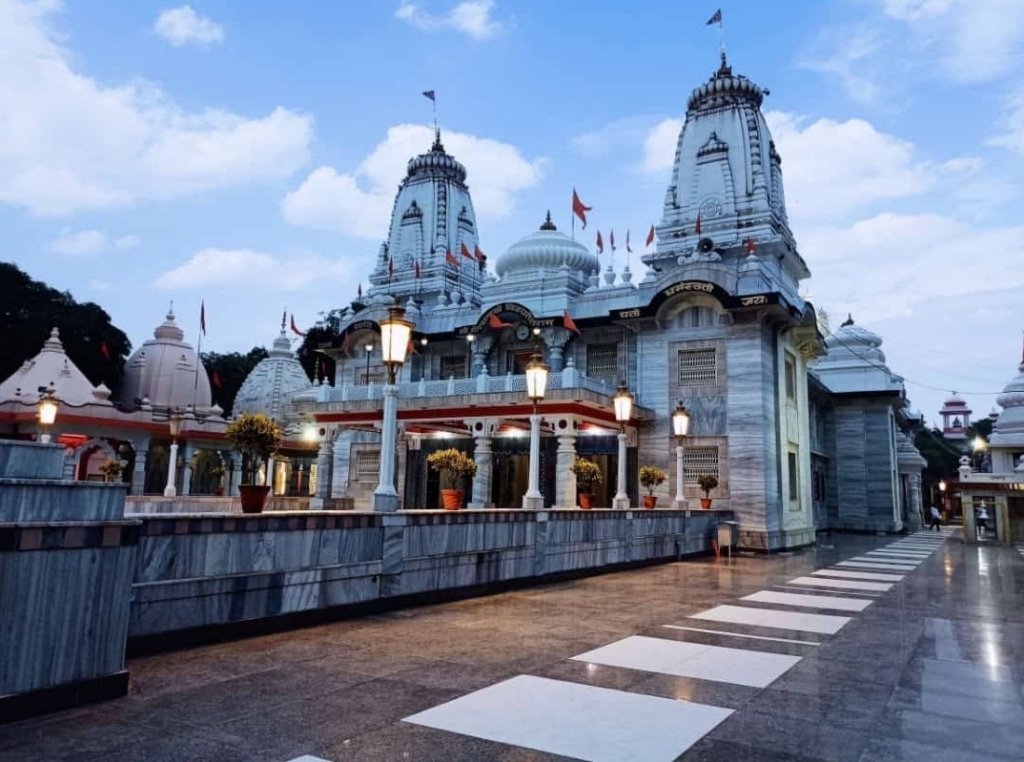 8. Bagalkot (24.95 μg/m3)
9. Chennai (26.06 μg/m3)
10. Chikkaballapur (26.30 μg/m3)
11. Mandikhera (29.60 μg/m3)
12. Agartala (31.39 μg/m3)
13. Bengaluru (31.87 μg/m3)
14. Kolkata (32.00 μg/m3)
15. Kollam (32.04 μg/m3)
16. Guwahati (32.36 μg/m3)
17. Kannur (32.82 μg/m3)
18. Kozhikode (33.25 μg/m3)
19. Hyderabad (33.48 μg/m3)
20. Mandideep (33.50 μg/m3)
Read More: The 25 Most Polluted Cities in the World for 2023?
Results: India's Least Polluted Cities
Even though the above is a list of the least polluted cities in India, still none of the cities analyzed had pollution levels below the WHO recommended limit of 5 micrograms. The least polluted city in India, Imphal, had air pollution levels more than 2-times higher than the recommended limit. Six of the top twenty least polluted cities were located in Karnataka and the majority of the cities are in the South. Also, more monitoring devices are required to have adequate air quality data in a particular area, as most cities have limited monitoring stations in India which causes much of the pollution to go unreported. Furthermore, not all cities have equal monitoring stations. For example, Delhi has over 30 stations.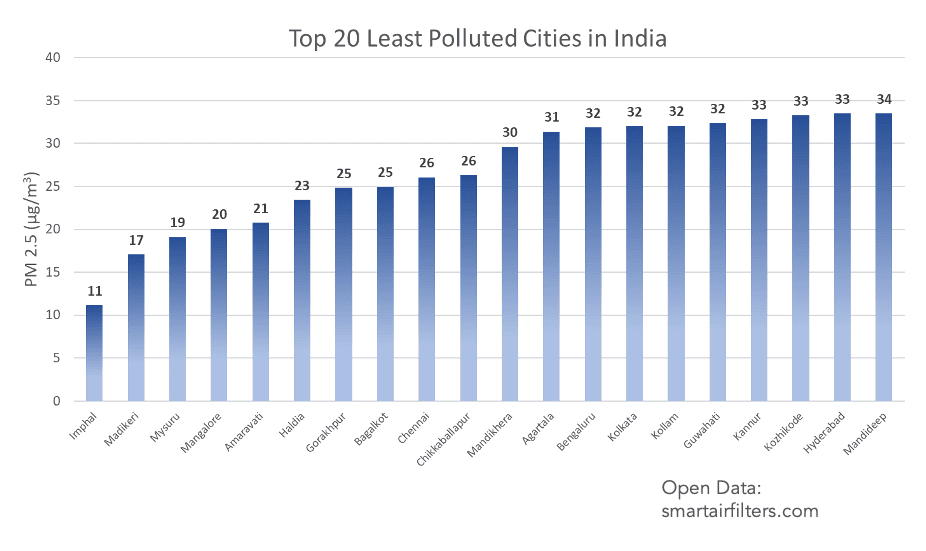 How Air Pollution Was Measured to Find Least Polluted Cities in India
There are various pollutants (both particles and gases) that can be found in the air. One of the most commonly tracked pollutants is very small, fine particles called PM2.5.
These small pollutants are under 2.5 micrograms in width and are considered to be one of the more dangerous pollutants due to their ability to enter deep into the lungs and bloodstream. The above rankings of the least polluted cities in India were ranked based on their 2022 average PM2.5 pollution levels.
Recommended limits
The limit that is closely aligned with what studies show about the health effects of pollution is the annual limit of 5 micrograms/m3.
Open Data
The raw PM2.5 AQI 2022 India pollution data used for the rankings of India's most polluted cities are openly available on openaq.
---
Watch: Run Down of Top 5 Most Polluted Cities in the World
---
How I Protect Myself
Smart Air is a certified B Corp committed to combating the myths big companies use to inflate the price of clean air.
Smart Air provides empirically backed, no-nonsense purifiers and masks, that remove the same particles as the big companies for a fraction of the cost. Only corporations benefit when clean air is a luxury.
For protection against air pollution, check out the Sqair!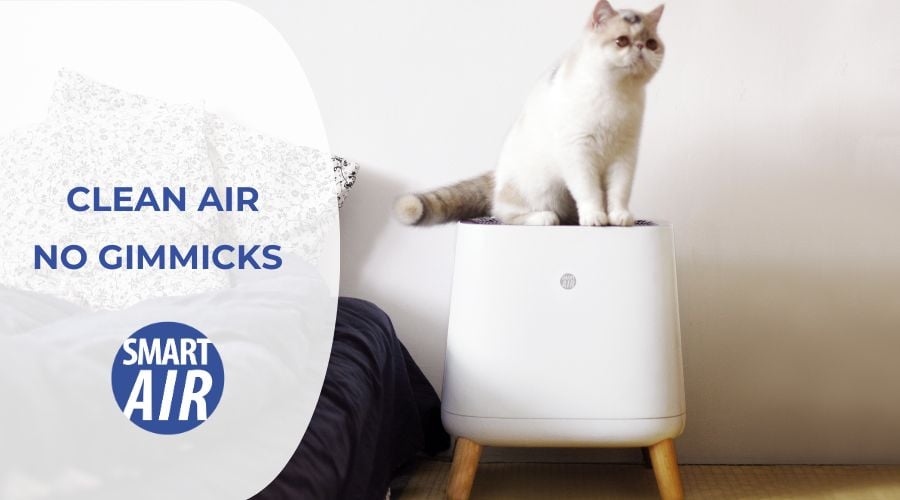 ---
Free Guide to Breathing Safe
Want to learn more about breathing clean air? Join thousands more and stay up to date on protecting your health.