How bad is the air pollution in Seoul, South Korea? On the one hand, Seoul is a modern, developed place, which means it shouldn't be that bad. On the other hand, news media have reported several bad smog attacks in the last year. I wanted to get some hard numbers on Seoul air quality, so I analyzed data Seoul's PM2.5 pollution data.
Seoul's Air Quality in Numbers
Seoul's PM2.5 averaged 26 micrograms/m3 from 2016 to 2018. That puts Seoul at more than two times the WHO annual limit. That's bad news for lungs in Seoul because studies have discovered that levels around 10 micrograms affect our health.
Seoul's International Air Quality Ranking
That also puts Seoul higher than major developed cities. People in Seoul breathe more polluted air than people in major cities like Paris, Berlin, and London.
Seoul's Air Pollution: The Good News
But is Seoul air the worst in the world? Nowhere near it. Seoul isn't even close to air quality of Beijing or Delhi.
Seoul's Air Pollution: The Bad News
However, this average obscures the much more serious spikes in pollution, particularly in winter and spring. For instance, PM2.5 is frequently in the 'Unhealthy' range during winter and spring. Seoul often sees air pollution four times worse than average. In 2018, Seoul's pollution peaked at 14 times the WHO annual limit.
Why Is Winter And Spring Air Worse in Seoul?
Around the world, PM2.5 tends to be worse this period (evidence from India, China, US) because air sticks closer to the surface of the earth. In Seoul, the lack of gets stuck inland.
Is China to Blame for Seoul's Pollution?
Many people in Korea have argued that most of the pollution comes from Mainland China, but is that really the case? Of course, there are many local sources of air pollution in Seoul.
So is China really to blame? The Smart Air team has performed an analysis of wind and pollution to get to the bottom of whether Mainland China affects Seoul's air quality. Check it out!
Data
The data I analyzed comes from Berkeley Earth's reports on PM2.5. PM2.5 pollution are particles smaller than 2.5 microns in diameter that can penetrate deep into the lungs and even enter the bloodstream. Studies have shown that PM2.5 raises blood pressure, inflammation, and rates of heart attacks and strokes.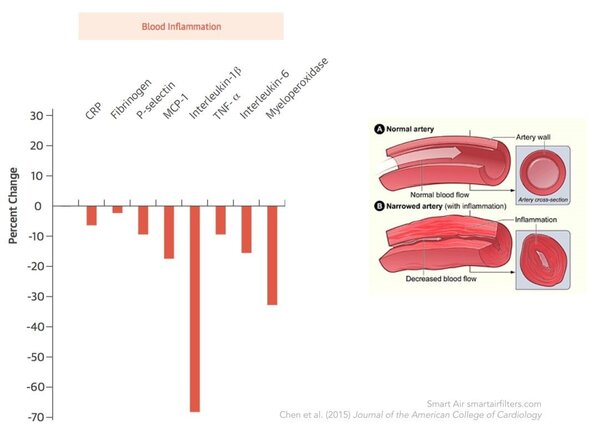 Bottom line: Seoul's air is not the worst in the world but averages over twice the WHO annual limit. During winter and spring especially, pollution reaches critical levels.
Protective Measures
Reducing Seoul's PM2.5 would bring meaningful benefits to residents' health. Residents can take the following measures to protect themselves from air pollution:
Wear a mask outdoors when PM2.5 is above 10 micrograms (or 25 micrograms as a looser limit). Check out evidence that masks have physiological benefits here.
Use a purifier at home. Placebo-controlled studies of air purifiers have found that reducing particulate indoors prevents harm to blood pressure, inflammation, and immune response—even among young, healthy twenty-year-olds.
Smart Air is a certified B Corp committed to combating the myths big companies use to artificially inflate the price of clean air. To help people living in polluted cities like Seoul protect themselves, Smart Air provides empirically backed, no-nonsense purifiers and masks, thereby helping to lower the cost of clean air.
We've been shipping lots of Smart Air purifiers to South Korea, but we don't currently have a distributor there. If you want to help us bring more clean air to the people of South Korea, apply to be a distributor here!
---
Free Guide to Breathing Safe
Want to learn more about breathing clean air? Join thousands more and stay up to date on protecting your health.