Beijing said they would cut air pollution in a plan announced in 2017 (and a few months before that and another one back in 2013). But China's Environment Ministry forecasted that weather conditions this winter would make China's air pollution particularly bad this winter.
What does the data say? Here's how PM2.5 has trended in six major cities from 2011 to 2017.
Most cities have seen a steady decrease for the last 4 to 5 years.
Beijing
Next I analyzed 2014-2016 averages against 2017. Beijing was down 27%.
Some of that outperformance was because February through August were better in 2017 (red line) than in previous years (blue line). But the largest decrease was in the winter.
Shanghai
Shanghai's PM2.5 was down 22%.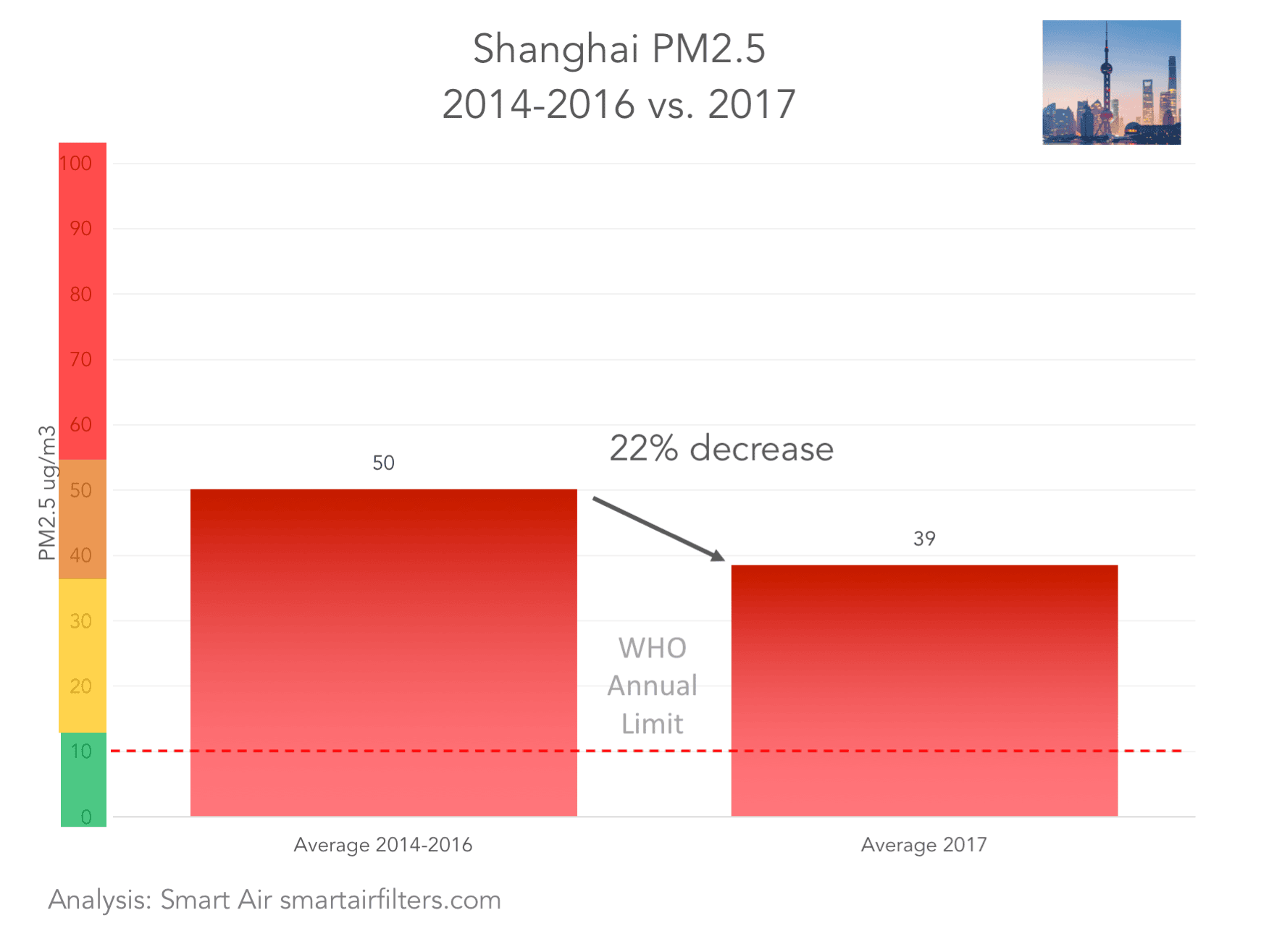 Unlike Beijing, Shanghai's improvement was much steadier throughout the year.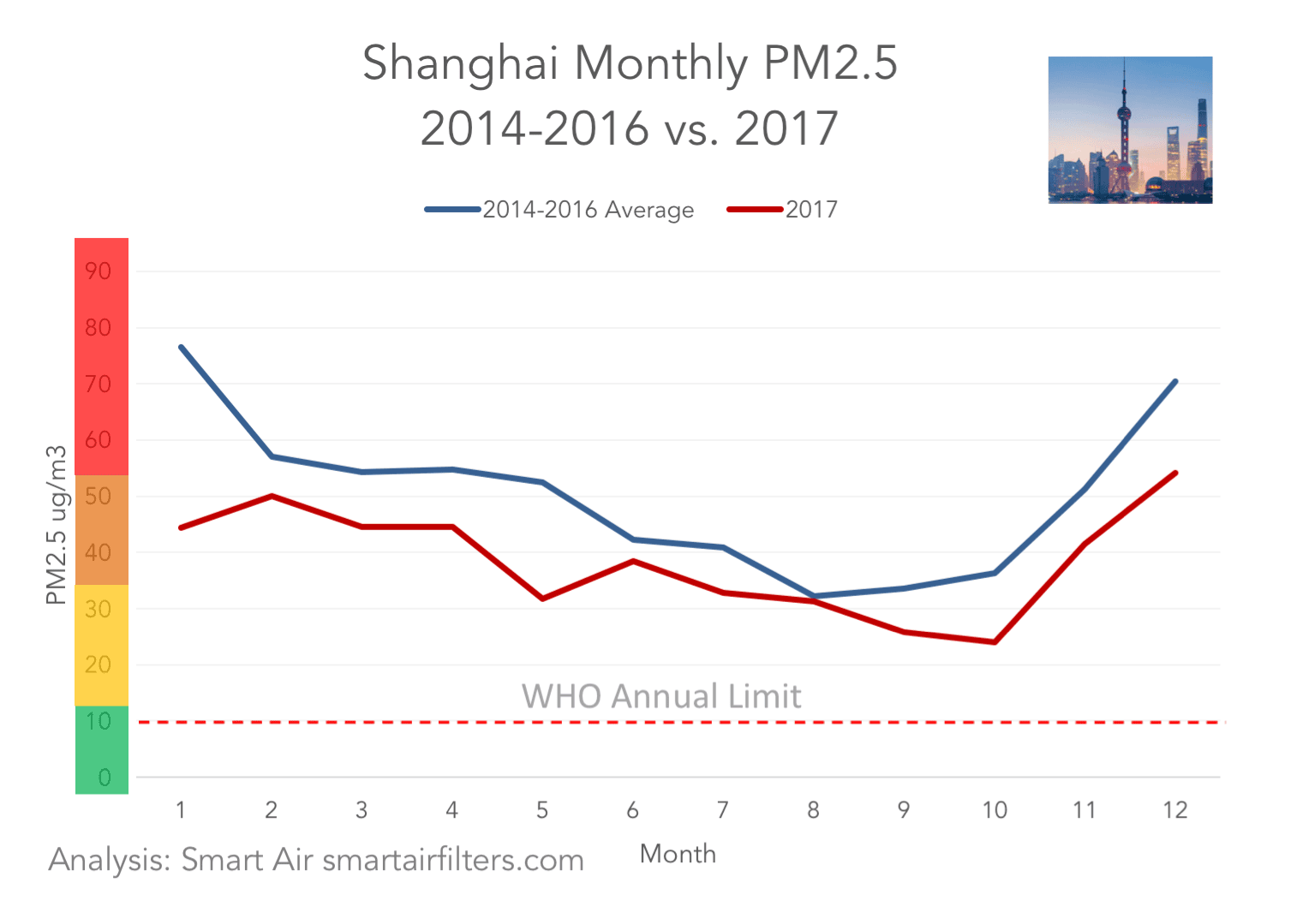 Chengdu
Chengdu's PM2.5 fell 15%, just a year after tying Beijing.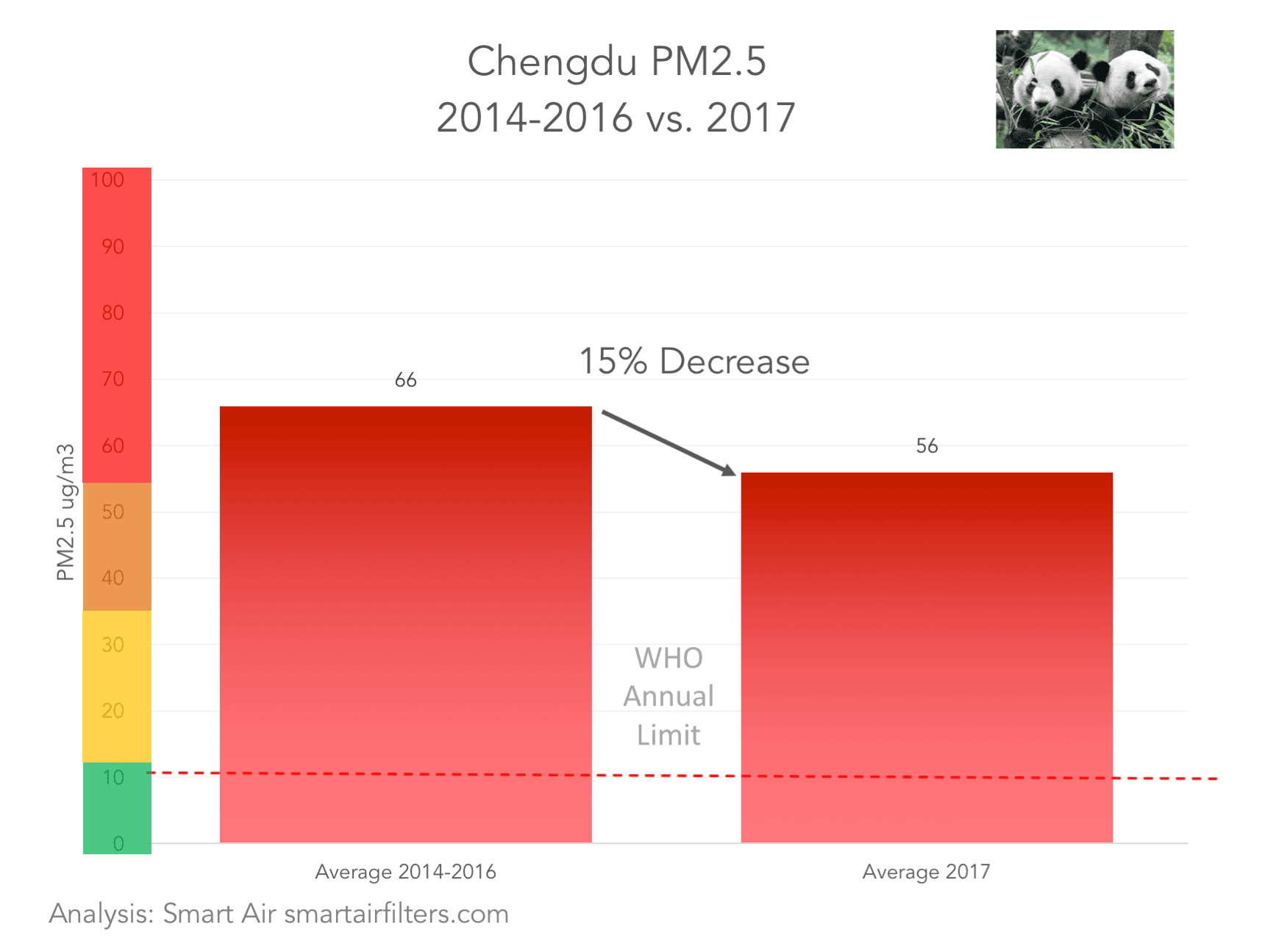 Chengdu has seen none of the miraculous winter Beijing has seen. Winter so far has actually been slightly worse than previous years for Chengdu. Instead, most of Chengdu's improvement came in the summer.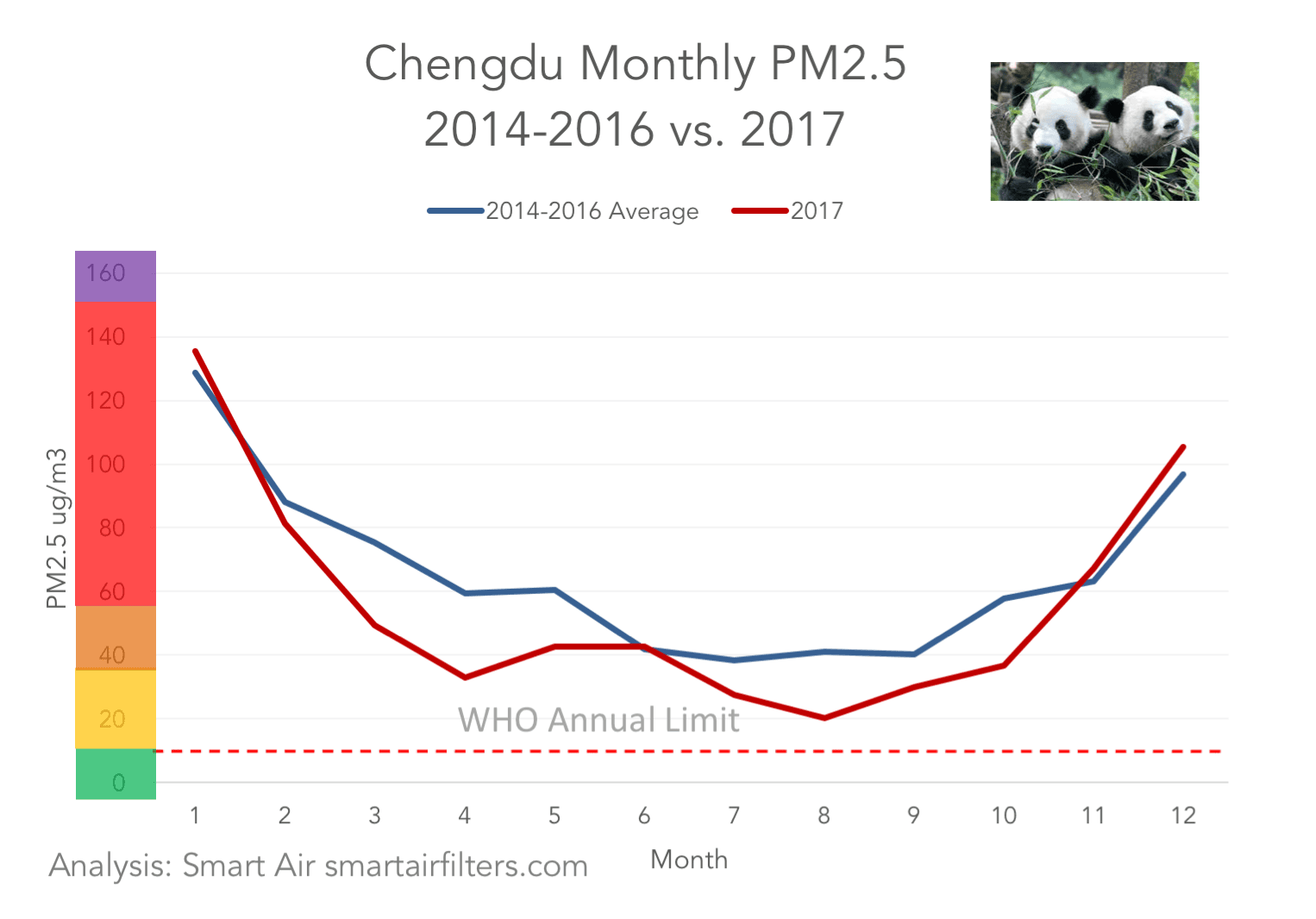 Xi'an
Xi'an is the biggest exception to China's improvement. The capital of Shaanxi actually saw PM2.5 rise 7%.
Xi'an had a rough January and February, followed by an average rest of the year.
Bad News #1: Here's Why People May Be Breathing More Pollution
Pollution is psychological. Compare 2013 to 2015. Back in 2013, Beijing's PM2.5 was worse, yet Baidu searches for air purifiers (and probably general awareness) skyrocketed 500%.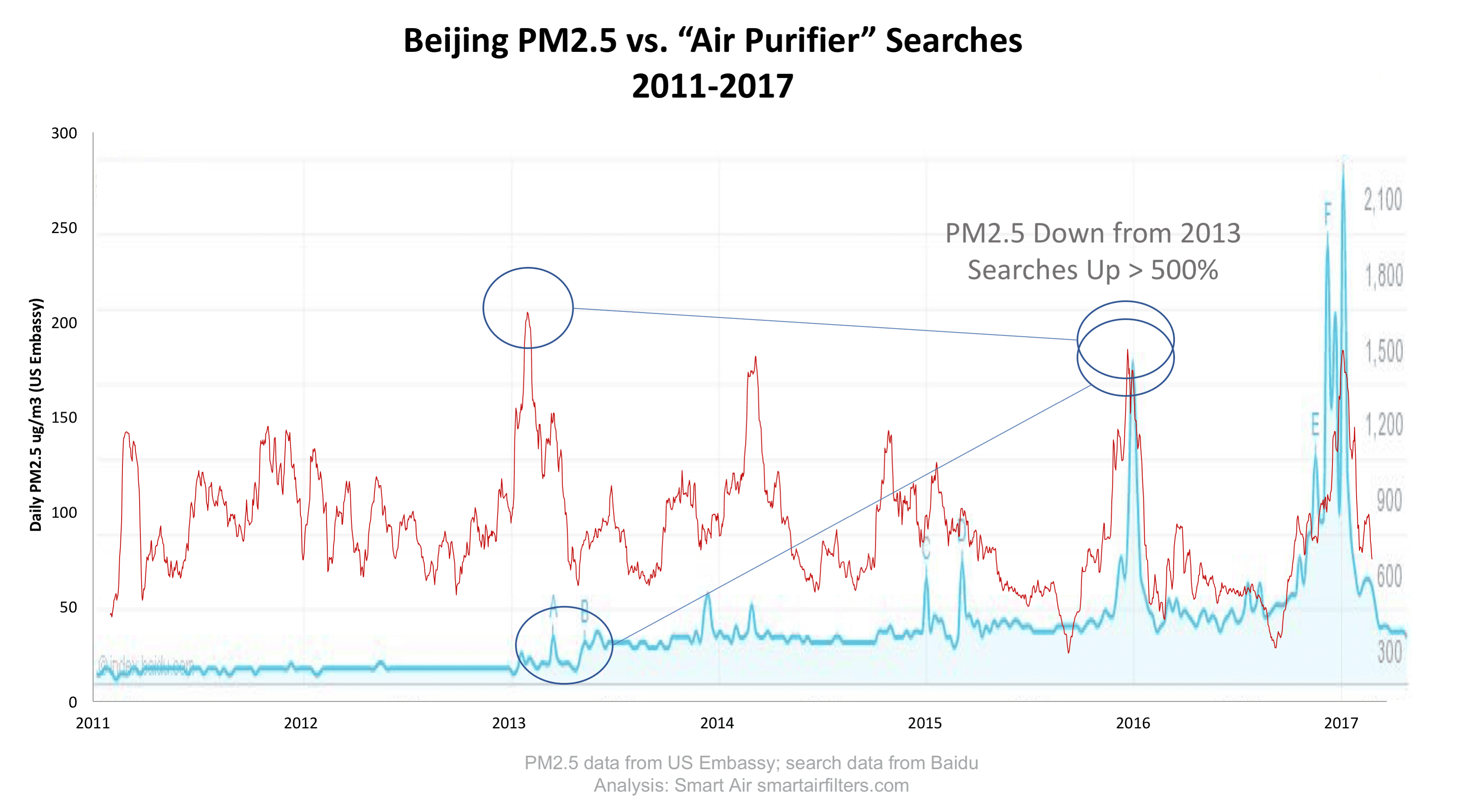 As China's air pollution goes down, we risk getting lulled into a false sense of security and packing away our masks and purifiers. So even as PM2.5 decreases, many people may actually expose their lungs to more pollution.
Why do I say "false sense of security?" Because of bad news #2:
Bad News #2: China's Air is Still Toxic
The improvement is great, but China still lags far behind other major like Tokyo, New York, and London.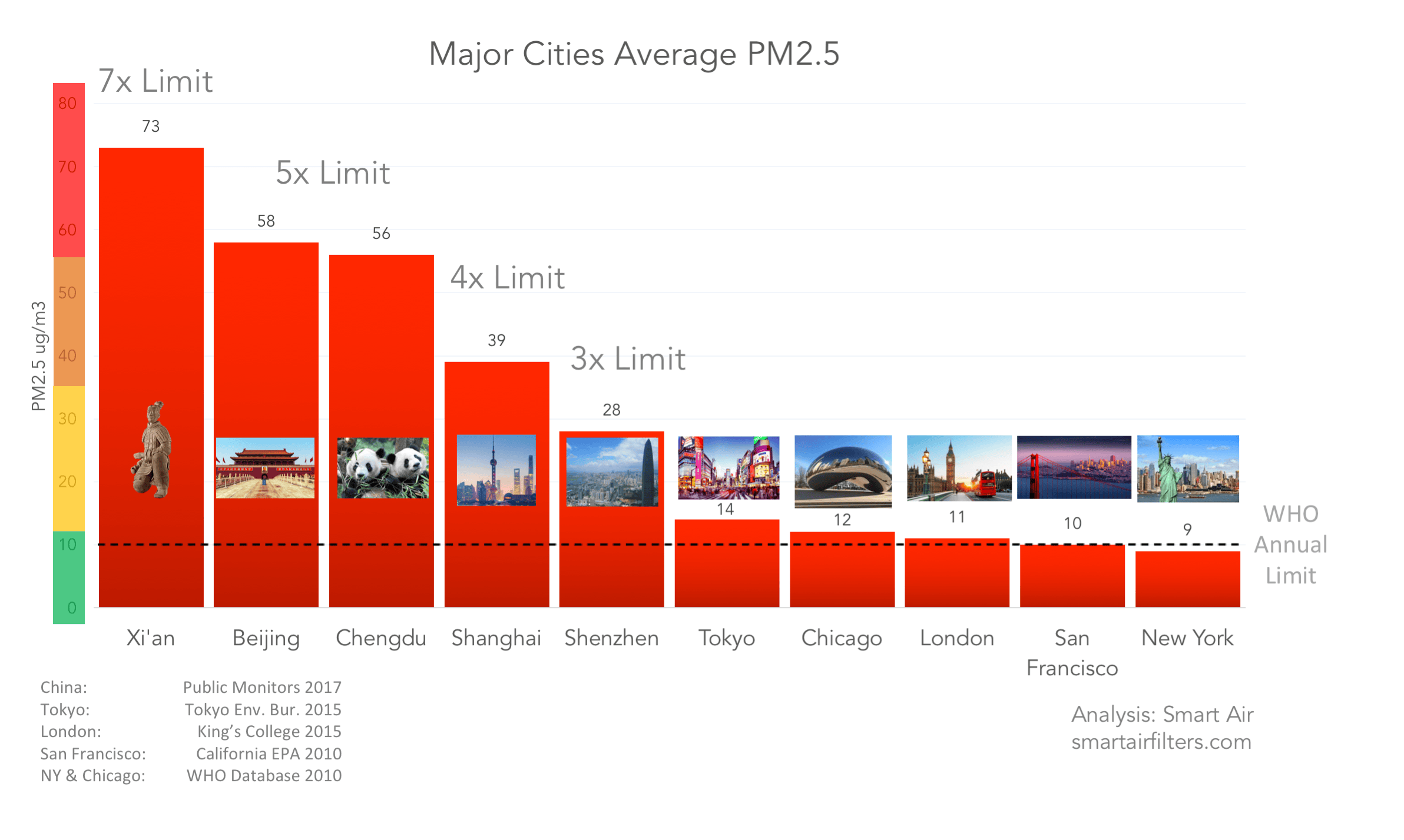 The five major cities I analyzed were all within a few micrograms of the World Health Organization's annual limit. Yet even China's cleanest major city, Shenzhen, averages almost three times the limit. Beijing averages nearly six times the limit. If you live in a major Chinese city, you're breathing dangerous air on an average day.
Bad News #3: China's Ozone Is Getting Worse
Ozone is arguably China's second most serious pollutant, and ozone hasn't gone down. In Beijing and Chengdu, it's roughly flat. Meanwhile, in Shanghai and Xi'an, ozone has gone up.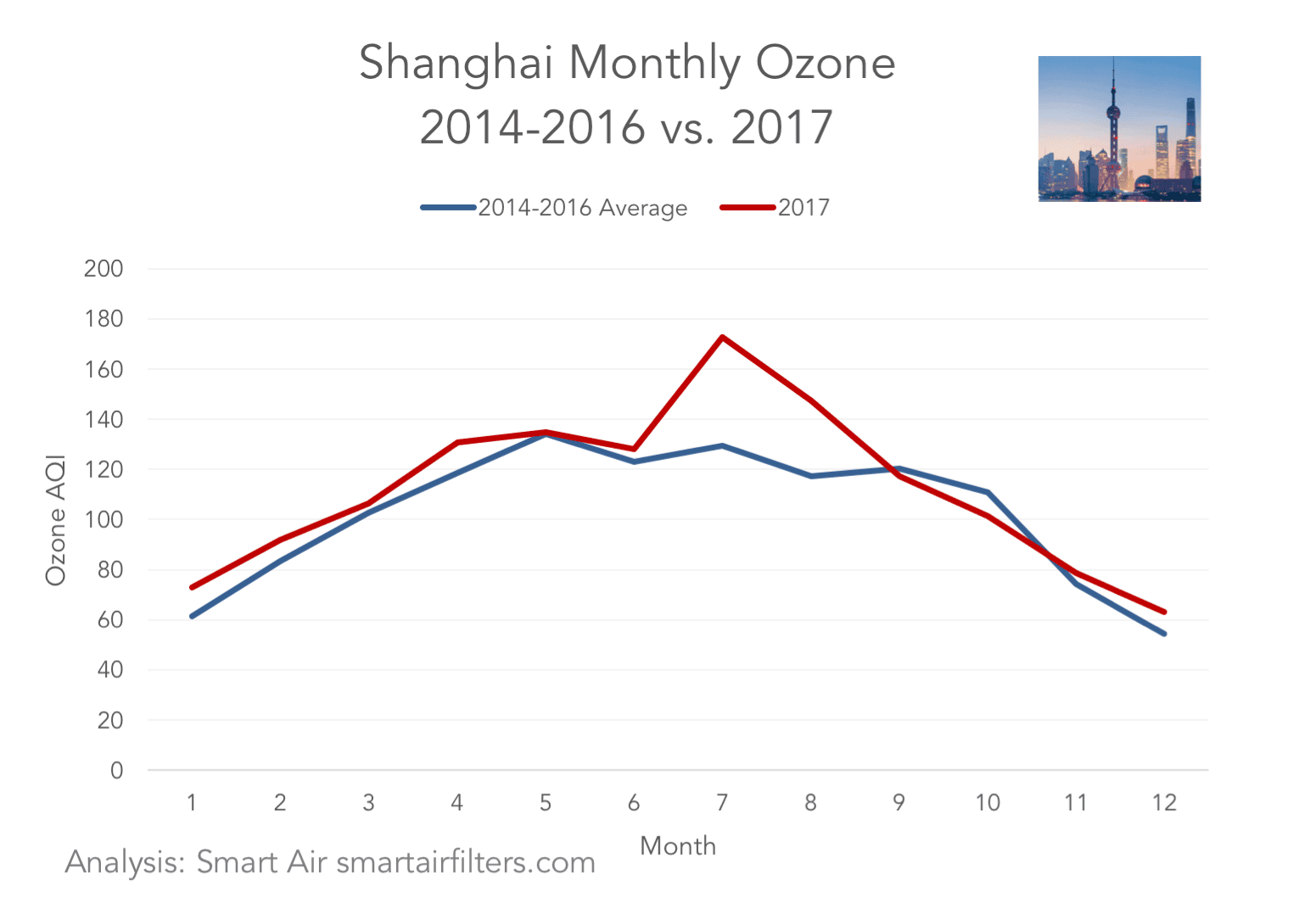 Cleaning up China's air is a long-term project. Air-breathers like you and me can only hope China's progress continues into 2018!
---
Free Guide to Breathing Safe
Want to learn more about breathing clean air? Join thousands more and stay up to date on protecting your health.