Now that 2017 is gone, I analyzed PM2.5 in 19 cities all over China, from Harbin to Guangzhou. I then compared 2017 to the prior three years.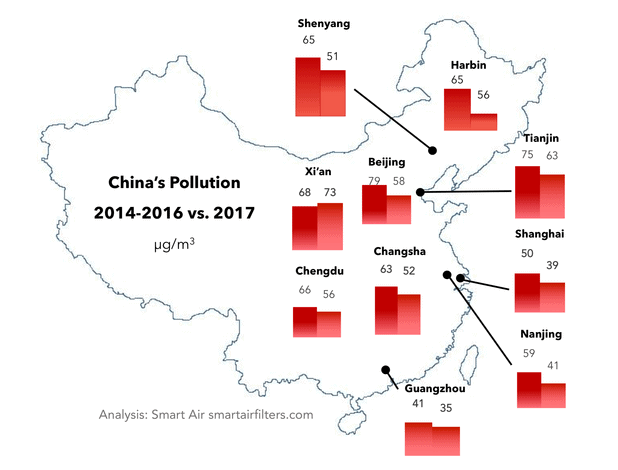 For most cities, the trend has been flat or down for about three years.
The one exception? Xi'an. While most of the rest of China was down, Xi'an's PM2.5 was up 7%.
That's 25% higher than Beijing, the city that brought PM2.5 to fame. This now gives Xi'an the title of worst PM2.5 of any major city in China.
Why is Xi'an's air so bad?
1. Bad Geography
Xi'an isn't helped by the mountains that surround the city, particularly to the south and east. These mountains can trap pollution in the city, like a fireplace with the chimney plugged.
2. No Policy to Switch Heating from Coal to Natural Gas
Beijingers' lungs benefited mightily this winter from a policy switching coal to natural gas. Although PM2.5 was lower in most months of 2017, the biggest gap was in November and December — the winter heating months.
Xi'an saw no such winter miracle. This November and December were right in line with previous years.
3. Lax Enforcement?
Yet there's still a puzzle here. Cities like Chengdu and Shenyang similarly had no heating policy shift, yet their PM2.5 was down in 2017. So why is Xi'an the lonely outlier?
Besides the possibility of unlucky weather, it may be that Xi'an is falling flat in the stepped up enforcement of pollution regulations on factories and power plants. News outlets have reported that factory owners are actually seeing inspectors (and fines) at their factories. So, perhaps Xi'an and the surrounding areas are slow to the inspection regime.
Whatever the reason, residents of Xi'an must be hoping for a bluer 2018.
Breathe safe!
---
Free Guide to Breathing Safe
Want to learn more about protecting your health? Join thousands more and stay up to date on protecting your health.