Working on DIY air purifiers for over 6 years, I've heard from a lot of people who have strong intuitions about cleaning car air filter. People tell me they wash their vehicle's air filter, vacuum it, or bang it really hard. Opinions are plenty, but what about real, hard data?
Can You Clean Air Filters – The Data?
Smart Air's hard-working engineering intern CK vacuumed and washed several Beijing-level-dirty HEPA filters in Smart Air's Beijing laboratory (this type of HEPA filter, to be exact).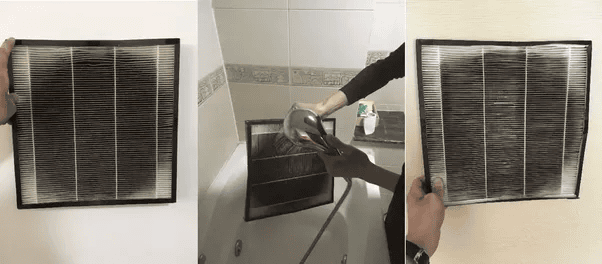 The results? Washing lowered performance by 30%. Vacuuming improved performance by 10% on average, but for some filters, it actually lowered performance. Get the full story on washing and vacuuming tests here.
Can You Clean A Filter With Compressed Air?
But what about compressed air? An answer on the site Quora says it's the "definitive way to clean filters." So some people believe it. Does the data believe it?
I haven't tested it, but these car guys in Guangzhou tested car air filters with compressed air (in Chinese).
They put filters in the car's air system, and ran the air system on the medium setting for 5 minutes. They used a laser particle counter to track the amount of particulate in the air. I made graphs from their data. 
First, they tested a new filter. It cut particles in the air by 84% in 5 minutes.
Then they tested the dirty old filter. No surprise–it did worse! It reduced particles 71%.
Then they cleaned the old filter with compressed air.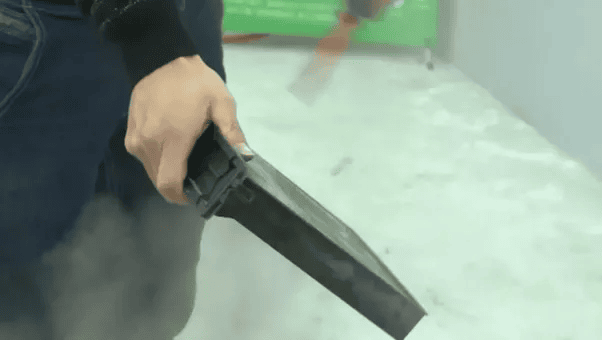 Then they tested it again. Cleaning the dirty filter actually made it worse! The "cleaned" filter reduced particles by 55%.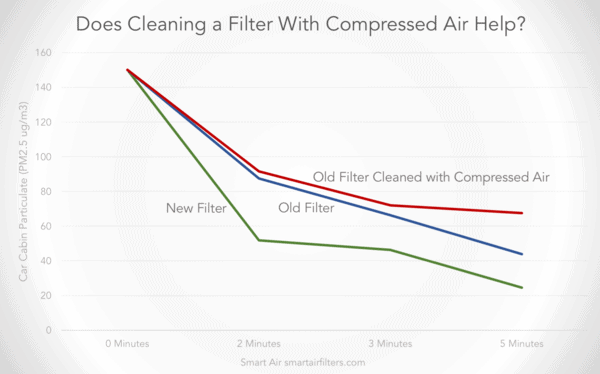 Based on their data, you'd be better off using the dirty filter (and best off with a new filter, of course).
Bottom line: Compressed air is not a good way to clean a filter.
Are There Other Ways to Clean A Car Air Filter?
My tests showed vacuuming improved performance by 10% on average, but the benefit is small and probably not worth the hassle. The only cleaning I'd recommend is if there's a lot of thick, easily removable debris on the filter, like leaves or cat hair. Otherwise, get a new filter!
---
Free Guide to Breathing Safe
Want to learn more about breathing clean air? Join thousands more and stay up to date on protecting your health.