Delhi often makes headlines as one of the most polluted cities in the world, but has the coronavirus lockdown starting March 25th dramatically cut pollution in the capital? News outlets have reported reductions in pollution, but reports of reductions in Beijing were later disproven by data on the ground. A new Smart Air analysis got to the bottom of it using hard data on PM2.5 (What is PM2.5?) from the pollution monitor at the US Embassy in Delhi.
 The data showed a clear drop in particulate pollution after the lockdown. However, the drop preceded the lockdown by six days.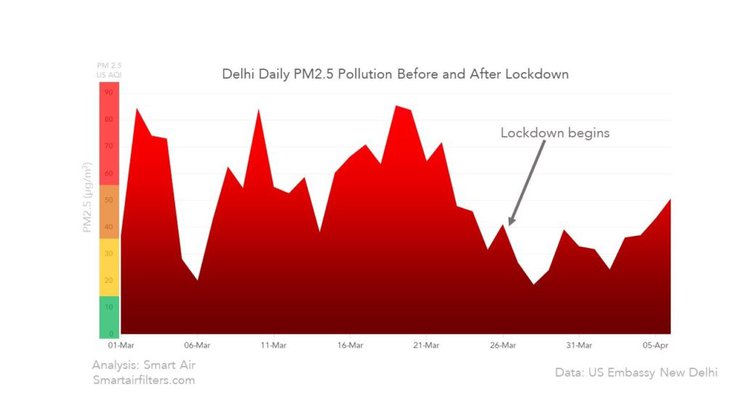 Delhi's average PM2.5 went from 59 micrograms (ug/m3) in March before the lockdown to 34 micrograms after the lockdown. Overall, Delhiites are breathing 43% less pollution in the lockdown.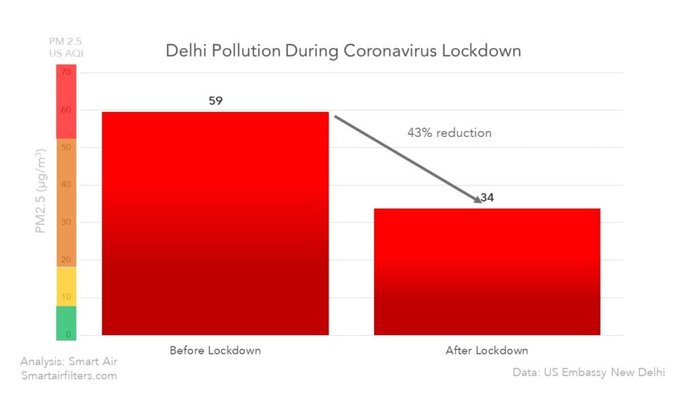 Despite the progress, the capital's air is by no means healthy. Delhiites are still breathing an average of almost 3.5 times the WHO annual limit.
NO2 Pollution During Coronavirus: Down 71%

Besides particulate pollution, the Smart Air analysis also covered nitrogen dioxide data from the Central Pollution Control Board. Delhi's NO2 dropped 71% during the lockdown. This finding mirrors the effects of the lockdown in Beijing, where nitrogen dioxide fell more than particulate pollution.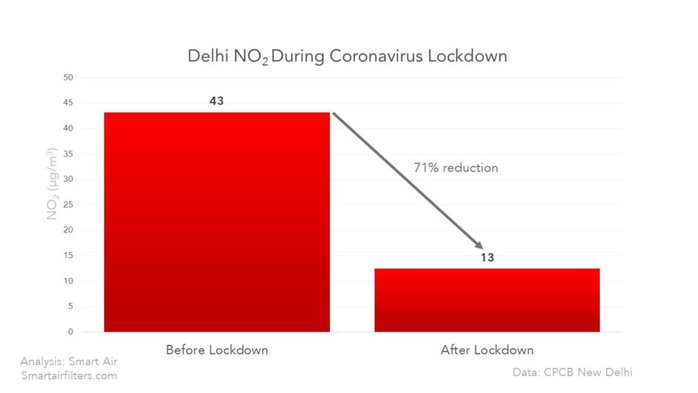 Bottom Line: Delhi Air Pollution During the Coronavirus Lockdown
As the lockdown shuts down non-essential activities, Delhi's PM2.5 dropped 43% and NO2 dropped 71%. This may be a rare point of good news during the crisis, because data has linked PM2.5 to heart attacks, strokes, and even lower IQ. However, even after the reductions, Delhi's air remains above WHO limits.
---
Free Guide to Breathing Safe
Want to learn more about breathing clean air? Join thousands more and stay up to date on protecting your health.