If you search for a solution to lower blood pressure naturally without medication, you will often find the results shown below. The problem is most of the top results are missing one of the most powerful, simple ways to lower blood pressure naturally. This natural method of lowering blood pressure is not only much simpler compared to many of the other methods, but is also backed by a lot of research.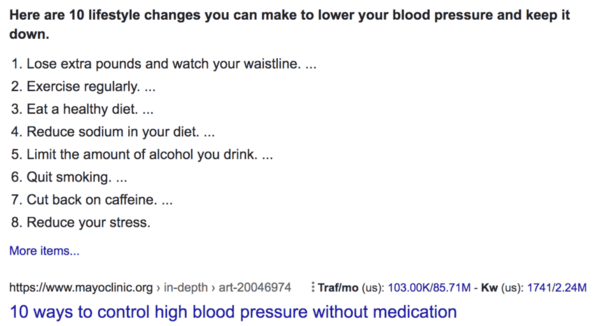 Let's first take a look at a rarely discussed cause of higher blood pressure: air pollution.
Particles In Our Air Lead to Higher Blood Pressure
PM2.5 particles are dangerous, tiny particles in our air. Every home will have varying degrees of these dangerous particles in the air. Even at low levels, PM2.5 has been linked to higher blood pressure in a number of studies. One study showed a 10 microgram increase in daily PM2.5 was associated with an 8.6-mm Hg increase in systolic blood pressure.
One reason for this is air pollution exposure can cause inflammation in the body, which can lead to higher blood pressure. Air pollution particles can also directly enter the bloodstream and damage blood vessels, again leading to higher blood pressure.
The Natural Way to Lower Blood Pressure
Since there is a strong link between higher PM2.5 levels and higher blood pressure, it would make sense that lowering PM2.5 levels in your home could help lower your blood pressure. Multiple studies prove this, showing air purifiers are a natural way to lower blood pressure.
Study: Within Days, Blood Pressure Drops with Air Purifier Use
In one study of over 605 participants, there was a mean reduction in mean systolic blood pressure by nearly 4 mmHg within just two weeks. To put this in perspective, lowering salt intake by 350 mg a day lowers systolic blood pressure by an average of 1.25 mmHg.
Even small reductions in PM2.5 levels in your home can significantly lower blood pressure naturally. A study showed a 5 microgram reduction in PM2.5 lowered systolic blood pressure by 3.7 mmHg.
In another study of college students, within just 48 hours of air purifier use, there were significant decreases in inflammation and blood clotting.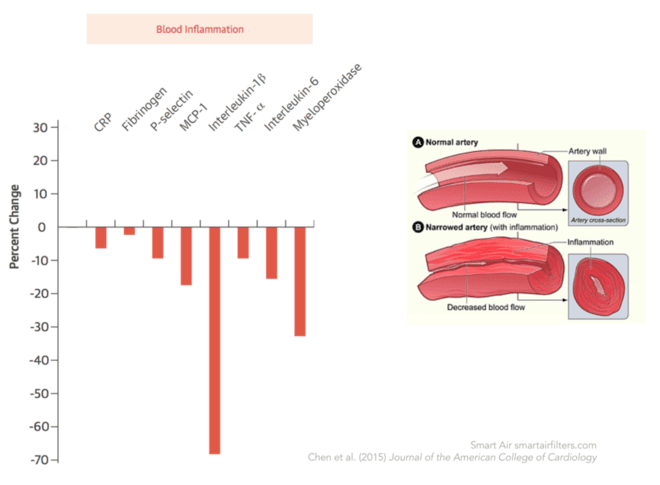 How to Use Air Purifiers to Lower Blood Pressure Naturally
Lowering blood pressure naturally with an air purifier is quite simple. Every home has some levels of PM2.5 in the air, but a HEPA air purifier can remove nearly all of the PM2.5 in your home. This is because HEPA filters are incredibly effective at removing PM2.5 from the air.
If you are looking to clean the air in your entire home, you will likely need a more powerful entire home air purifier, or multiple air purifiers.
Unfortunately, the air purifier industry is full of gimmicks, and companies ripping consumers off.
Smart Air is a certified B Corp committed to combating the myths big companies use to inflate the price of clean air.
We cover everything you need to know about choosing an air purifier in the guide below.
Read More: 4 Steps to Choosing an Air Purifier
Smart Air also provides empirically backed, no-nonsense air purifiers that remove the same particles as the big companies for a fraction of the cost. Only corporations benefit when clean air is a luxury.
Interested? Check out the Sqair.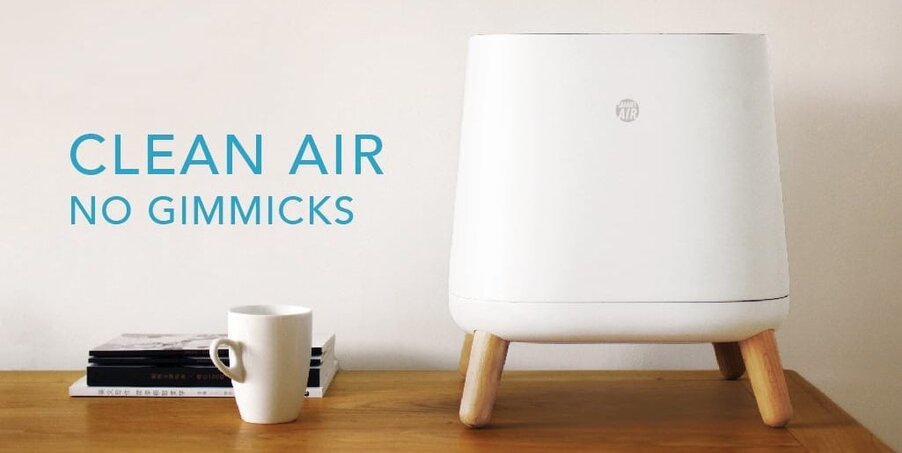 ---
Free Guide to Breathing Safe
Want to learn more about breathing clean air? Join thousands more and stay up to date on protecting your health.