Map of today's pollution levels across China – 9th September 2016.
Source:http://aqicn.org
What a glorious day in Beijing! Right now, the US Embassy in Beijing is giving a PM2.5 value of 0. Is summer normally this good? And what's the pollution like in other parts of China right now? (Short answer: not good! Long answer: read on!)


US Embassy Beijing's Twitter account
A few months back we posted our analysis on the summer/winter variation in air pollution in Beijing. Using the US Embassy's data for four more cities we're able to paint a wider picture of the difference in summer and winter pollution levels across major cities in China.
This time around we've analyzed the US Embassy's data for Shanghai, Chengdu, Guangzhou, and Shenyang. Using data from the past 7 years we have calculated each city's pollution on a monthly and seasonal basis.
The result? Our analysis across these four cities confirmed the popular theory that summer air is better than winter air; PM2.5 levels were on average 29% better in the summer across all cities.
It's likely that during the winter months, air pollutants which would often disperse away from city centers remain locally confined due to inversion. Inversion is an atmospheric condition in which cold air is trapped beneath a layer of warm air close to the earth's surface. Summer heat prevents this inversion.
Although summer pollution is "better" than winter, it's doesn't mean these levels are satisfactory or safe by WHO standards. The summer average across the Chinese cities we tested (60µg/m3) still exceeded the WHO yearly limit (10µg/m3) by 600%.
Of all the cities, the lowest summer pollution levels were seen in Shanghai and Guangzhou (49µg/m3, five times the WHO limit). The worst summer pollution levels (excluding Beijing) were seen in Chengdu. In fact, Chengdu's winter average pollution levels are even worse than Beijing's!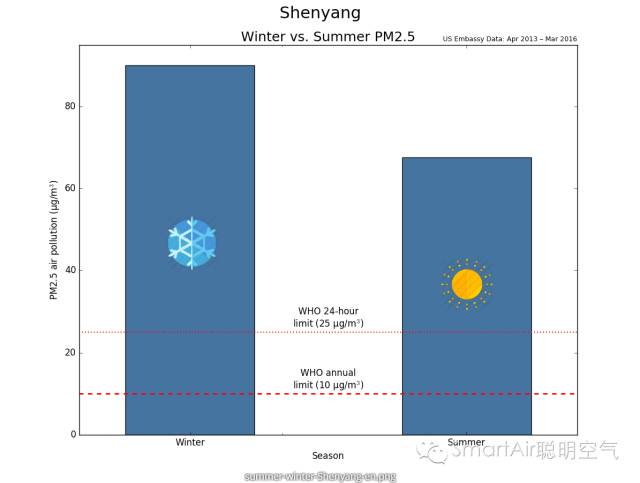 Pollution levels on a monthly basis:
We also plotted the average monthly pollution levels for all the cities with US Embassy data, these graphs can give a good idea of which cities have the worst pollution levels, and which months are the worst overall.
The above graphs show a clear annual trend in PM2.5 across each of the cities: pollution levels rise in "winter" months (October-March) and dip in"summer" months (April-September). July and August look to be the best months across most cities, although Beijing has a peculiar peak in air pollution levels in July – most likely due to the lack of wind to blow the pollution away. In fact, Beijing's yearly variation in pollution is the smallest of all cities – it remains at a consistent average concentration above 80µg/m3.
December and January are consistently the worst months for pollution, which is most likely due to the burning more fossil fuels during winter for heating.
You can find our 200RMB & 470RMB air purifiers on Taobao and on our PayPal store. You can learn more about our purifiers and what masks we recommend by coming to one of our workshops.
---
Free Guide to Breathing Safe
Want to learn more about breathing clean air? Join thousands more and stay up to date on protecting your health.