For many years, Xiaomi air purifiers have been one of the better-value air purifiers in many markets around the world. Unfortunately, Smart Air's 2023 review of the new Xiaomi Smart Air Purifier 4 found the Mi 4 comes with potentially dangerous technology.
Xiaomi Mi 4 Air Purifier: What's New?
The Xiaomi air purifier 4 uses an ionizer. What is an ionizer? In short, an ionizer shoots out millions of negative ions that help attract particles to surfaces. Ionizers are a cheap way for air purifier companies to increase the CADR (a measure of a purifier's effectiveness) of their purifier.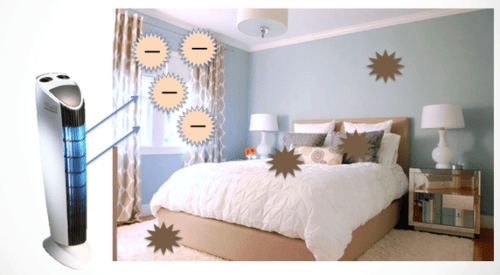 Unfortunately, studies show the ionizer in the new Xiaomi air purifier 4 comes with health risks.
Ionizer Function Enabled By Default
According to Xiaomi's global support, the ionizer function is enabled by default and can be disabled through the Mi Home app. However, this piece of information is not clearly stated on the Mi 4 Air Purifier product page. Users may not be aware that they can disable this function and continue using a function that is harmful.

Ionizers Create PM2.5 Pollution and Formaldehyde
By adding an ionizer, Xiaomi can improve the CADR of the Mi 4 and make them look more effective. The reality is, an ionizer can be dangerous and actually do much more harm than good.
Research shows ionizers can increase PM2.5 pollution in the air significantly.
Formaldehyde also increased with ionizer use.
Adding a device that creates air pollution to an air purifier that is supposed to remove air pollution is a bit counterintuitive.
Xiaomi 4 Air Purifier Follows New Worrying Trend
In recent years, many air purifiers have turned to cheap ionizers so they can market a higher CADR of their purifiers.
Smart Air engineers tore apart a Blueair air purifier and found an ionizer inside of the machine. Other large air purifier companies also include ionizers, such as Medify Air, Levoit, and many more.
At Smart Air, we stand by our social enterprise pledge of helping people breathe safely without added gimmicks to make a quick buck. Therefore, we will never add ionizers to our purifiers.
Read More: 4-Step Guide to Buying an Air Purifier
---
Free Guide to Breathing Safe
Want to learn more about breathing clean air? Join thousands more and stay up to date on protecting your health.