3M has been selling air conditioner (AC) filters that can be added to the inlet of ACs for some time now. 3M markets them as being simple and easy to attach, and a great way to reduce PM2.5 in homes without an air purifier. But do they actually work? How effective are 3M aircon filters at cleaning the air? We'll find out in this article.
How 3M Air Conditioning Filters Work

Filtering out pollution from the air is incredibly simple. A fan and a filter are all you need, and you can even DIY one yourself.
An air conditioner is a fan that blows out cold air. So the idea behind the 3M air conditioning filters is that by sticking them onto the inlet of the aircon unit, the aircon will provide clean, cold air out.
Are 3M Filtrete Air Conditioner Filters HEPA Filters?
No, 3M Filtrete air conditioner filters are not HEPA filters. They are a lower grade media filter. The box does not say what filter grade they are but describes the filter as a "electrostatic charged synthetic fiber."
Do 3M Aircon Filters Work?
3M claims the filters they sell can capture particles as small as 0.02 microns and can remove 83% of PM2.5 in one hour. But they don't give any information on how this is tested. How big was the room? What speed was the air-con set at? To answer these questions, we tested the 3M filters.
After attaching the 3M filters to the air conditioner in a 20 sqm room, we measured PM2.5 before and after the air conditioner was turned on high.

Results – 3M Aircon Filter Significantly Reduces PM2.5
Results showed a large decrease in PM2.5 after the air conditioner with the 3M filter attached was turned on. After one hour of running the air-conditioner, PM2.5 fell 87.9% from 33 μm/m³ to 4 μm/m³.
This is below the WHO annual PM2.5 limit of 5 μm/m³. However, in a more polluted room, the numbers will likely not go so low.
Does the Air Conditioning Function Still Work with 3M Filters Attached?
Attaching 3M filters to an air conditioning unit will increase the air resistance, and mean that the aircon unit needs to work harder. In our tests, we found that the amount of air coming out of the aircon unit was reduced by 22% after attaching the 3M filters.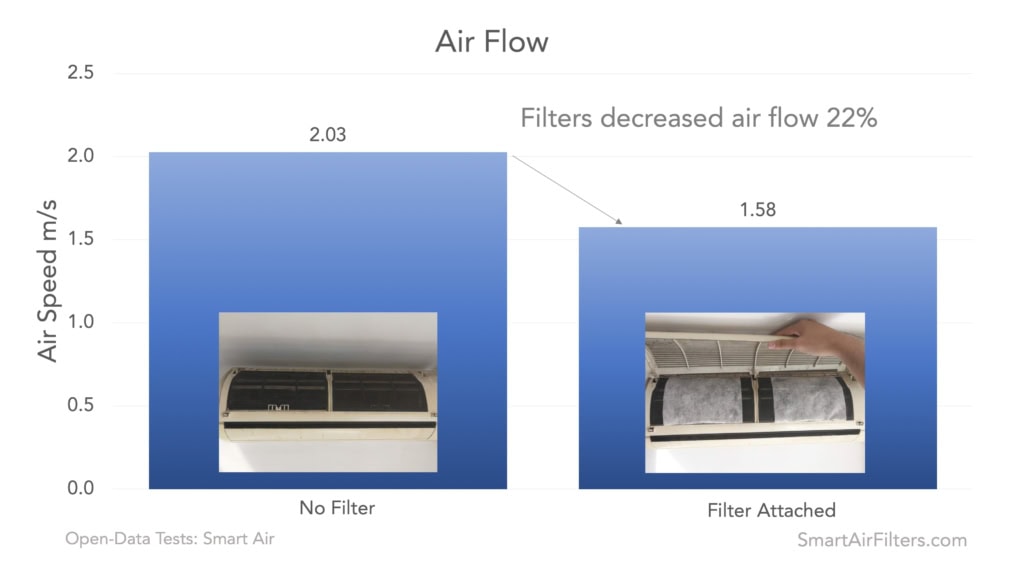 Despite this, the air conditioner was still able to cool the 20 sqm room down to a temperature of 20ºC. It's worth noting, however, that the increase in air resistance may cause wear and tear on the AC's motor, reducing its lifespan. If you plan on installing these 3M filters on your own AC unit, make sure not to cover the entire AC filter area. Leaving gaps around the edge will reduce filtration effectiveness, but also help reduce work on the motor.
Are DIY 3M Filters for Air Conditioners Effective?
Smart Air's tests showed that 3M filters for air conditioners are effective at reducing indoor PM2.5 concentrations. In our 20 sqm room, they helped reduce PM2.5 concentrations by 87.9% after 1 hour when the AC was turned on high. They do reduce airflow, but with them attached, AC units are still able to sustain temperatures around 20°C.
Smart Air
The Best Way to Clean Your Air
Although 3M filters can help improve your air quality, HEPA air purifiers are the most effective way to remove cancer-causing PM2.5, allergens, and viruses from your air.
At home, I use the Smart Air Sqair HEPA air purifier.
Smart Air is a certified B Corp committed to combating the myths big companies use to inflate the price of clean air.
For a fraction of the cost, Smart Air provides empirically backed, no-nonsense purifiers and masks, that remove the same particles as the big companies. Only corporations benefit when clean air is a luxury.
Interested? Check out the Sqair.
---
Free Guide to Breathing Safe
Want to learn more about Air Pollution? Join thousands more and stay up to date on protecting your health.