A Smart Air analysis of new air quality data Beijing's PM2.5 pollution dropped 11% in 2019 from the year before. Combined with progress in earlier years, Beijing has cut its PM2.5 in half compared to 2014.
Beijing's improvement suggests that the 2013-2017 Clean Air Action Plan, with its tens of billions RMB, has had an effect.
However, Beijing's improvement pre-dates the Action Plan. Data stretching back to 1998 shows improvement even in the decade before the action plan.
Improvements Slowing Down
Despite the improvement, Beijing's progress is slowing. Beijing cut 16 micrograms in 2017, 10 micrograms in 2018, and just 5 micrograms in 2019.

Progress has slowed even as the air pollution budget increased in 2019 to 25 billion RMB. This could be a sign that the easiest fixes have already been made and that the remaining fixes may be harder to execute.
However, the progress due to the plan might be slightly inflated in the numbers. That's because sandstorms in March and November of 2018 contributed greatly to pollution in 2018 but not 2019.

Is Beijing's Air Safe Now?
Even though it has decreased, PM2.5 in Beijing still averages more than four times the WHO annual limit of 10 micrograms (µg/m3).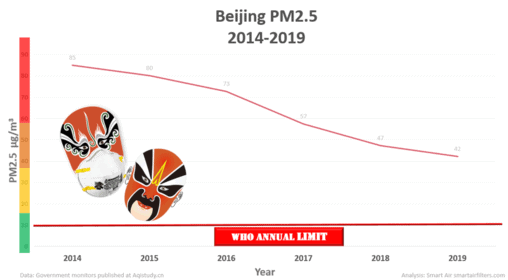 This matters because research reviewed by the WHO has found that long-term exposure to PM2.5 beyond 10 micrograms increases cardiopulmonary and lung cancer mortality. According to the WHO, research has established this link with more than 95% confidence.
WATCH: The Harmful Health Effects of PM2.5
5 Things You Should Know about PM2.5 Air Pollution
Subscribe to Smart Air on YouTube
Studies Document Protective Effects of Purifiers, Masks
Despite the harms of PM2.5, studies have found that wearing masks prevents effects on blood pressure and heart rate variability. Placebo-controlled studies of air purifiers have found that reducing particulate in the home prevents harm to blood pressure, inflammation, and immune response—even among young, healthy twenty-year-olds.
Smart Air is a certified B Corp committed to combating the myths big companies use to artificially inflate the price of clean air. To help people living in polluted cities protect themselves, Smart Air provides empirically backed, no-nonsense purifiers and masks, helping to lower the cost of clean air.
---
Free Guide to Breathing Safe
Want to learn more about breathing clean air? Join thousands more and stay up to date on protecting your health.