Beijing said they would cut air pollution in a plan announced earlier this year (and a few months before and another one back in 2013). But what does the data say? To get to the bottom of it, I analyzed monthly PM2.5 data for 2017 so far and compared it to the averages from December 2013 to 2016.
Beijing
Overall, Beijing is better in 2017 (except for a bad January).
How much better? Beijing's PM2.5 is down 14% compared to prior years.
Shanghai
The situation in Shanghai was similar—lower in 2017.
Shanghai is down a full 22% this year compared to prior years.
 
Chengdu
After a rough January, Chengdu also saw lower PM2.5.
Chengdu is down 20% over prior years.
Xi'an
The only exception is Xi'an. Xi'an had a rough January and February, followed by an average rest of the year.
Year over year, Xi'an's PM2.5 was actually up 5%.
The Bad News Amid The Good News
Despite the (mostly) good news, there is some bad news for China's air.
1. Even after this improvement, average PM2.5 levels are unhealthy in ALL four cities. That means, if you live in one of these cities, you're still breathing unsafe air on average.
2. China's Environment Ministry forecasted that weather conditions may make China's air pollution particularly bad this winter (read "worse than already bad winters").
3. Ozone is arguably China's second most serious pollutant, and ozone hasn't gone down. In Beijing and Chengdu, it's roughly flat. In Shanghai and Xi'an, ozone went up in 2017.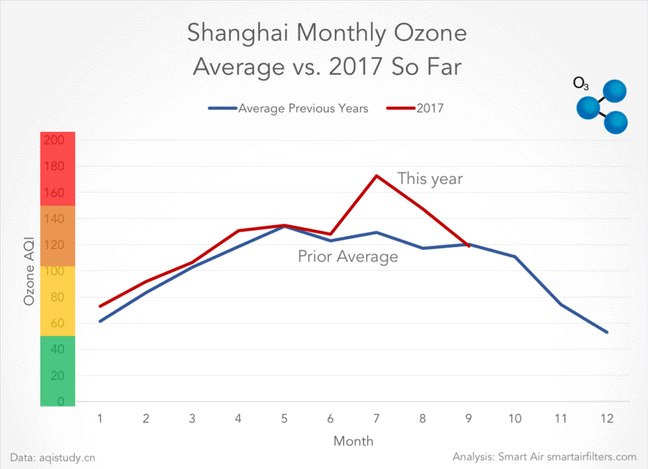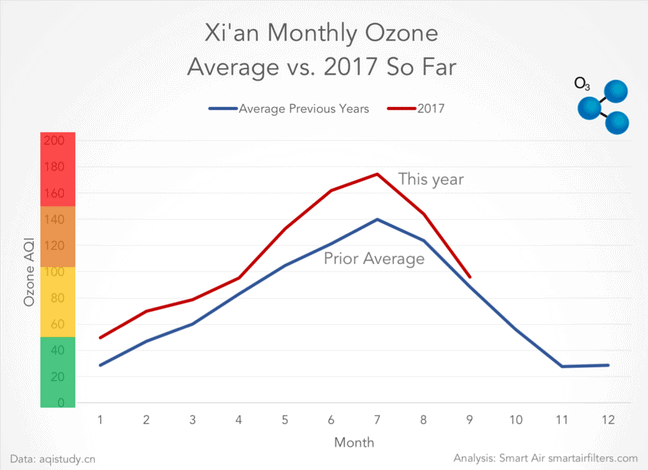 I'll check back in in January to see whether China can finish strong or whether the Environment Ministry's foreboding winter forecast comes true.
Breathe safe!
---
Free Guide to Breathing Safe
Want to learn more about breathing clean air? Join thousands more and stay up to date on protecting your health.