Helping to fight air pollution in Gurgaon, one of India's most polluted cities, Smart Air installed 91 Ladakh purifiers in the offices of India's biggest food delivery startup: Zomato.
In December 2018, Zomato was moving into their new 100,000 square foot office in Gurgaon, just outside New Delhi. Zomato needed a clean air solution for their team to combat the detrimental effects of air pollution on their staff. Recent painting, new carpets, and remodeling work meant the Zomato team was facing problems with volatile organic compounds (VOCs) like formaldehyde and benzene. Along with Delhi's and Gurgaon's persistently high PM2.5 levels, Zomato needed to solve the serious indoor air pollution issues in order drowsiness and headaches for their team.
Zomato's Clean Air Solution in Gurgaon
To kit out the entire office space with clean air, Smart Air installed 91 Ladakh and Ladakh Mini air purifiers. The Ladakh units are powerful, quiet standalone air purifiers that provide huge amounts of clean air for a cost-effective price. All this whilst operating at whisper-quiet noise levels. Put another way: a single Ladakh puts out more than 3 times the clean air as a fancy Swiss-imported IQ Air—at less than 10% the cost.
The Ladakh puts out more clean air at a fraction of the price of the European Imports
Smart Air's Simple, Effective 'Plug and Play' Purifiers Eliminate Lengthy Lead Times
Zomato had a tight timeline to move into their Gurgaon office. Air quality levels in Gurgaon were scarily high, and they wanted to move their staff into space with clean air as soon as possible. To provide an effective and reliable solution to Zomato, Smart Air came up with a plan that would realize Zomato's goals, all without requiring a single change to the office building's infrastructure. The Ladakhs are simple, reliable and easy to use standalone air purifiers that can be installed in your office without the need for lengthy lead times.
With the Ladakh air purifiers, we managed to get Zomato clean air in a matter of weeks, drastically quicker than the months required for custom clean air solutions like HVAC and centralized air system modifications. What's more, the fact that Zomato needed no change to their building infrastructure meant they also saved huge amounts of money during the installation. It was win-win for Zomato.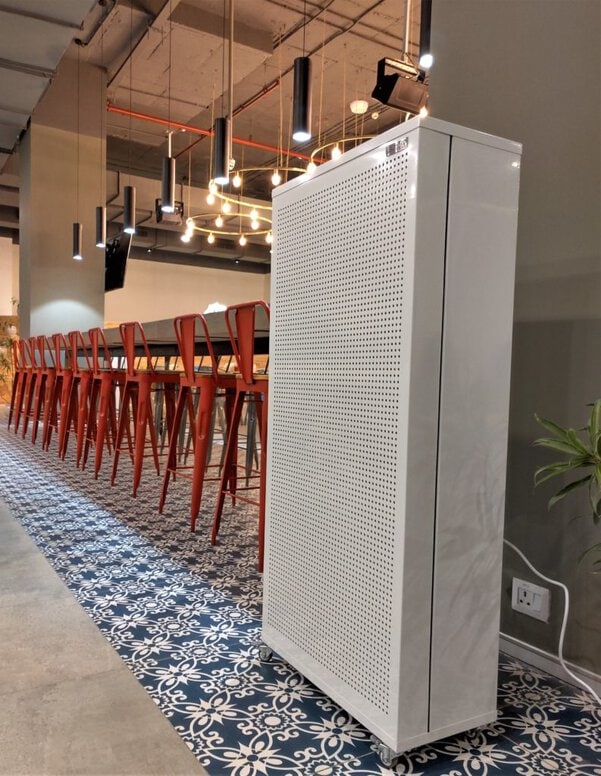 Smart Air Ladakh providing clean air at Zomato's Gurgaon office
How Smart Air Was Able to Solve Zomato's Air Quality Problems: the Data
As part of Smart Air's air quality service, we provided routine audits of the air quality (including PM2.5, AQI, formaldehyde and VOC readings) to Zomato at their Gurgaon office. We ran 6 audits at the Zomato workspace over the course of 21 days to measure and evaluate the effectiveness of this clean air solution.
The data was conclusive: in just 21 days, the Ladakh air purifier solution brought down PM2.5 by 87%, formaldehyde by 82%, and VOCs by 93% on average across the entire Gurgaon office space
Why Zomato Chose Smart Air
As one of India's fastest-growing startups, why would Zomato choose to work with Smart Air? The answer is simple: Smart Air focuses on providing effective, simple solutions that provide the best solution at the lowest cost. By partnering with Smart Air, Zomato knew that they could get clean air into their Gurgaon offices, protect their staff and monitor their air quality, all whilst costing less, and operate more effectively, and with a quicker installation than other solutions.
Air purifier technology is simple—fans and HEPA filters. Zomato knows this, so that's why they chose Smart Air.
How Can You Bring Clean Air to Your Lungs?
Smart Air believes that, if most people saw the data behind purifiers, they wouldn't pay hundreds of thousands of rupees for clean air. By focusing on that simple science, Smart Air makes simple, effective purifiers without the marketing noise of traditional companies. If you need clean air in your office, school or hospital contact the Smart Air team to bring Ladakh to your lungs.
 Call us now for clean air: 95990 97907
---
Free Guide to Breathing Safe
Want to learn more about Air Pollution? Join thousands more and stay up to date on protecting your health.