Even though PM2.5 levels are falling, years of bad air pollution across China has led to many people installing air purifiers in their homes. Most of us are now breathing cleaner air at home, but what about when we are in public spaces? What's the air like in that gym we go to, or in our favorite restaurant?
Smart Air's on a mission to find out, and this winter we're starting with gyms. Who'd would want to wear a mask while working out?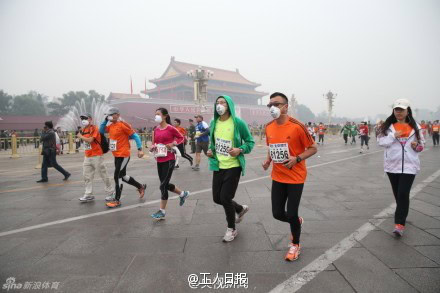 Gym Test
To get to the bottom of this, we asked 5 friends to take a particle counter into their Beijing gyms to test the air both inside the gym and just outside the gym. Here's our testing in action:
Results
Here's what the data showed for indoor PM2.5 (dark blue) and outdoor PM2.5 (light blue).
The Good News: On average, PM2.5 in the gyms was only 55% of outdoor air. That percentage is almost identical to Smart Air's tests of apartments, offices, and restaurants in Beijing and Shanghai, and the US Environmental Protection Agency's home tests.
Even in places with no purifiers, indoor air tends to have less PM2.5 than outdoor air.
The Bad News: Unfortunately, "better than outdoors" does not mean "safe." Here's how those PM2.5 levels compare to the World Health Organization's annual limit of 10 micrograms.
Even in the gym with the best indoor air that day (Gym D), PM2.5 was still more than 8 times above the WHO limit!
What Gym-Goers Should Know
On average, gyms have lower PM2.5 than outdoor air, but gym air is often still far over the safe limit.
Calling All Gym-Goers: 
The Smart Air "Blue Zone" project
Across the globe, there are small communities where people live longer and healthier lives: Blue Zones. We want to find and create our own Blue Zones where people can breathe clean air.
In our first series of tests we couldn't find a gym with PM2.5 levels within the WHO limit. Finding a gym with clean air to work out in doesn't seem easy! We want to test more gyms and create a public ranking of gyms to help you breathe safe when working out. That's why…
Testing gyms isn't as easy as it sounds. Contacting people that can make decisions to listen to us is tough. This is where Smart Air needs your help! Here's how:
Gym owner? Get in touch with us so we can test your air.

Have a PM2.5 monitor? Test the air in your gym and send us the data.

Want to learn about your gym's air? Send us your gym's details and we will 

make a visit to your gym.
To get in touch with us, scan the QR code below or email us at [email protected].
Once the data is in, we'll see if your gym qualifies as a Blue Zone and publish the results in a follow-up article and onto our website.
Caveat
We tested for particulate pollution, but there are also gas pollutants like formaldehyde. If gyms have lots of new equipment or use chemical cleaners, they will have higher rates of chemical gases like formaldehyde and benzene (also known as "VOCs").
---
Free Guide to Breathing Safe
Want to learn more about breathing clean air? Join thousands more and stay up to date on protecting your health.