There has been little dispute that HEPA filters are extremely effective at removing virus and COVID-19 sized particles from the air. However, what has been less known is whether or not HEPA filters can actually reduce the transmission of COVID-19 in the real world.
Now, thanks to a new CDC study of schools in Georgia, we have the data. Read on to find out just how HEPA filter air purifiers can reduce virus spread and transmission in schools.
Study on Reducing COVID-19 Spread in Schools
The CDC study looked at COVID-19 infections in 123 elementary schools. They compared schools that (1) did nothing, (2) used HEPA filters, (3) improved ventilation by using fans and opening doors and windows, or (4) used both HEPA filters and ventilation. The results? Infection rates were significantly lower for schools using HEPA air purifiers in their classrooms than those that did not.
Read More: Schools: Don't Use This Air Purifier for COVID-19 Protection
Classrooms with HEPA Air Purifiers Had a 41% Lower COVID-19 Infection Rate
Schools that used HEPA filters in their classrooms had a 41% lower COVID-19 rate compared to those that did not.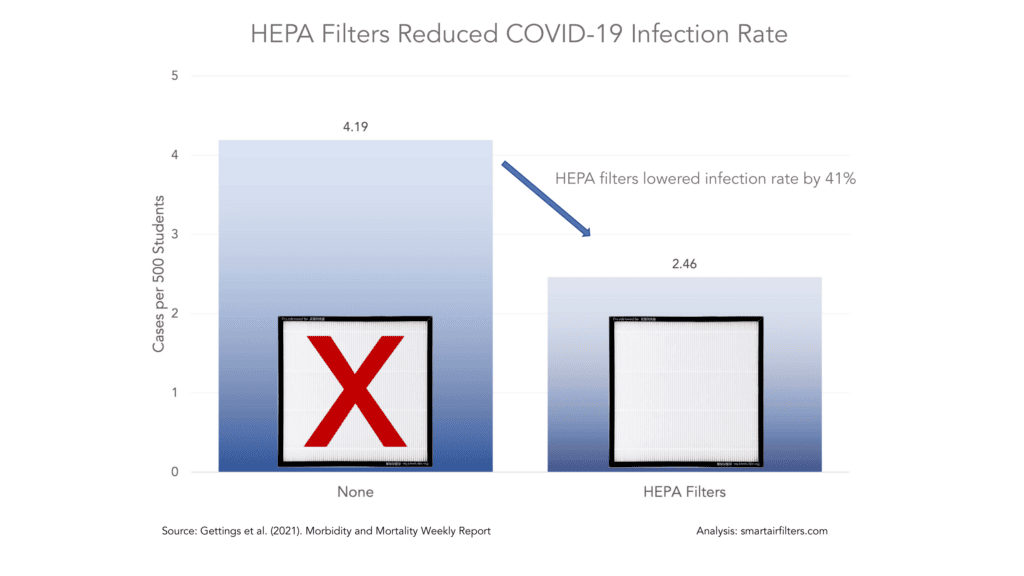 But what about…
This data is great, but one potential problem is that these schools might be different in other ways. For example, maybe the schools that used HEPA filters are in communities where people care more about the virus or have more money to fight it.
The researchers controlled for that by comparing schools with the same rates of infection in the community at large. Even after taking local infections (outside the school) into account, these reductions remained the same.
Improving Ventilation Also Significantly Reduced COVID-19 Infection Rates
HEPA filters were not the only effective COVID-19 prevention strategy used by schools. The elementary schools that did not use HEPA air filters but improved the ventilation within their classrooms also had a significant decrease in the COVID-19 infection rate. Although not as effective as HEPA filters, classrooms with improved ventilation had a 29% lower virus infection rate compared to schools that did nothing.
Read More: Air Purifiers for Classrooms | COVID-19 Protection Guide
What if We Combine HEPA Filters and Ventilation?
Improved ventilation and the use of HEPA filters both lowered COVID-19 infection rates significantly. But what if schools use both virus-prevention strategies at the same time? The researchers found that combining ventilation and filtration worked better than either strategy alone. Combining strategies reduced virus transmission 47% compared to schools that did nothing.
Bottom Line: HEPA Filters Reduce COVID Infection
HEPA filters reduced COVID infections in schools 47%. This was a bigger reduction than the 29% reduction from improved ventilation alone. Combining HEPA filtration and ventilation lowered infection rates the most.
Smart Air
---
How Smart Air Protects Students & Teachers in Schools
Smart Air is a certified B Corp and social enterprise committed to protecting students and air breathers in schools and classrooms. Smart Air's no-nonsense Blast & Blast Mini air purifiers are being used by schools all across the globe. A few schools include the University of Chicago and the American Embassy School. Smart Air's purifiers remove the same particles as the big companies for a fraction of the cost.
Smart Air's powerful Blast air purifier has a high airflow and can clean classrooms and school halls up to 130 sqm (1400 sqft) in size. When run on low, it's quiet mode can clean classrooms up to 60 sqm (650 sqft) without disturbing classroom lessons.
A Technical Performance Overview of the Blast Mk ll Air Purifier
---
Free Guide to Breathing Safe
Want to learn more about breathing clean air? Join thousands more and stay up to date on protecting your health.