Air purifiers are extremely effective at filtering viruses and can help reduce potential transmission. But how can air purifiers help when a person or patient is already infected and recovering from COVID-19? What should be done to safely isolate a COVID-19 patient at home?
Using HEPA Air Purifiers To Help Recovering COVID-19 Patients
Using an air purifier can have huge health benefits regardless of COVID-19. But if someone has COVID-19, using a HEPA air purifier can help reduce the chance of transmission to other family members. Here are some steps to follow to ensure the maximum benefit from an air purifier:
1. Place the Patient and Air Purifier in a Separate Room
Keep the COVID patient or family member in a separate room to prevent transmission to other relatives or household members. We suggest you place a HEPA air purifier inside the patient's room, at a maximum distance of 3 feet away from the patient. Keep the purifier running 24/7 on at least medium speed. Make sure the noise of the air purifiers does not disturb the sick person's sleep.
The air purifier should also be placed away from anything that can obstruct airflow, such as curtains or furniture. Tests by Smart Air show that an air purifier placed 6 inch (10 centimeter) from the wall has the best airflow. Keep the door to the room with the sick patient closed as much as possible. This way, the air purifier can should be able to filter a large part of any airborne viruses and restrict the risk of coronavirus transmission
Learn more: What's the best air purifier location for maximum performance »
2. Choose the Right Air Purifier
Choose an air purifier with a CADR (clean air delivery rate) that matches the room's size.
Proper ventilation is essential to ensure that the virus does not spread. Therefore choose an air purifier with a high enough clean air delivery rate (CADR) that can provide ventilation of 6 to 12 air changes per hour, as recommended by the CDC. For an average room size of 400 SFT we recommend an air purifier with a CADR of at least 600 m3/hr.
To calculate the required CADR for a given roomsize, use this tool to calculate the CADR.
Also, make sure to choose a HEPA-grade air purifier. Many companies will claim their air purifiers have new technologies that can kill the coronavirus. However, the truth is that HEPA filters are extremely effective at removing virus-sized particles. What's more, they aren't expensive.
In fact, some technologies other companies promote, such as UV lights and ionizers can actually be harmful to your health.
Read More: Best Air Purifiers for COVID-19 Protection| 2021 Guide »
3. Open a Window When Outdoor Air Quality Is At Healthy Levels
If outdoor air quality is good, opening a window can be an effective way to ventilate a room and reduce the risk of coronavirus transmission. We suggest you open a window when outdoor AQI levels are below 50 AQI (US), or a concentration of 10 micrograms. Opening a window when outdoor pollution levels are higher than this can potentially lead to further harm to the patient. In this case, the window should be closed and an air purifier turned on to provide an equivalent amount of fresh air.
4. Take Precautions When Changing a Potentially Infected HEPA Filter
Although viruses on HEPA filters will typically die within 48 hours, there's still a small risk of virus transmission when changing a HEPA filter. As such, it's recommended to wear gloves and use mask when replacing a potentially infected air purifier filter. After removing the filter, dispose of it in a sealed bag. If your air purifier has a fabric pre-filter, wash it with disinfectant.
---
How I Protect Myself
Smart Air is a certified B Corp committed to combating the myths big companies use to inflate the price of clean air.
Smart Air provides empirically backed, no-nonsense purifiers and masks, that remove the same particles as the big companies for a fraction of the cost. Only corporations benefit when clean air is a luxury.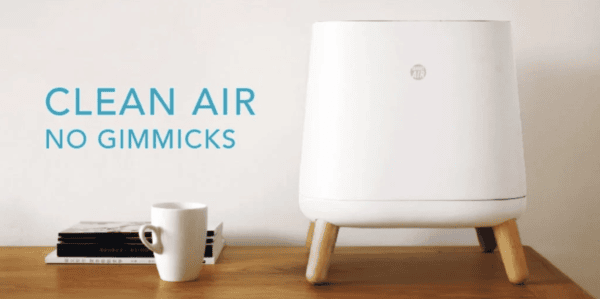 ---
Free Guide to Breathing Safe
Want to learn more about breathing clean air? Join thousands more and stay up to date on protecting your health.