Toxic chemicals have polluted Bangkok air since the Samut Prakan factor blast on July 5th. How can residents protect themselves and filter out these dangerous gases from their homes? Luckily, there is a relatively simple trick to remove dangerous chemicals from your home.
Large Amounts of Cancer-Causing Styrene Released from Blast
The primary dangerous and toxic chemical the factory explosion released into Samut Prakan and Bangkok air was styrene monomer. Styrene monomer is an organic compound widely used in the plastics industry. The chemical is sensitive to both light and air. Styrene monomer is highly explosive if stored improperly and especially at elevated temperatures. Once the chemical is ignited, it secretes toxic gases that are hazardous to our health. 
How to Keep Your Air Clean From Toxic Chemicals and Styrene Gas
The good news is that we can do something about dangerous gases in the air. Activated carbon filters use charcoal screens to catch certain types of dangerous chemicals and organic matter that interact with carbon. These include VOC's such as styrene gas from the Samut Prakan chemical factory explosion.
Read More: Numerous real-world tests show carbon filters are effective at removing these dangerous gases from the air.
As shown below, our own tests showed a significant reduction of VOC gases in just a couple of minutes of using our air purifier with a carbon filter.
Carbon filters consist of a mesh with granules and are treated to become extremely porous. As a result, they have a large surface area. In fact, just one gram of activated carbon can have between 500 to 1500m² of surface area! This allows the granules to trap many harmful gas molecules like formaldehyde or styrene gas.
Read More: Do Carbon Filters Really Work?
How to Use a Carbon Filter?
The easiest way to filter out the dangerous chemicals from the Samut Prakan factory explosion in your home is to use an air purifier with a carbon filter, such as the Sqair. But pay attention to how much activated carbon is in your filter.
Lots of purifier companies say their purifiers have carbon, but their filters only have a slight dusting of carbon. The Coway filter below is a good example. If you can't see the tiny black dots of carbon, your eyes are normal!
Alternatively, you could DIY your own air purifier by attaching a carbon filter to a simple fan. It really works, actually, this is how everything started at Smart Air.
What Carbon Filters Do Not Filter
But be aware that a carbon filter will only remove dangerous gases from your air, not dangerous particles. Carbon filters can't capture fine dust such as PM2.5. This is important as fires and smoke contain particulate matter including PM2.5 that can only be trapped by HEPA filters.
Because of this, the best combination to breathe safely in your home is to have an air purifier that has both a carbon filter and HEPA filter. Below shows the setup for the Sqair air purifier with both a HEPA and carbon filter used together.
Bottom Line: How to Filter Out Styrene Gas From Your Home?
Add a carbon filter on your air purifier. Carbon filters have been show to be effective at removing VOC's such as styrene from the air.
Smart Air
Interested in a carbon filter to protect against styrene in Bangkok air?
Smart Air is a certified B Corp committed to combating the myths big companies use to inflate the price of clean air.
Smart Air provides empirically backed, no-nonsense purifiers and masks, that remove the same particles as the big companies for a fraction of the cost. Only corporations benefit when clean air is a luxury.
Check out the Sqair! (PS: You can now order a carbon filter for all three of Smart Air's purifiers! )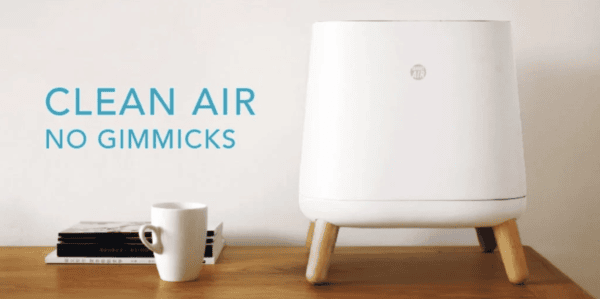 ---
Free Guide to Breathing Safe
Want to learn more about breathing clean air? Join thousands more and stay up to date on protecting your health.