Research is abundant on the health benefits of air purifiers. Pollution is everywhere, and using HEPA air purifiers at home to reduce the amount of pollution you breathe in is one of the most underrated health hacks. In this article, we share six benefits of air purifiers that can significantly improve our health. All of these benefits are backed by empirical research, not just some marketing from a purifier company trying to make a buck.
Six Health Benefits of HEPA Air Purifiers
An air purifier with a HEPA filter is considered the golden standard for air filtration. HEPA filters can remove 99.9% of pollutants from the air on one pass, including viruses, allergens, and PM2.5, which are linked to all sorts of diseases. Below are pollutants an air purifier with a HEPA and carbon filter removes from the air:
WATCH: Six Health Benefits of Air Purifiers
1. Dramatically Decreases Diabetes Risk
Research shows a strong correlation between PM2.5 levels and increased diabetes risk. Lowering your PM2.5 intake through the use of HEPA air purifiers and masks can reduce your odds of getting diabetes drastically.
2. Lowers Blood Pressure
Studies show breathing in less air pollution can help significantly lower blood pressure to healthier levels. Even small decreases in the air pollution you breathe can have a significant impact on your blood pressure. A study showed just reducing PM2.5 from 11 micrograms to 7 micrograms was enough to lower blood pressure.
3. Increases Productivity
The problem of air pollution does not stop at home; it extends to workplaces as well. According to a Harvard study, poor office air quality degrades an employee's cognitive abilities, productivity, and working efficiency. Reducing an office's PM2.5 levels with a powerful HEPA air purifier can boost productivity and reduce sick days.
4. Alleviates Asthma Symptoms
HEPA filters remove nearly all allergens from the air, including pollen, dust mites, mold, and more. Studies show concrete evidence of HEPA filters help alleviate asthma symptoms.
5. Reduces Risk of Catching Viruses
HEPA air purifiers are very effective tools for removing airborne viruses and reducing your risk of catching a virus. CDC research shows HEPA filters reduced COVID-19 spread in schools by 41%.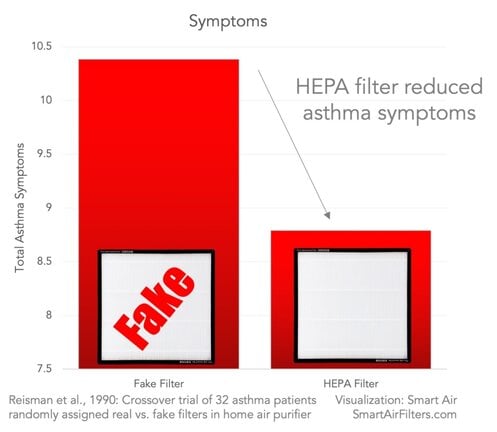 6. Decreases Inflammation within 24 Hours
HEPA filters help reduce a variety of inflammation markers in your body. The reduced inflammation from air purifiers can be seen within 48 hours.
Which Air Purifier to Choose?
Choosing an air purifier can be complicated, so we at Smart Air have created a four-step guide to choosing the best air purifier. Smart Air is a certified B Corp committed to combating the myths big companies use to artificially inflate the price of clean air.
We at Smart Air also design and manufacture empirically backed, no-nonsense purifiers for homes and businesses, that use the same HEPA filters for a fraction of the cost of big companies.
Shop Smart Air's Lineup of Cost-effective, Data-backed Air Purifiers
---
Free Guide to Breathing Safe
Want to learn more about breathing clean air? Join thousands more and stay up to date on protecting your health.