When Smart Air polled people about what time of day air pollution is lowest, the most popular answer was the early morning, before the morning rush hour. But how accurate are our intuitions?
To get to the bottom of it, Smart Air analyzed thousands of hours of PM2.5 data from the US Embassy for Delhi, Kolkata, Mumbai, Chennai, and Hyderabad (March 2015-August 2020). The results showed that most people's intuitions were wrong.
Delhi
Delhi is often touted as the most polluted city in the world and that noteworthy pollution peaks in the morning. On average, Delhi's PM2.5 peaks at 9 AM at 128 micrograms. That's over 12 times the World Health Organization's annual limit.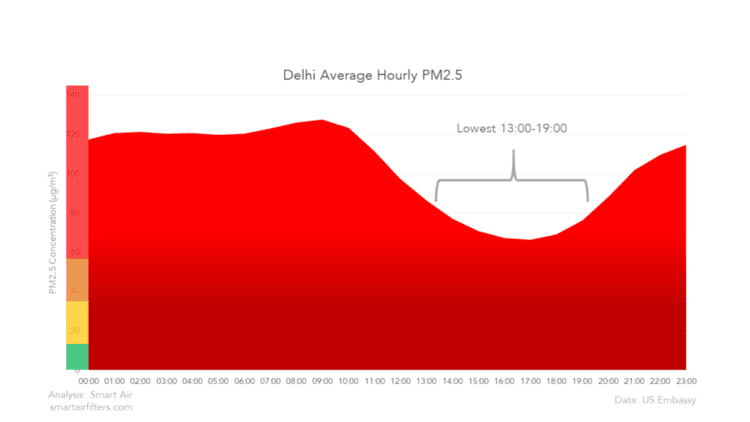 The air quality gradually improves as the day progress. This is no small difference. On average, Delhi sees roughly half as much PM2.5 at 5 PM (66 micrograms) compared to 9 AM.
Kolkata
Daily PM2.5 patterns are similar in the eastern city of Kolkata. Kolkata's air quality is worst at midnight, with a second peak at 8 AM.
After the morning, Kolkata's PM2.5 pollution falls steadily until the average low at 4 PM. As in Delhi, Kolkata's daily variation is meaningful. On average, people outdoors at 4 PM will breathe 37% less PM2.5 pollution than people who are outdoors at midnight.
Mumbai
Mumbai's PM2.5 air pollution peaks at 9 AM, on average.
Mumbai's PM2.5 then reaches the average low at 4 PM.
Chennai
The picture starts changing further south in India. As in most cities, Chennai's PM2.5 is highest at 8 AM and lowest at 3 PM.
However, unlike northern India, Chennai's air pollution is the lowest in the middle of the night. On average, Chennai's PM2.5 is lowest from 1 to 3 AM.
Hyderabad
Hyderabad's air quality pattern is virtually identical to Chennai's: a dip in the middle of the night and a dip in the afternoon.
As in Delhi, Hyderabad's air pollution peaks at 8 AM.
Pollution and Time of Day Worldwide
India is not alone. Smart Air's analysis of air quality patterns air quality patterns in China showed similar trends. A 2018 study analyzed data from all around the world and found a similar pattern—PM2.5 tends to be lowest in the afternoon.
Read more: It seems odd that that air pollution is the lowest during afternoon rush hour? This phenomenon explains why pollution is worse at night.
Bottom line: In India's five biggest cities, PM2.5 air pollution is highest in the morning and lowest in the afternoon. So, if you're planning exercising outside, you're usually best off in the afternoon.
But keep in mind that none of the five cities average air below the WHO annual limit at any time of day.
---
Free Guide to Breathing Safe
Want to learn more about breathing clean air? Join thousands more and stay up to date on protecting your health.