Just like many other countries in the world, winter season in India brings with it a wave of air pollution. Those living in India are accustomed to heaving to breathe through thick blankets of smog. Many resort to using air purifiers at home and wearing masks while outdoors.
But just how bad is the pollution in five of India's big cities? Smart Air analyzed US Embassy data for fine particles (PM2.5) in New Delhi, Kolkata, Mumbai, Chennai, and Hyderabad to find out why India's air quality is worse during the winter.
Analyzing India's Summer & Winter Pollution Levels
Data from March 2015 to Jan 2020 was analyzed and broken down year by year into two seasons: winter (October to January) and summer (April to June). In all five cities, winter PM2.5 levels were far higher – on average 59% higher – than summer levels.
On average, residents of these five big Indian cities: Delhi, Kokata, Mumbai, Chennai and Hyderabad breathe 45 micrograms of PM2.5 in the summer and 109 micrograms in the winter.
Delhi saw the biggest range in PM2.5 levels, varying 125 micrograms from 71 micrograms in the summer to 194 micrograms in the winter. That's 19 times the World Health Organisation safe limit. In the east of India, Kolkata's PM2.5 variation wasn't as high as Delhi in absolute terms, but winter levels reached 300% of summer levels. Air pollution follows similar trends in Mumbai, Chennai, and Hyderabad.
Air Still Unsafe in Cleanest Months
Although summer months see cleaner air across India, the air is far from safe. The cleanest summer air of these five cities was in Chennai, yet its 23 micrograms still put it at twice the WHO annual limit.
Delhi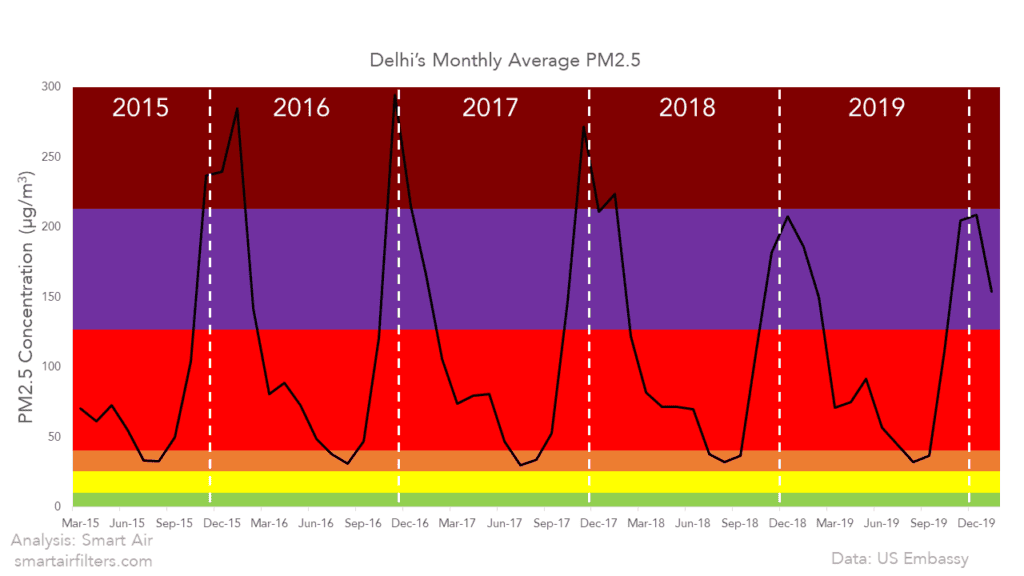 Kolkata
Mumbai
Chennai
Learn more: Chennai Air Quality (AQI) Live Readings »
Hyderabad
Bottom Line: India's Winter Pollution Levels Compared With Summer
India's winter PM2.5 levels are on average 59% higher than during the summer. Out of the cities analyzed, Delhi saw the highest variation between winter and summer, Chennai saw the lowest. Irrespective of the big differences between summer and winter pollution levels, all Indian cities analyzed had year-round pollution levels above the WHO safe limit.
Smart Air
---
How I Protect Myself
Smart Air is a certified B Corp committed to combating the myths big companies use to artificially inflate the price of clean air.
Smart Air provides empirically backed, no-nonsense purifiers and masks, that use the same HEPA filters (that filter 95-99.5% of particles of size 0.3 microns) for a fraction of the cost of big companies.