China's economy has rebounded in 2021 from major slowdowns due to COVID-19 the previous year. But has the economic rebound come at the cost of more air pollution and worse air quality in China's major cities?
Smart Air analyzed PM2.5, PM10, and ozone pollution data for 10 major Chinese cities to find out.
China's PM2.5 Pollution Decreased Overall But…
Compared to the first half of 2020, PM2.5 pollution for China's 10 largest cities decreased in the first half of 2021 by 2.5% overall. This is quite impressive due to China being in lockdowns in 2020 with fewer cars on the road and factories in operation.
But despite the lower PM2.5 pollution levels overall, 6 of 10 of the cities still saw slight rises in PM2.5 air pollution compared to last year, including: Chengdu, Beijing, Wuhan, Chongqing, Guangzhou, Shenzhen.
The four cities that saw improvements in air quality were: Xi'an, Tianjin, Shenyang, Shanghai.
Furthermore, all of China's major cities are still above the World Health Organization's (WHO) annual PM2.5 limit of 10 μg/m3. The average – 39µg/m3 – is still nearly 4 times the safe limit.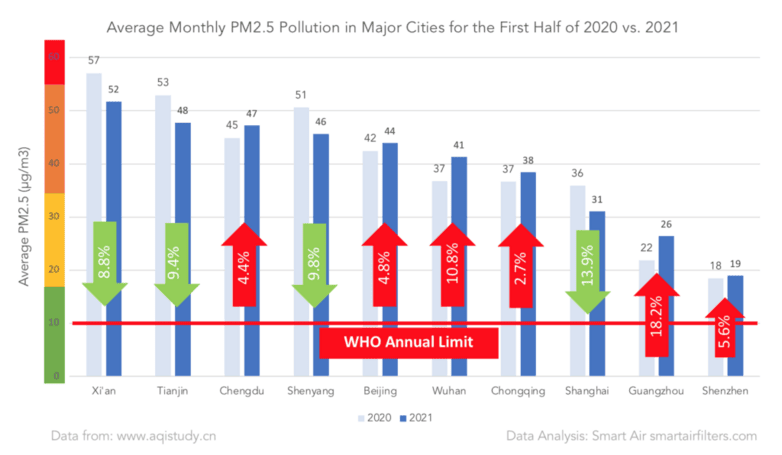 China's PM10 Pollution Significantly Higher in 2021
Although levels of dangerous tiny PM2.5 particles decreased in China slightly compared to 2020, the amount of larger PM10 particles in the air increased.
Furthermore, nearly 9 out of 10 cities analyzed saw an increase in PM10 pollution. Only Shenyang, saw a decrease of 5.7% in PM10 pollution.
Why might this be? Northern cities in China were hit with several sandstorms during March 2021. Sandstorms are made up primarily of PM10 pollution and may have inflated the overall concentrations.
Read More: Least Polluted Cities in China Rankings
Ozone Levels Lower in 8 of 10 Chinese Cities
Ozone – an invisible pollutant that can irritate the throat and eyes – fared better in the first half of 2021. 8 out of 10 cities had a reduction in ozone pollution when compared to the first half of 2020. Only Shenzhen and Guangzhou saw an increase, both increasing 13.5%.
City by City Air Quality: Beijing, Shanghai, Guangzhou
Now, let's look at specific cities in more detail looking at how pollution faired in Beijing, Shanghai, and Guangzhou.
Beijing
Beijing recorded higher PM2.5 and PM10 levels in the first half of 2021, in large part due to multiple sandstorms that hit the city in March.
Specifically, PM2.5 pollution increased 4.8% in the first half of 2021 relative to the same period in 2020.
Two sandstorms hit the city in March, which meant a peak in PM2.5 levels 34% above the previous month.
Shanghai
Among the cities that observed a decrease in PM2.5 pollution, Shanghai had the highest percentage reduction at 13.9%.
Further analysis shows that PM2.5 pollution is steadily reducing in Shanghai, with the average monthly PM2.5 for the first half of the last five years (2017-2021) in decline.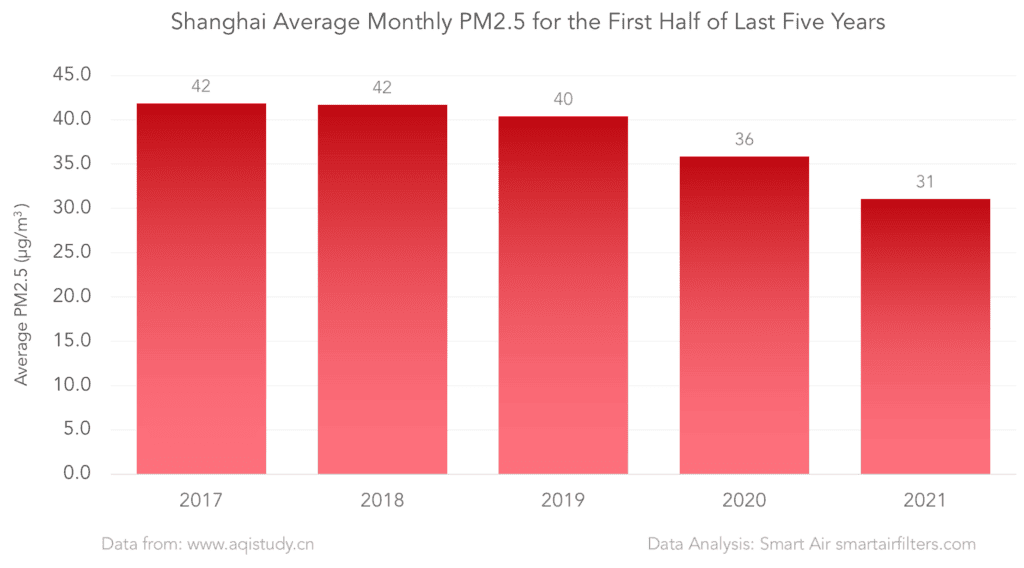 Guangzhou
In 2021, Guangzhou appears to be one of the cities that's fairing the worse in regards to air pollution. It had the highest increase in PM2.5 pollution at 18.2%.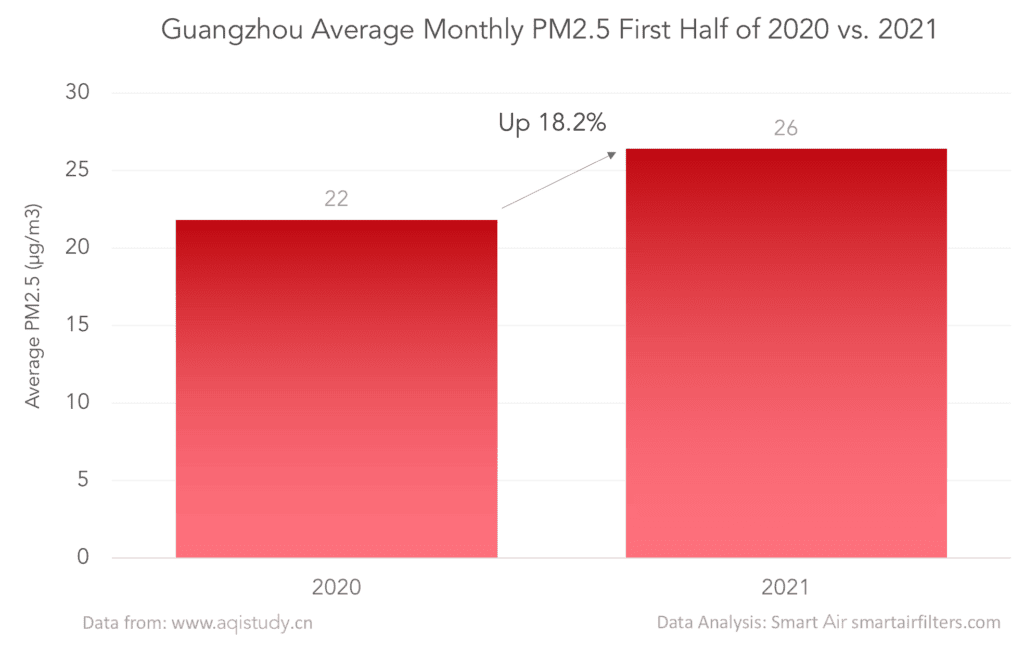 Guangzhou also had the highest increase in ozone pollution at 13.5% when compared with the first half of 2020.
These increases in PM2.5 and ozone are from a much lower base than Beijing, for example. Yet the trend is worrying.
Analysing Guangzhou's 2021 PM2.5 levels with pre-COVID levels – i.e. the same period in 2019 – there appears to be little change. This means an increase in PM2.5 compared with 2020 is actually just a resetting of the trend, and 2020 was likely the outlier due to lockdowns in the first half of 2020.
Read More: Most Polluted Cities in China Rankings
Bottom Line: 2021 Air Quality in China's Major Cities
In 2021, China's major cities saw an overall reduction in PM2.5 by 2.5% and a noticeable drop in ozone. However, 6 of 10 cities analyzed had increases in PM2.5. PM10 increased in 9 out of 10 cities, likely due to sandstorms and increased industrial activity. All of China's major cities still have air pollution several times the WHO safe limit.
Smart Air
How I Protect Myself in China
Along with wearing masks, air purifiers with HEPA filters are also one of the best ways to stay safe from a variety of pollutants in our air including dangerous PM2.5. Studies show HEPA air purifier can improve multiple health markers within hours of use including blood pressure, inflammation, less constricted veins, and less blood clotting.
Read More: Four Steps to Choosing the Best Air Purifier
Smart Air is a certified B Corp started in Beijing, China committed to combating the myths big companies use to artificially inflate the price of clean air.
Smart Air provides empirically backed, no-nonsense purifiers and masks, that use the same HEPA filters (that filter 95-99.5% of particles of size 0.3 microns) for a fraction of the cost of big companies. All profits go directly to helping more people breathe clean air around the world, not some rich investors.
Checkout the flagship Sqair
---
Free Guide to Breathing Safe
Want to learn more about breathing clean air? Join thousands more and stay up to date on protecting your health.