Recent news reported that the coronavirus lockdown is causing dramatic reduction in air pollution across India due to coronavirus lockdown. This is good news for lungs across the subcontinent, since Indian cities often make news as some of the most polluted in the world. Some cities average PM2.5 ten times the WHO annual limit.
Lockdown and Air Pollution: The Hard Data
Smart Air analyzed PM2.5 data from US Embassy and Central Pollution Control Board for Delhi, Kolkata, Mumbai, Chennai, Hyderabad, and Bangalore. We compared how air quality changed before the lockdown (March 1st to March 24th) versus during the lockdown (March 25th to May 17th).
The data shows improvement in air quality across all these cities during the lockdown. Delhi, Kolkata, and Mumbai saw the biggest drops in PM2.5. Kolkata saw pollution drop a stunning 54%.
Air Quality Improves in all Major Cities During Lockdown
Delhi
Famous for its air pollution, Delhi saw PM2.5 fall 36% during the lockdown.
Kolkata Sees Significant Air Improvement
Kolkata saw this biggest improvement in air quality. Despite this improvement, the citizens of Kolkata are still breathing an average of 3 times the WHO annual limit.
Mumbai
During the lockdown period, Mumbai also saw air quality improvement. Mumbai's, PM2.5 fell by 43%.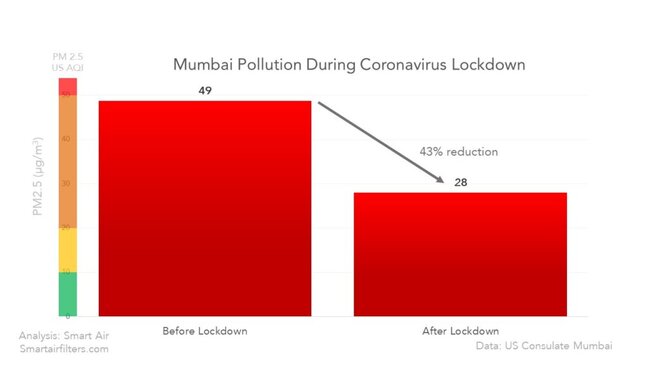 Chennai
Chennai's average PM2.5 went from 22 micrograms before the lockdown to 16 micrograms after the lockdown. Overall, people in Chennai were breathing 27% less pollution in the lockdown.
Hyderabad
Hyderabad experienced the least change in their air quality during the lockdown at just 6%.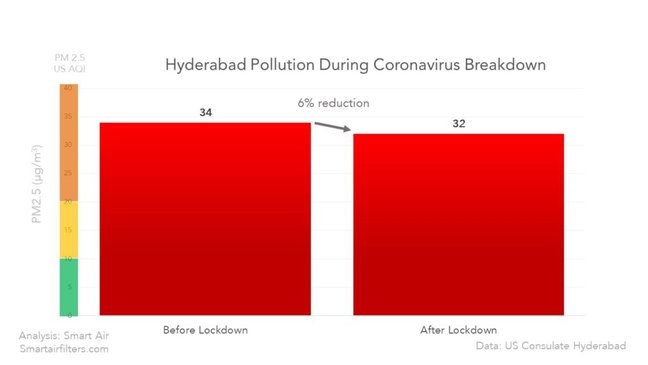 Bangalore
Nearby Bangalore saw its air quality change similar to Hyderabad. PM2.5 dropped just 6% during the lockdown.
Bottom Line: India's PM2.5 Levels During COVID-19 Lockdown
Despite the improvement in air quality, PM2.5 in all six of India's biggest cities are above the WHO annual limit.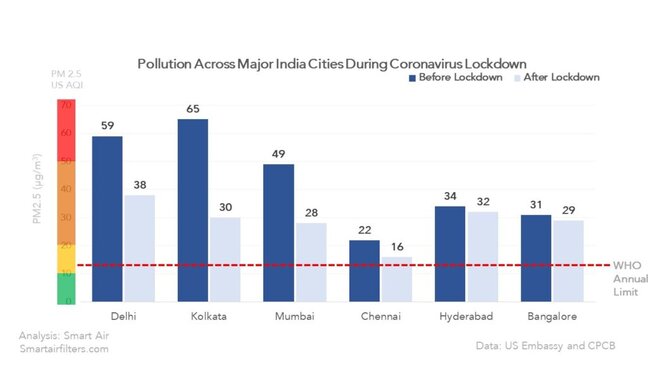 Long-term exposure to PM2.5 above 10 micrograms has been shown to increase cardiopulmonary and lung cancer mortality. According to the WHO's Air Quality Guidelines, this link has been established with more than 95% confidence.
WATCH: The Harmful Effects of PM2.5
5 Things You Should Know about PM2.5 Air Pollution
Subscribe to Smart Air on YouTube
As India starts opening up, residents will likely see pollution climbing back up. Air-breathers can hope for a serious policy change similar to the National Clean Air Programme (NCAP) launched by the Indian government in 2019. This program aims at reducing PM2.5 by 20-30% by the end of 2024. For now, citizens can only wait and see.
---
Free Guide to Breathing Safe
Want to learn more about breathing clean air? Join thousands more and stay up to date on protecting your health.