Although Delhi air pollution is already extremely dangerous in the summer months, Delhi air quality levels worse in the winter months. In particular, November is the month when air quality usually starts deteriorating due to factors like crop burning, Diwali, and a drop in temperature. Many use air purifiers at home and wear masks while outdoors to reduce the air pollution that enters their body.
There were news reports that Delhi's PM2.5 levels in November 2022 were the lowest in the last six years. So, we dug into the Delhi PM2.5 data to understand whether Delhi breathes better air this November or not.
We used data available from the US Embassy to analyze Delhi's November pollution levels over the past six years from 2016-2022.
| | |
| --- | --- |
| Year | Monthly Average PM2.5 (μg/m3) |
| Nov 2016 | 295 |
| Nov 2017 | 272 |
| Nov 2018 | 182 |
| Nov 2019 | 205 |
| Nov 2020 | 202 |
| Nov 2021 | 225 |
| Nov 2022 | 171 |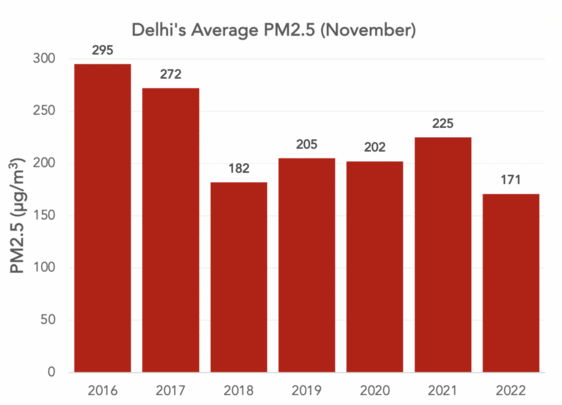 This data suggests that the air quality in Delhi this November was the lowest in six years with a monthly average of 176 ug/m3. While November 2016 was the worst with an average concentration of 295 ug/m3.
Delhi's November PM2.5 Drops 32% Compared to 2021
If we compare November month in 2022 to the 2021 average, PM2.5 has dropped 32% in 2022! Unfortunately, levels are still extremely high and dangerous. 171 micrograms is still 34 times higher than the WHO PM2.5 limit.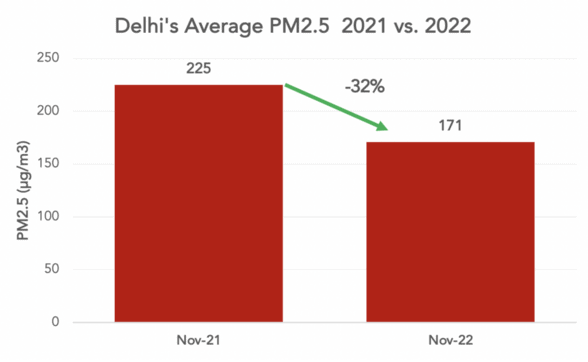 Why Have Delhi Pollution Levels Declined This November?
According to the Indian Institute of Tropical Meteorology's Decision Support System, the farm fire contrition to Delhi's pollution decreased to 6.5 % from 9% compared to 2021. However, do note that three cloudy days in Punjab might have temporarily stopped crop burning detection by the satellite.
Another reason for the reduction in PM2.5 levels is an increase in average wind speed in Delhi. Per reports, the average wind speeds in November 2022 were 30 % higher than in November 2021. The data suggest that higher wind speeds help reduce pollution.
Bottom Line: Delhi's air improved a bit. But...

Delhi's air in November has seen a bit of improvement over the last year. However, Delhi's air pollution levels are still dangerously high. The monthly average of 171µg/m3 is 34 times higher than the WHO limit. The reductions should not affect the use of tools to reduce the air pollution you breathe, including the use of air purifiers and masks.
Smart Air
How I Protect Myself
Smart Air is a certified B Corp committed to combating the myths big companies use to inflate the price of clean air. Smart Air uses the simple fact that air purifiers are just fans and filters to create no-nonsense purifiers, that remove the same particles as the big companies for a fraction of the cost. Only corporations benefit when clean air is a luxury.
---
Free Guide to Breathing Safe
Want to learn more about breathing clean air? Join thousands more and stay up to date on protecting your health.