Air quality monitors are great tools to make sure you are breathing clean air. But do you need to splurge for those thousand dollar monitors? How accurate are their cheaper competition? To find out, we dove into the data of the most popular PM2.5 air quality monitors on the market.
More Expensive Air Quality Monitors ≠ More Accurate
Tests show little correlation between price and accuracy of an air quality monitor. The South Coast AQMD tested the accuracy of 55 of the most popular PM2.5 air quality monitors on the market. The sensors ranged in price from $70 to $7800.
As seen in the chart below, there was almost zero relationship between price and accuracy. The more expensive PM2.5 monitors did not perform better. In fact, the three highest performing air quality monitors were all under $250. These monitors were the PurpleAir PA-I, PurpleAir PA-II, and Temtop LKC-1000S+.
Note: R2 is used as the measure of accuracy of the monitors. R2 measures how much variance exists between the actual value of PM2.5 versus the calculated value by each monitor. An R2 of .7 is represented by an accuracy of 70% in this article.
The three most expensive air quality monitors tested were some of the least accurate monitors. These three monitors were the AQMesh ($7800), Naneos Partector ($7000), and Met One E-SAMPLER ($5500). The $7,000 Naneos Partector performed so poorly that only one other air quality monitor tested was less accurate.
Why Are Some Particulate Counters So Expensive?
Higher cost air quality monitors do not give us more accuracy, so why are they so expensive? Is there an extra benefit these monitors have over the cheaper competition?
Pollutants being monitored
Some of the expensive options add more features to their monitors, including the ability to test for a variety of gas pollutants and noise monitoring. For example, the $7,800 AQMesh also tests for NO, NO2, O3, CO, SO2, H2S and CO2. But with already extremely low accuracy for their PM2.5 monitor, the accuracy of these gas measurements is in doubt. Further, some cheaper (and better performing) monitors also test for some of these gases as well, such as the Kaiterra Laser Egg 2+($199) and the IQAir AirVisual Pro ($270) for CO2.
Outdoor monitor
Expensive air monitors also often tout their weatherproofness and ability to be used outdoors. But one of the top performing air quality monitors tested by the South Coast AQMD, the $250 PurpleAir PA-200, is also weatherproof.
Size of particles detected
The $7,000 Naneo Partector, which ranked as one of the least accurate monitors tested for PM2.5, claims to also be able to detect nanoparticles starting from 10nm in size. This is smaller than what most cheaper monitors can measure. For example, the top performing PurpleAir PA-I ($150) can only measure particulates as small as 1um on its low end (1000nm). But concerns exist regarding the accuracy of the Naneos detecting these small particulates, as tests show it is incredibly unreliable at detecting larger PM2.5 particulates.
Furthermore, few situation have a need to detect particulates below 1um. Below is a picture to put into perspective how small a 2.5um (PM2.5) particulate really is.
Look at the Data, Not Price, to Find the Best Air Quality Monitors
Don't be fooled by the high priced air quality monitors with fancy marketing. Just like the air purifier market, price means very little when it comes to the performance of an air quality monitor. We suggest using third-party published data on the true accuracy of an air quality monitor, such as those published by the South Coast AQMD.
Read More: Best PM2.5 Air Quality Monitors in 2021
Update: The QP Air Quality Monitors
Since publishing this article, Smart Air has tested a new set of air quality monitors: The QP Lite and QP Pro. After testing out the monitors, we were impressed with their accuracy and functionality. We have replaced the Laser Egg on our Clean Air Shop, with the QP monitors.
Bottom Line: Price is not correlated to a PM2.5 air quality monitor's accuracy
Most of the under $200 air quality monitors tested showed higher accuracy than the three monitors over $5,000.
Smart Air
23/05/2023 Update: Naneo Partector data removed from AQMD list. 
How I Protect Myself
Smart Air is a certified B Corp committed to combating the myths big companies use to inflate the price of clean air.
Smart Air provides empirically backed, no-nonsense purifiers and masks, that remove the same particles as the big companies for a fraction of the cost. Only corporations benefit when clean air is a luxury.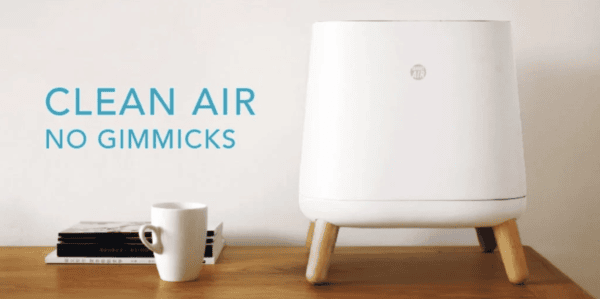 ---
Free Guide to Breathing Safe
Want to learn more about breathing clean air? Join thousands more and stay up to date on protecting your health.