Delhi is one of the most polluted cities in the world. PM2.5 pollution levels reach more than 10 times the World Health Organization's annual limit. Hazy skies and pollution alerts have become the norm in Delhi. In winters, the air quality reaches hazardous levels creating health emergencies.
To help people visualize how Delhi's PM2.5 has changed over the past six years, Smart Air has created some tables breaking down the PM2.5 data from 2016 to 2021. This data is openly available from the US Embassy in Delhi.
Delhi's Daily PM2.5 Levels (2016)
In 2016, Delhi's average annual PM2.5 concentration was 123 ug/m3. The lowest daily average was 17 ug/m3 while the highest PM level was 931 ug/m3 which is whopping 186 times the recommended WHO limits.
The data shows that there was not a single 'good' air day for Delhi. 45 'hazardous' days were mostly observed during the winter days while one-third of the year saw 'Unhealthy' days.
Delhi's Daily PM2.5 Levels (2017)
In November of 2017, Delhi experiences 8 straight days with air pollution averaging hazardous levels.
With an annual PM2.5 concentration of 108 ug/m3, Delhi saw only three 'good' days. The lowest daily PM2.5 of 9 ug/m3 was seen during September while the highest daily concertation reached 912 ug/m3 in November.
Delhiites observed 148 'Unhealthy' days which accounts for 40% of the year. There were 46 'Moderate' days and 19 'Hazardous' days in 2017. On average people in Delhi spent 99% of the year breathing air well above the WHO recommended limit.
Delhi's Daily PM2.5 Levels (2018)
In 2018 Delhi had only 6 'good' days twice the number compared to 2017 with annual PM levels of 104 ug/m3. The highest daily PM level was 454 ug/m3 while the lowest was 2 ug/m3.

With 49 'moderate' days, 161 'Unhealthy' days, 64 'Very Unhealthy', and 21 'Hazardous' days Delhi's air quality remained many times the recommended WHO limit.
Delhi's Daily PM2.5 Levels (2019)
In 2019, Delhi experienced its lowest PM levels of 10 ug/m3 in August. August is monsoon season with higher wind speeds. The data shows that the wind can have a large effect on reducing air pollution.
With only 3 'good', 57 'moderate' days, 141 'Unhealthy' days, 45 'Very Unhealthy', and 24 'Hazardous' days Delhi's air quality stayed higher than the recommended WHO limit for the majority of the year.
Delhi's Daily PM2.5 Levels (2020)
With 89 ug/m3, Delhi saw a reduction in annual PM levels in 2020 compared to the previous four years. This was mainly due to the coronavirus lockdown that helped in a dramatic reduction in air pollution across Delhi.
As the lockdown restrictions were relaxed, the PM levels started going up as Delhi observed only 4 'good' days in 2020 with the lowest PM level of 11 ug/m3.

The PM levels hovered in-between 'Very unhealthy' and 'Hazardous' during winters. Despite improvement in annual PM level concentrations people in Delhi spent the majority of the year breathing polluted air.
Delhi's Daily PM2.5 Levels (2021)
In 2021, Delhi experienced 9 days in January with AQI levels at hazardous levels.
This analysis of Delhi's air quality years shows a fixed trend. The PM2.5 levels typically begin to rise during winters starting in October, and it remains high until March of the next year. This is due to temperature inversion when the pollutants are trapped near the ground leading to heavy smog.
Delhi Air Quality Summary (2016-2021)

Bad air quality in Delhi has become a year-long phenomenon and is not just limited to the winter months. The data suggest that Delhi has experienced just 1% days of good air quality in the last six years. The best days are typically in the rainy season mainly due to the wind blowing away the pollutants.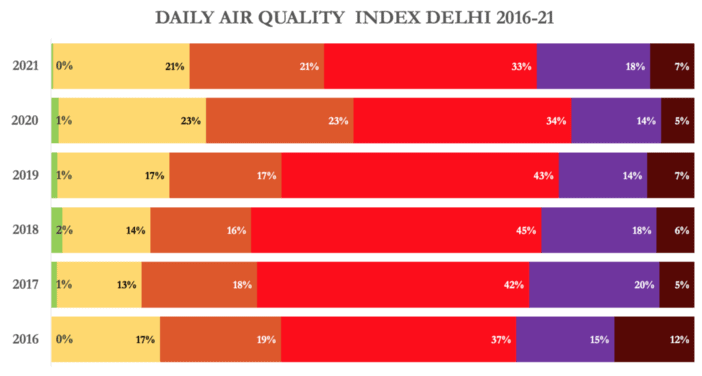 Here's a summary of all days since 2016.
What Can Be Done to Help Delhi's Air Pollution Problem?
In 2019, the Indian government launched the National Clean Air Programme (NCAP). The program has a goal of 20%-30% reductions in PM2.5 and PM10 concentrations by 2024. A stronger effort is needed to cut down vehicle emissions by switching to Bharat Stage VI for vehicles and fuels. Apart from this, stricter regulation and compliance are needed to curb industrial, power plant, and brick kiln emissions. Finally, an efficient policy is needed to stop open crop-waste burning.
Impact of Air Pollution
The PM2.5 particles are smaller than 2.5 microns in diameter. These particles can penetrate deep into the lungs and even enter the bloodstream. Studies have found that PM2.5 raises blood pressure, inflammation, and rates of heart attacks and strokes.
Studies have shown that air pollution affects fertility and newborn baby health. Though air pollution is everywhere and affects everyone of all ages. But children are in many ways the most at risk when it comes to air pollution's negative health effects. Another impact of air pollution is that it also affects our productivity.
What Next?
Despite the harms of PM2.5, studies have found that wearing masks prevents physiological harm to the body. Also using air purifiers in your home has been shown to have positive effects on blood pressure, inflammation, and immune response.
Smart Air is a certified B Corp committed to combating the myths big companies use to inflate the price of clean air.
Smart Air provides empirically backed, no-nonsense purifiers and masks, that remove the same particles as the big companies for a fraction of the cost. Only corporations benefit when clean air is a luxury.
---
Free Guide to Breathing Safe
Want to learn more about breathing clean air? Join thousands more and stay up to date on protecting your health.