Portable Carbon Dioxide (CO2) monitors are growing popular in home and office. CO2 monitors can help measure ventilation and help lower the spread of respiratory viruses. But what are the best and most accurate CO2 monitors on the market? To find out, Smart Air analyzed CO2 monitor test data to bring you recommendations for the best CO2 air quality monitors in 2023.
Why Use CO2 Monitors?
CO2 monitors can help measure how well a room is ventilated. The higher CO2 levels are, the worse the ventilation. Why is ventilation so important when it comes to the spread of respiratory viruses? The CDC has released data showing strong correlations between poor ventilation and high COVID-19 spread.
Factors for choosing a CO2 monitor for Home and Office

When buying a CO2 monitor, some important factors to consider include:
Mobility: A monitor can either be permanently installed or portable. Portable CO2 monitors are more versatile, and can be used for multiple rooms
Sensor Time Response: A monitor needs to be responsive to changes in CO2 levels. Some monitors take a few minutes to respond, but good monitors respond in a few seconds.
Data processing: A monitor must be able to export recorded data to a hard-drive for further analysis.
Accurate Background Calibration: A monitor should record a value of 400 parts per million (ppm) outdoors. This indicates that it is accurately calibrated.
Calibration Method: Monitors can allow automatic or manual calibration, or both. Automatic calibration is easier and more straightforward than manual calibration. However, manual calibration can produce results more quickly, especially when the monitor shows significant inaccuracy.

Recommended CO2 Monitor Technology
In general, CO2 monitors with non-dispersive infrared (NDIR) sensors work very well. Cheaper devices with several sensors that measure Volatile Organic Compounds and Formaldehyde alongside CO2 are not recommended. This is because they likely use a different type of sensor which is less accurate.
Best CO2 Monitors for COVID-19

Below are the best CO2 monitors that are in line with the above factors. These recommendations are based on extensive CO2 monitor tests. All monitors had accuracies at or above 94%. For full details on the monitor tests, check out the test data.

Note: R2 is used as the measure of accuracy of the monitors. R2 measures how much variance exists between the actual value of CO2 versus the calculated value by each monitor. An R2 of .7 is represented by an accuracy of 70% in this article.
Aranet 4
Expensive relative to the competition, but the Aranet 4 is very accurate, with readings closely tracking the reference CO2 detectors used. It is recommended to do a weekly calibration of the Aranet 4 monitor. Data can also be collected with an app.

Price: $290 USD
Accuracy: 98%
Temtop M2000
A less expensive option, Temtop is highly accurate and with good background calibration. However, it does not contain any data export function.

Price: $170 USD
Accuracy: 96%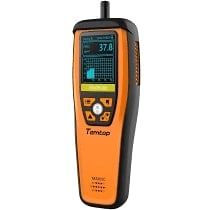 The new 3-in-1 air monitor from Smart Air measures CO2, temperature and relative humidity. Long-lasting with a battery life of up to 30 days, this affordable, low-cost monitor gives you the flexibility of choosing the alert thresholds and the frequency of recording.
Price: $69.99 USD
Accuracy: 97%
Wohler CDL 210
More expensive than most of the other options, the Wohler CDL 210 is one of the most accurate. Moreover, it enables continuous logging and subsequent data export to PC (even with no power). However, Wohler sacrifices some portability as it has to be plugged in during measurement.

Price: $269 USD
Accuracy: 99%
AZ 7755
For the same price, the AZ 7755 boasts a higher accuracy than most monitors on the market. Data can be stored and analyzed on a PC with the appropriate cable.

Price: $269 USD
Accuracy: 98%
DM1307
Nearly twice the price of the DM1306, the DM1307 contains nearly all of the same features and similar accuracy. The main difference is that the DM1307 has a larger screen.

Price: $145 USD
Accuracy: 99%

Open Data
The complete CO2 monitor test data is available for free to download.
How I Protect Myself
Smart Air is a certified B Corp committed to combating the myths big companies use to inflate the price of clean air.
Smart Air provides empirically backed, no-nonsense purifiers and masks, that remove the same particles as the big companies for a fraction of the cost. Only corporations benefit when clean air is a luxury.