Looking to study abroad in China? Want to brush up on those Mandarin Chinese language skills? If so, you're about to embark on an epic journey to the Middle Kingdom: there's the excitement, the new culture, the historic sites, and… the smog.
Just like you, half of Smart Air's team visited China on a language learning course, study abroad program, or exchange trip. That means we know what it's like to be dropped right in the middle of a foreign land, whilst left to breath clean air.
Is the air in China really that bad?
Whether you're thinking of heading to the North or South of China, be it Beijing, Shanghai, Chengdu, Guangzhou or any of the other countless cities in China, there's one thing that's common amongst them all: they all have air pollution problems. Check out this map: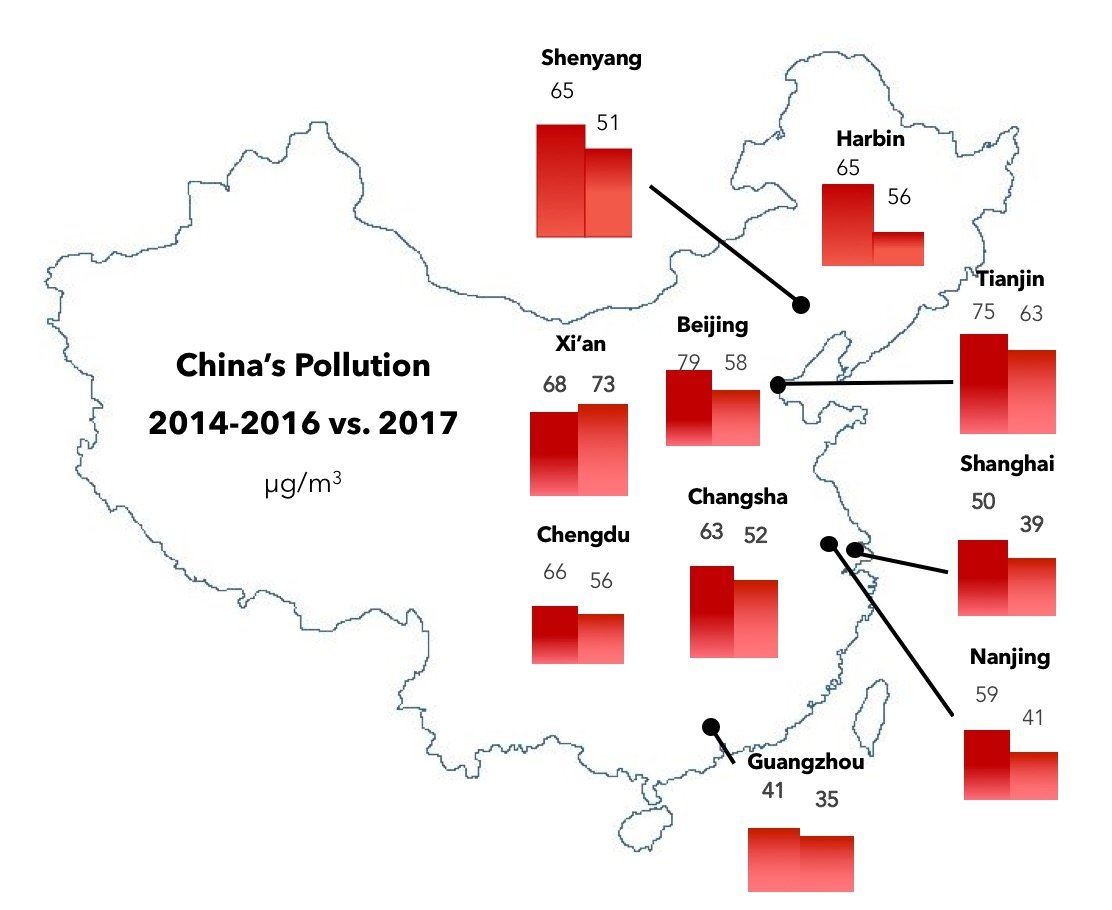 As you can see, pollution levels vary across cities like Beijing, Shanghai and Chengdu, but they're always above the WHO recommended limit of 10µg/m3.
How can I protect myself?
Fear not, it's easy to protect yourself from air pollution when studying abroad in China. There are two main ways: by using an air pollution mask when outside, and by using an air purifier inside.
Does it make sense to buy an air purifier on your study abroad?
Most purifiers costs hundreds of dollars or thousands of RMB. As such, does it really make sense to fork out so much money when you're only in China on a short exchange of a few weeks or months? What will you do when your exchange is done? Throw it out or sell it to someone else?
The Price of Clean Air
Let's take a step back and look at how much clean air actually costs. That was exactly what Smart Air founder Thomas Talhelm did when he was on a Fullbright Scholar exchange in Beijing. He built a DIY air purifier that consisted of a fan and a filter. He later did tests that showed (1, 2, 3, 4) that that's all you need to remove dangerous PM2.5 from your room.
To compare DIY purifiers with the expensive brands, Thomas ran tests of three expensive brand name purifiers and two DIY purifiers in a real Beijing bedroom. Here's how much they cost and how much dangerous particulate they removed.
These DIY purifiers make sense for study abroad exchanges or other short stays in China because they don't cost a huge amount, yet are just as effective as the big brands.
Want to Share the Science of Air Pollution and Purifiers with Your Study Abroad Classmates?
We've given you a crash course in China and protecting yourself whilst on exchange, but want to learn more or share this information with others? Host a free Smart Air workshop! Get in touch with your course co-ordinator or your classmates, and we can arrange to run a pollution-fighting workshop to get you up to speed on protecting yourself in China. We don't charge for these workshops, they're part of Smart Air's mission to protect everyone living, studying or travelling in China.
To date, we've held workshops for over 200 students at CET Middlebury in Beijing and Hangzhou, the Yenching Academy, and Peking University.
Learn more about what's in a workshop on our Air Pollution Education Page.
Studying characters and touring sites is hard (and fun!) work. A few simple tools and knowledge is all you need to protect their health so you can stay focused on the most important parts of studying abroad (like kungpao chicken!).
Breath safe when in China!