Beijing and Delhi often make headlines for air polluted cities, but which city has worse air? I wanted to get some hard numbers on how the two cities' air quality compare.
The Data
To do that, I analyzed PM2.5 data from the US Embassies in Delhi and government monitors in Beijing from 2015 to 2018. The data shows that both cities routinely face PM2.5 levels that are 10 times the World Health Organization annual limit. But besides having unsafe air, the data told two different stories.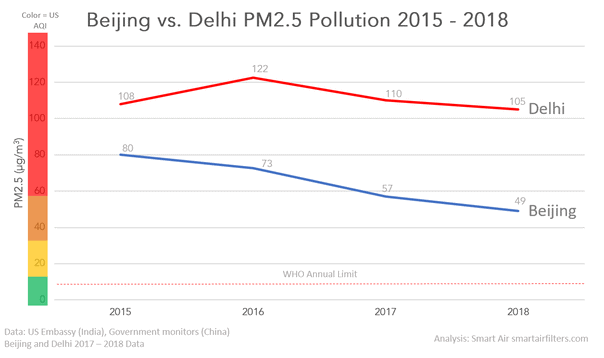 Beijing PM2.5: A Redemption Story
Over the past 3 years, Beijing's air pollution levels have dropped by an impressive 40%, from 80 micrograms to 48 micrograms. This is likely due to the Chinese government's efforts to reduce air pollution. It also fits with our analysis of municipal Beijing air quality data, which found decreasing PM2.5 across China.
However, Beijing air is by no means healthy. Even though 2018 was Beijing's cleanest year on record, Beijingers still breathe an average of almost 5 times the WHO annual limit.
Delhi PM2.5: A Horror Story
Comparing the two cities gives a picture of two different trajectories. While Beijing has improved, significantlyDelhi has seen little improvement in its air quality.
Since 2015, Delhi's PM2.5 dropped 3% – essentially no change. In 2018, Delhi averaged 105 micrograms, which is more than double Beijing.
Why Is Delhi So Much More Polluted than Beijing?
Breaking the data down month by month, it becomes clear that Beijing and Delhi both have low (but still unsafe) air pollution in the summer. The winter is when the differences magnify. From November to January, Delhi's PM2.5 skyrocket to an average of around 200 micrograms. That's 20 times the WHO annual limit!
Why is Delhi's air pollution bad in the winter? The winter brings crop burning, along with coal used for heating. Winter also brings air inversions, which trap layers of air close to the city, along with all those pollutants.
Is Delhi or Beijing Safer?
Based on what scientific studies show about the health effects of air pollution, neither city is safe. Both cities are far above the WHO annual limit of 10 micrograms. What's more, the more studies I read, the more I'm convinced that there's no safe level of PM2.5. For example, scientists used statistics to estimate how many people die each year from air pollution at different levels of PM2.5.
The red line shows how many people die each year when PM2.5 averages different levels in a city. Now here's where 2018—Beijing's best year on record—falls on that graph.
If all of China had air like Beijing's best year on record, the pollution would cause an astounding 390,000 deaths every year. Thus, even though Beijing has made great progress, the air is still killing people.
Bottom Line
Both Beijing and Delhi average unsafe levels of air pollution year-round. Beijing air is unhealthy at 48 micrograms, and Delhi air is even more unhealthy at 105 micrograms.
Smart Air
Protective Measures
Here's how you can protect yourself from air pollution:
Wear a mask outdoors when PM2.5 is above 10 micrograms (or 25 micrograms as a looser limit). Check out evidence that masks have physiological benefits here.
Use a purifier at home. Placebo-controlled studies of air purifiers have found that reducing particulate indoors prevents harm to blood pressure, inflammation, and immune response—even among young, healthy twenty-year-olds.
Smart Air is a certified B Corp committed to combating the myths big companies use to artificially inflate the price of clean air. To help people living in polluted cities in China and India protect themselves, Smart Air provides empirically backed, no-nonsense purifiers and masks, thereby lowering the cost of clean air.
Breathe safe!
---
Free Guide to Breathing Safe
Want to learn more about breathing clean air? Join thousands more and stay up to date on protecting your health.