As a donor:
We have an idea for you that can grow and diversify your marketing strategy, while also benefiting your local community:
Increase your social value by donating clean filtered air and CO2 monitors!
Why donate?
Raise your brand Awareness
Grow your corporate social responsibility
Benefit local communities
Help those clinically vulnerable feel safer
Your logo and colours on a powerful air cleaner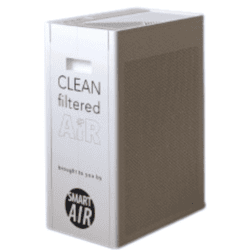 Your brand at the heart of the community
Schools and Care homes
Community Halls and Libraries
Cafes and Restaurants
Hairdressers and Sport Halls
Clinics and Surgeries
As a recipient:
Are you a small business, school, charity, or a care home, looking for clean air but struggling to find the funds? Our corporate donation program connects you with generous donors who can provide air purifiers and CO2 monitors to support your business - free of charge!
Sign up to:
Become a safe community hub: Improve indoor air quality to mitigate viral transmission and promote well-being, and include the clinically vulnerable and the elderly to your space.
Have access to donations: Receive air purifiers from our generous donors, at no extra cost for your business.
Receive support: In the current cost of living crisis, we want to assist you in creating a safer environment for your employees, customers, and communities by matching you to the right donor. Let us share your clean air needs on our social media!
An example of our social media:
Why clean air?
Because indoors is where we spend most of our lives, yet the air inside can be 5 times more polluted than the air outside!
Clean air will reduce asthma, hayfever, viruses (including COVID, flu, Strep A) and prevent a multitude of long-term health problems that we now know are attributed to air pollution.
Partnering with Smart Air to receive or donate branded air purifiers can make a huge difference, not to just schools and care homes.
Many public gathering spaces are closed off to the clinically vulnerable and small businesses are feeling the impact. By donating air purifiers to businesses that can't afford it (eg hairdressers, cafes, clinics) and larger community spaces (libraries, theatres, community halls), you are providing cleaner air to their existing customer base, and enabling a large number of elderly / clinically vulnerable people to return to a more inclusive everyday life.
And if you need one more reason why your company should get involved, speak to your accountant – you may likely find that this donation can be offset against corporate tax and VAT.
Donation Matching tool
If you don't already have a public space in mind to donate to, or you don't know who might be a willing donor, we offer a matchmaking service to help facilitate donations.
By filling out the below forms you will be included in our database of potential donors and potential purifier recipients. When we find a match between a potential recipient and potential donor, we'll be in contact!
Donors don't have to be large organisations. Small businesses such as solicitors or estate agents can use donations to local public spaces as an effective marketing tool to extend their customer base. There is no minimum donation, you can purchase just 1 Blast Mini (£332.50).
Recipient
Please click this link if you are an organisation wishing to RECEIVE one of our air purifiers at zero cost.
Donor
Please click this link if you are an organisation or individual wishing to DONATE money so that an air purifier may be provided to an organisation in need of clean air.
Why partner with Smart Air?
Smart Air was set up to educate and debunk myths, and to promote affordable clean air.

Not only would you be creating your own social value by donating clean air to the community, you would gain additional impact by using Smart Air. Our 

social value

 is $4.59 for every $1 spent on Smart Air products!

Smart Air is more than the product of our values, we also make pretty darn good air purifiers. Here are 

5 good reasons to choose Smart Air

 to partner with.
FAQs
How often will filters need to be changed in an office/school?
Our filters have a long lifespan, use our HEPA filter lifespan calculator to work out how long they will last for you.
Please note the following:
This calculation is based on the average UK AQI so use as a guideline only - e.g. the air in London is more polluted than the Scottish Highlands
The formula is based on 7 day weeks. If you are an office, you will likely have only switch it on during week days and if you are a school, you will only have it switched on for 39 weeks of the year. 
Will your HEPA filters always be available or is there a risk of discontinuation in the future?
You are always welcome to request or donate extra HEPA filters to extend the life span of your purifiers. We celebrate our 10th anniversary this year (2023) and HEPA filters will always be available for the air purifiers we produce.
Will the noise of your air purifiers disrupt work being done in a classroom or office?
We recommend noise levels no higher than 50dBA otherwise the purifier is likely to be turned down or switched off. Our purifiers are amongst the quietest in the market and unbeatable on top speed. Additionally, we can help you figure out what the best air purifier is according to the room size and where it will be placed if you want to keep to a lower speed while still having your air cleaned. You can have a go as well by following this link.
What are the benefits of air purifiers?
All HEPA air purifiers will remove viruses from the air no matter what the marketing of some purifiers state. Even MERV (medium efficiency) filters can capture nanoparticles. But this is more than being about viruses. Cleaner air can lead to reduced absences (caused by airborne pathogens or air pollution), as well as health improvements concerning allergies and asthma symptoms.
What are the benefits of CO2 monitors?
CO2 monitors are an useful tool to keep track of CO2 concentrations, harmful pollutants and particles in a room. If you test the quality of your indoor air and find it's poor, you can take easy and quick steps to improve it. Opening a door or a window might be enough, but you won't know until you test it!
Should I also be monitoring particles?
Yes, but if you have air purifiers chosen for your room size, you won't need to permanently monitor PM2.5. You can purchase a couple of monitors and move them around various rooms to monitor when the spikes are and to see what your baseline PM2.5 levels are.