Delhi is one of the most polluted cities in the world. Although Delhi has seen a slight improvement in air quality in recent years, Delhi is still more than 18 times higher than the WHO recommended limit. Let's dive into the best way for Delhiites to breathe clean air this winter and avoid the dangerous effects of Delhi air pollution.
Sources of Delhi Air Pollution
The main sources contributing to Delhi's air pollution are vehicular emissions, road dust, power plants, construction, waste burning, industries, and residential. Delhi's air pollution is at its worst during the winter, where agriculture burning contributes to Delhi's worst polluted months.
Effect of Delhi Air Pollution on Health
As per the latest Greenpeace Southeast Asia Analysis, 120,000 people died in India due to air pollution. Air pollution can lead to a variety of cancers, heart disease, diabetes, and more. Within hours of being in a polluted environment, blood pressure and inflammation markers increase significantly.
Children are most at risk of exposure to air pollution. The effects of air pollution on children include increased odds of birth defects, infant mortality, neurodevelopment issues, obesity, lung growth issues, pneumonia, asthma, and cancers.
New research in London showed how a small increase in exposure to NO² led to an 18%-32% increase in the risk of being admitted to hospital.
More people have heart attacks on days with bad air pollution
A study in Boston found that on days with higher particulate air pollution, more people had heart attacks. When inhaled, these particles can penetrate deep into the lungs and even enter the bloodstream. Studies have found that PM2.5 raises blood pressure, inflammation, and rates of heart attacks and strokes.
Five Steps to Protect Yourself From Air Pollution
1. Stay Updated on Daily Air Pollution Levels
Effects of air pollution are most severe in the winter due to worsening air quality in Delhi. Therefore, it is important to stay updated on the latest air quality levels, which can change significantly day-to-day. When air quality levels are poor, a stronger emphasis should be put on the following four air pollution protection steps.
2. Wear a Mask
Wearing a mask is one of the most simple and effective ways to reduce the air pollution you breathe. A properly fitted N95 mask should reduce the amount of dangerous PM2.5 pollution breathed in by at least 95%. Smart Air carried out a fit test and tested a whole range of common masks. The fit test data showed that 3M and Venus masks performed best while the cotton mask and surgical masks performed worst.
3. Exercise at Optimal Times
Exercise is important to health, and data shows that the benefits of exercising in Delhi air pollution typically outweigh the negative effects of air pollution. But when exercising, the average person breathes in over 8-times as much air as they would at rest. Therefore, exercising at times of the day when air pollution is lower can greatly reduce the air pollution breathed in.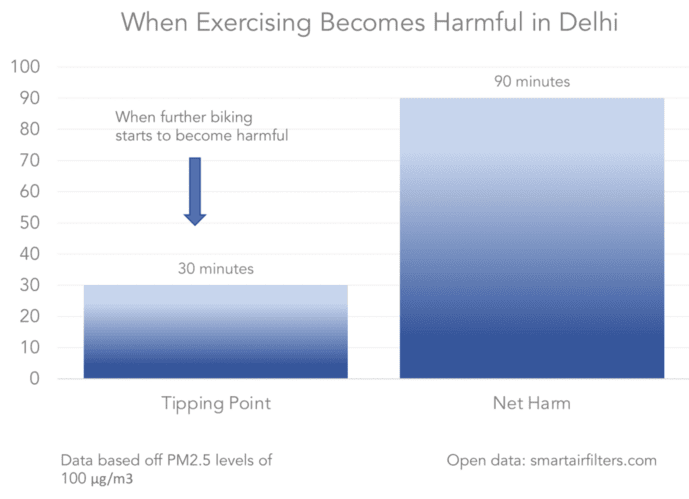 The air quality gradually improves as the day progress with a small difference. On average, Delhi sees roughly half as much PM2.5 at 5 PM (66 micrograms) compared to 9 AM. So, the best time for exercise during the winter in Delhi is typically the afternoon.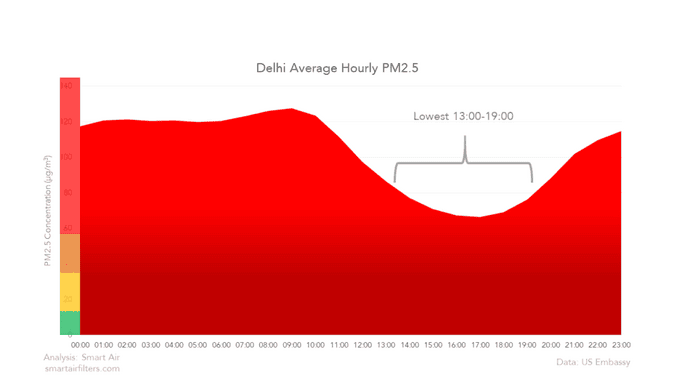 4. Produce Less Indoor Air Pollution
Sources of air pollution within a home can include exhaust from cooking, as well as cigarette smoke, dander from pets, chemicals on new furniture, paints, and mold. Cooking, in particular, can quickly increase indoor air pollution levels to serious levels if not properly ventilated. To reduce pollution from cooking, make sure an exhaust fan is turned on during cooking to remove the smoke from the home.
5. Use Air Purifiers Indoors
Bad air pollution and COVID-19 have dramatically increased the demand for air purifiers. This is because data shows air purifiers are extremely effective at removing air pollution from our air including PM2.5 and viruses. A study done by the CDC on schools shows that HEPA filter air purifiers in the classroom reduced COVID spread by nearly half.
Air purifiers that contain HEPA filters can capture virtually all sizes of solid particles, including particles 0.1 microns in diameter – or the same size as the coronavirus. To help you breathe safely in Delhi, check out the four steps to choosing an air purifier.
---
Free Guide to Breathing Safe
Want to learn more about breathing clean air? Join thousands more and stay up to date on protecting your health.